Spooky or Silly, these Pumpkin Candy Corn Cookies or Halloween Pumpkin Cookies made with Brach's Pumpkins candy are brightly colored and look like little pumpkins. Topped with a mellowcreme pumpkin candy and a tuft of green frosting.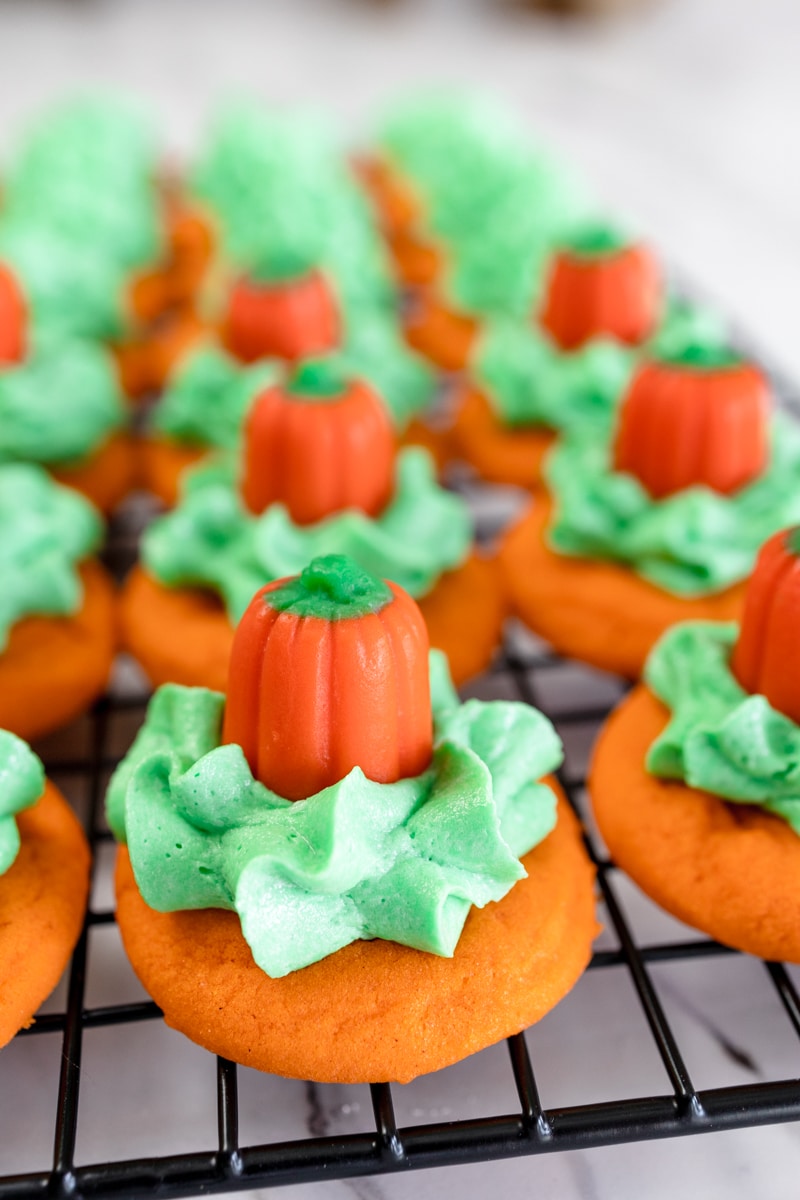 Tell me you aren't smiling! I sure am and I love even more the taste of these simple cookies. The are flavored with pumpkin spice a blend of cinnamon, ground nutmeg and ground ginger right into the cookie dough.
A soft sugar cookie base that doesn't require any chilling and colored bright orange for the holiday. I'm in love with how adorable these cookies are.
Let me tell you that a heard of kids saw these cookies and instantly freaked out over them. It was all I could do to take a few quick photos before they were inhaled.
Get the BEST Cookie Recipes in your inbox
NEW Cookie Recipes weekly along with tips and tricks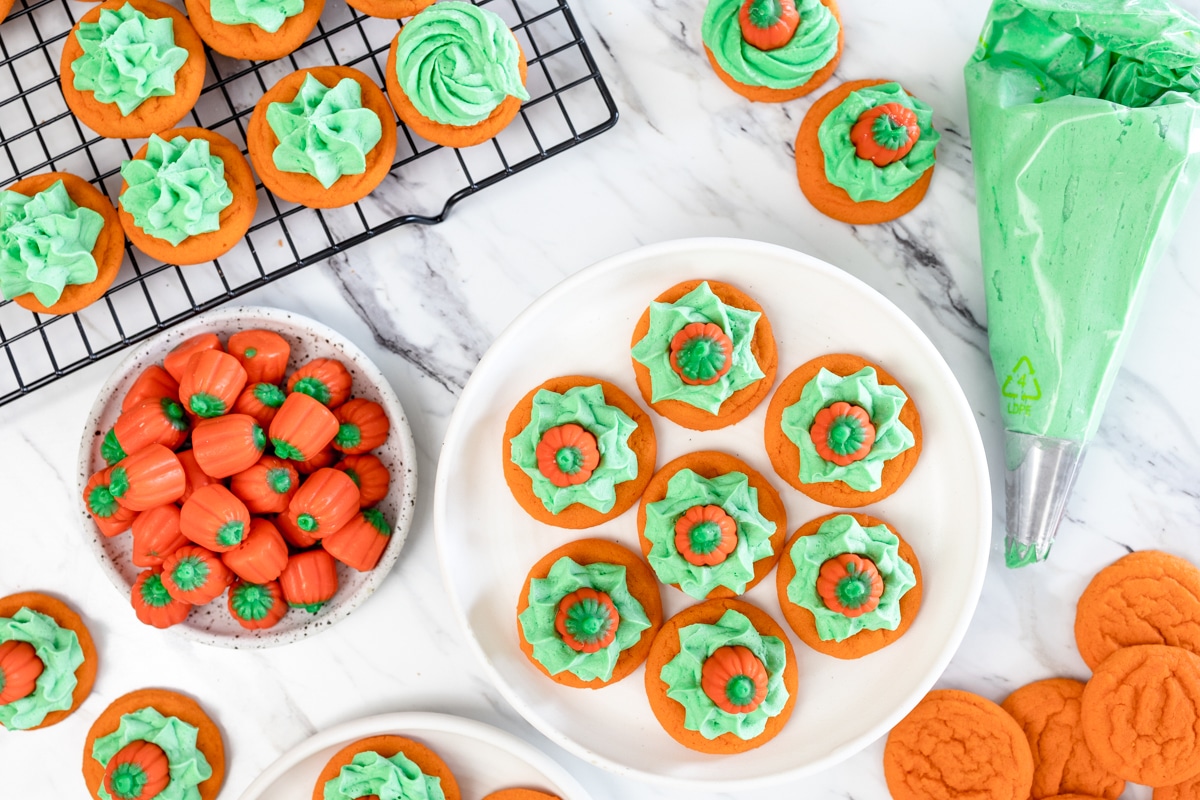 Ingredient list for Pumpkin Halloween Cookies
Dry Ingredients. All Purpose Flour, Sugar, Powdered Sugar, Cream of Tartar, Baking Soda
Wet Ingredients. Egg, Butter, Vegetable Oil, Vanilla Extract
Other. Brach Pumpkins Candy. (Mellowcreme Pumpkins)
Frosting Ingredients. Butter, Coconut Oil, Powdered Sugar, Heavy Cream, Vanilla Extract, Food Coloring
How to make Candy Corn Pumpkin Cookies
These cookies are a favorite recipe. A soft sugar cookie with a twist. Gather the ingredients needed and allow butter to soften for an hour on the counter before using. Butter that oversoft or turned to mush is too soft for this recipe.
Use an electric hand mixer or a stand mixer like a Bosch or a Kitchen Aid Mixer. Use a silicone spatula to scrape sides of bowl down to fully mix all the ingredients together.
Cream butter with sugar until light and fluffy in a large bowl. Butter mixture will turn a very pale yellow and be very light and fluffy.
Add egg and Vanilla Extract and mix until combined. Drizzle vegetable oil into mixture and continue mixing. Followed by powdered sugar. Scrape sides of bowl as necessary
Mixture will turn from a very light and fluffy consistency to a more thin and runny mixture. Add food coloring until desired consistency is reached
Add all purpose flour, baking soda and cream of tarter, cinnamon, nutmeg, and ginger and mix until combined. Do not over mix. You can also substitute pumpkin pie spice for spices.
These cookies do not have pumpkin puree in the recipe or brown sugar. They are a traditional sugar cookie with pumpkin spice seasonings topped with a candy pumpkin.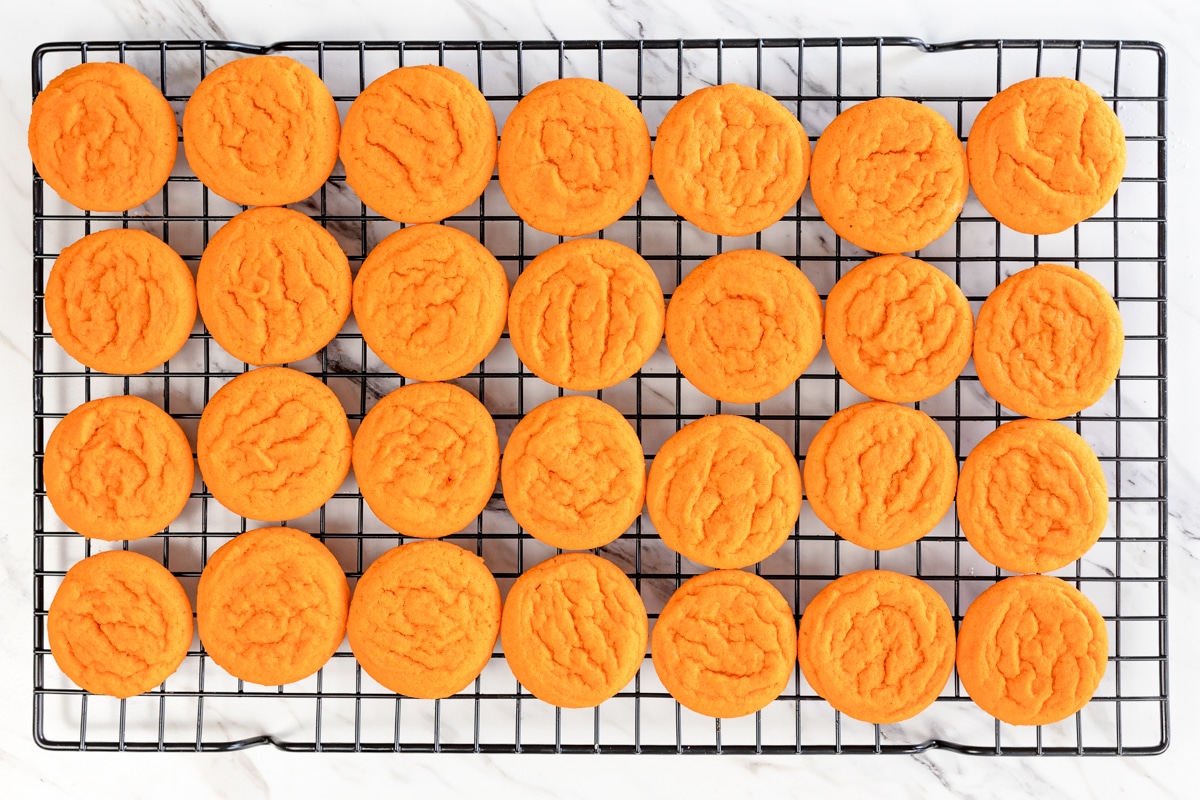 Using a small cookie scoop place cookie dough on baking sheets with parchment paper at least 2 inches apart and bake in a preheated oven to 350 degrees.
Bake pumpkin candy cookies for 7-9 minutes. Cookies are done when edges are set, centers will be puffy and no longer glossy.
Remove from oven and allow cookies to cool a few minutes before moving to a cooling rack to cool completely.
How to make Buttercream Frosting
This a quick and easy recipe for Buttercream Frosting. You will need softened butter, coconut oil, powdered sugar, vanilla extract, heavy cream and food coloring.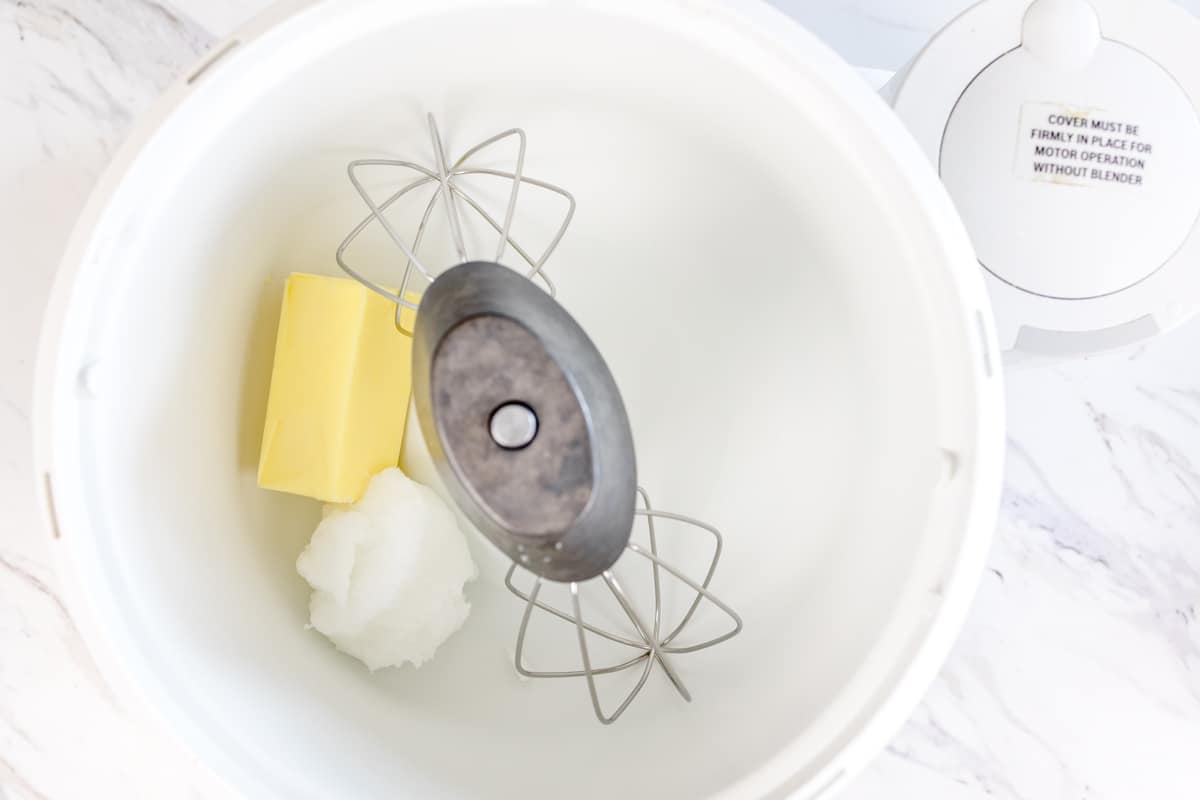 In a mixing bowl mix butter, coconut oil and half the powered sugar. Mix with a hand mixer until combined.
Add remaining powdered sugar and vanilla extract. Frosting will be very thick. Add food coloring gel or drops until desired green color is achieved.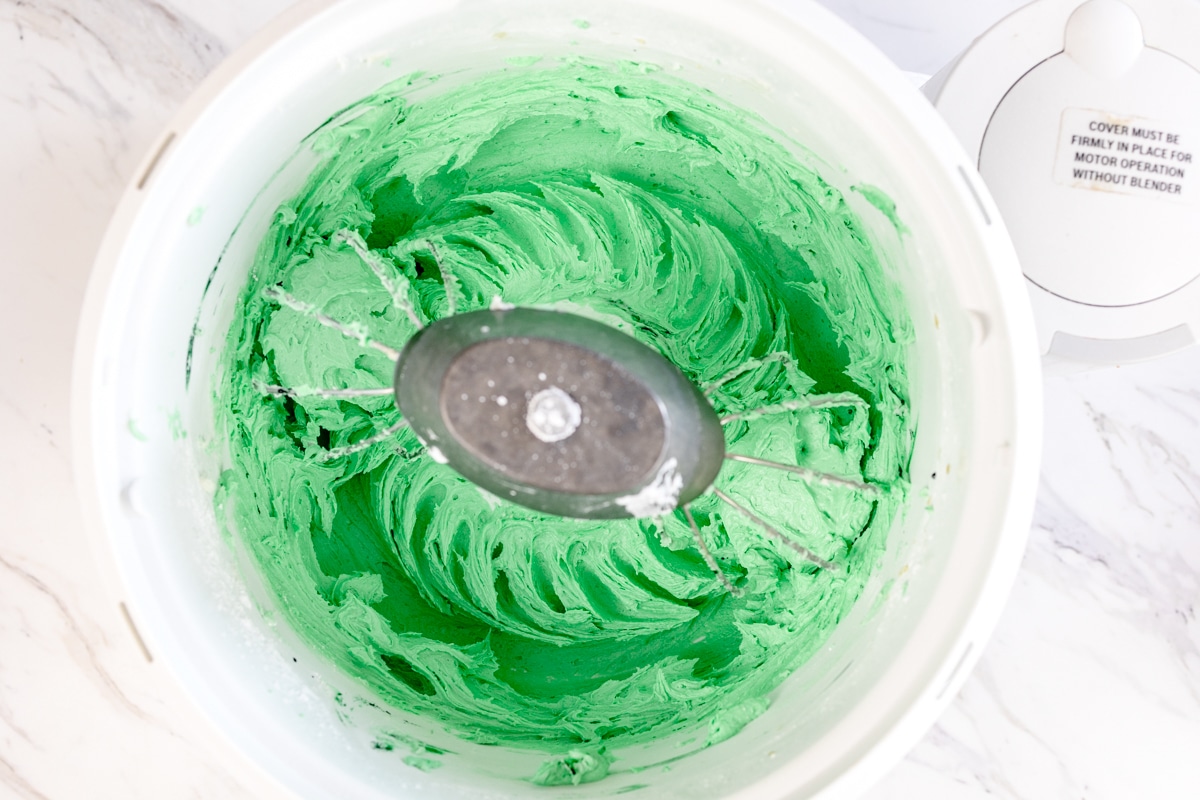 Gradually add heavy cream a little at a time until frosting is a creamy smooth but thick consistency.
Frost cookies and top with a mellowcreme pumpkin candy
Cookies are also fun without pumpkin candy. The orange cookie with bright green frosting looks like a pumpkin and is adorable!
This cookie is also delicious with a cream cheese frosting too. Cookies are soft and chewy and a great recipe to have.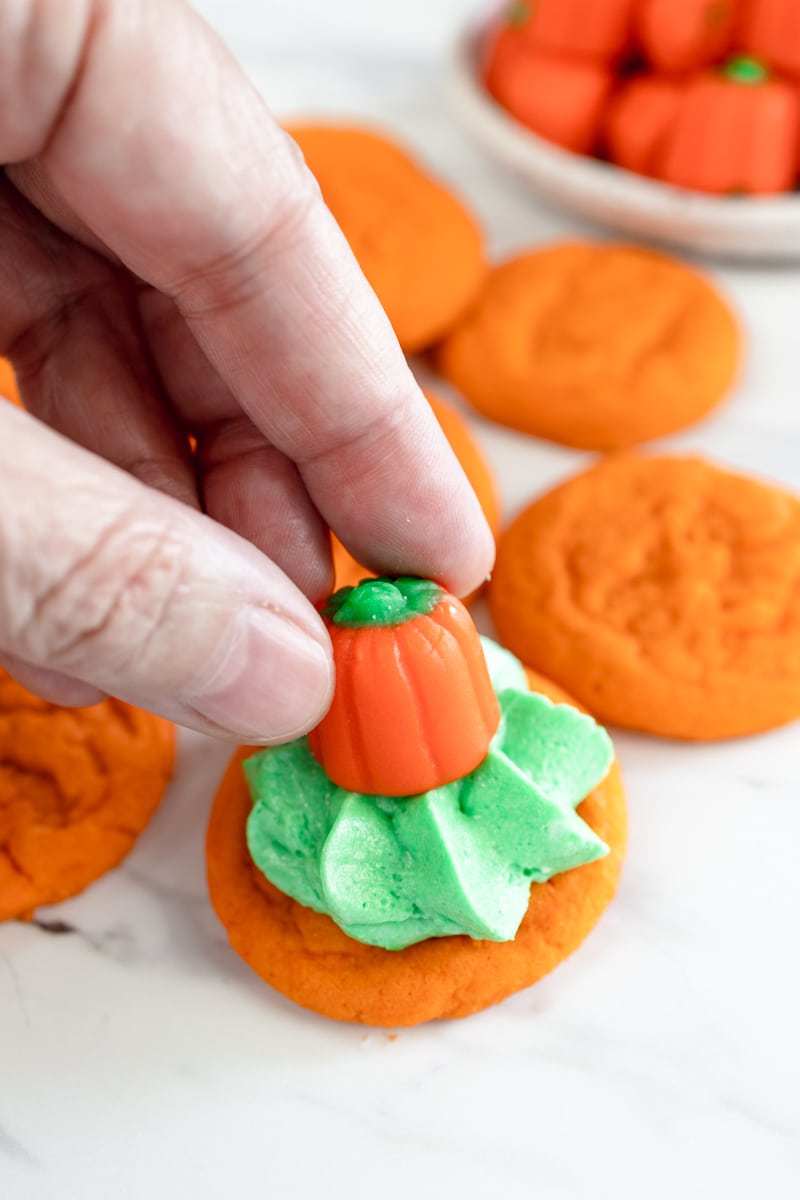 Storage and Freezing Cookies
Storing frosted cookies is always a little tricky. They are not easily stacked. Cookies can be stored in a sealed container at room temperature or in the refrigerator which will keep frosting firm. Cookies are best if enjoyed within 3-4 days.
Freezing cookies is another option. Freeze cookies in a single layer before placing in a sealed container. Frozen cookies can be stacked. Place parchment paper between layers to prevent sticking together.
What is Mellowcreme?
Mellowcreme is candy corn. Brach's makes the highly popular Candy Corn and Pumpkins candies. Every Fall you can find these retro candies to celebrate Halloween and the Fall season.
Made with sugar, corn syrup, gelatin, sesame oil, honey and food colorings. The inside is a soft and dense texture that also melts in your mouth.
Not everyone is a fan of these sugary treats, but those who are truly love them by the bagful.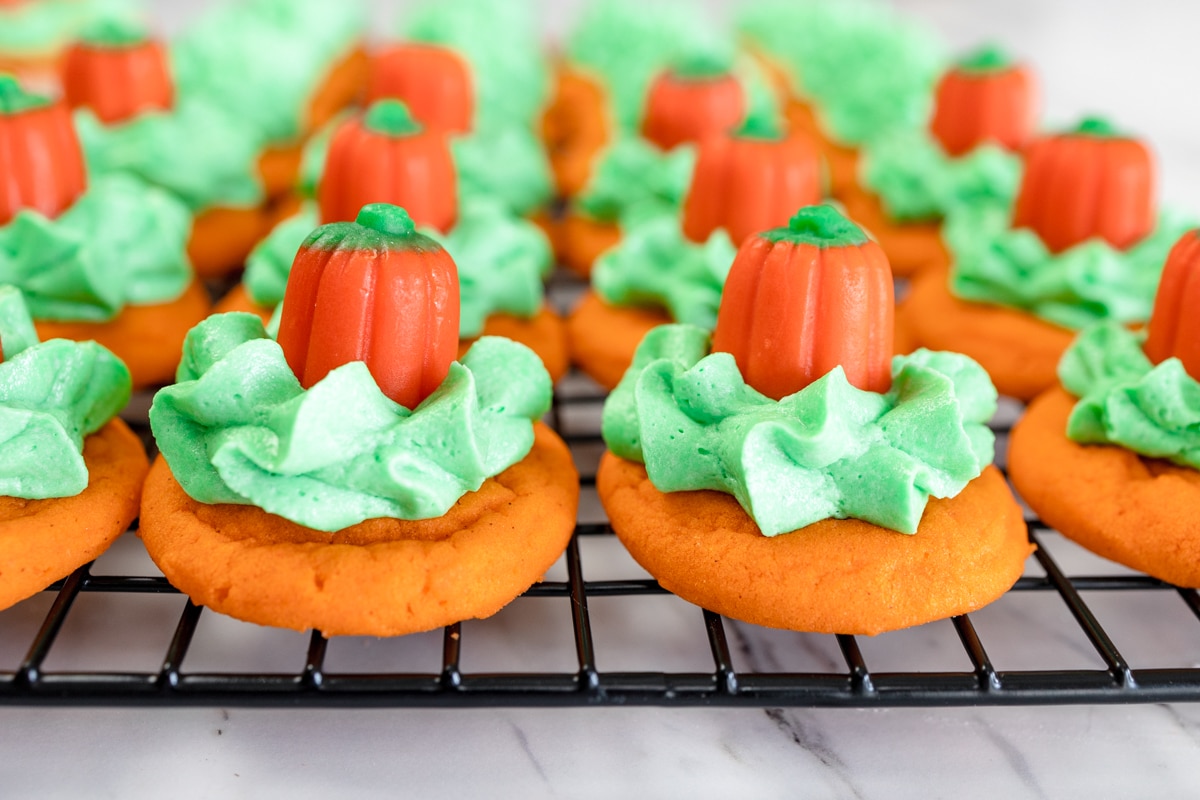 Pro Tips
Cookie Scoop. Using a cookie scoop will help keep cookies uniform in size which makes baking easier. I have used a small cookie scoop in this recipe.
Cookie Sheet. Line cookie sheets with parchment paper, silicone mat or use an ungreased baking sheet.
Measure Ingredients. Using a kitchen scale to weigh ingredients is always preferred for consistent baking. Or use the stir, scoop and level method. Stir flour to add air, carefully scoop into measuring cup using a spoon and level off the top.
| | | | |
| --- | --- | --- | --- |
|   | Volume | Ounces | Grams |
| All Purpose Flour | 1 Cup | 4 ½ Ounces | 120 Grams |
| Bread Flour | 1 Cup | 4 ½ Ounces | 120 Grams |
| Granulated Sugar | 1 Cup | 7 Ounces | 200 Grams |
| Brown Sugar | 1 Cup | 7 ½ Ounces | 213 Grams |
| Confectionary Sugar | 1 Cup | 8 Ounces | 227 Grams |