Lemon Curd Cookies are so fun! This easy to make recipe for a sugar shortbread Thumbprint Cookie filled with an easy lemon curd filling dusted in powdered sugar. It's a delicious cookie recipe with all the details in the recipe card below.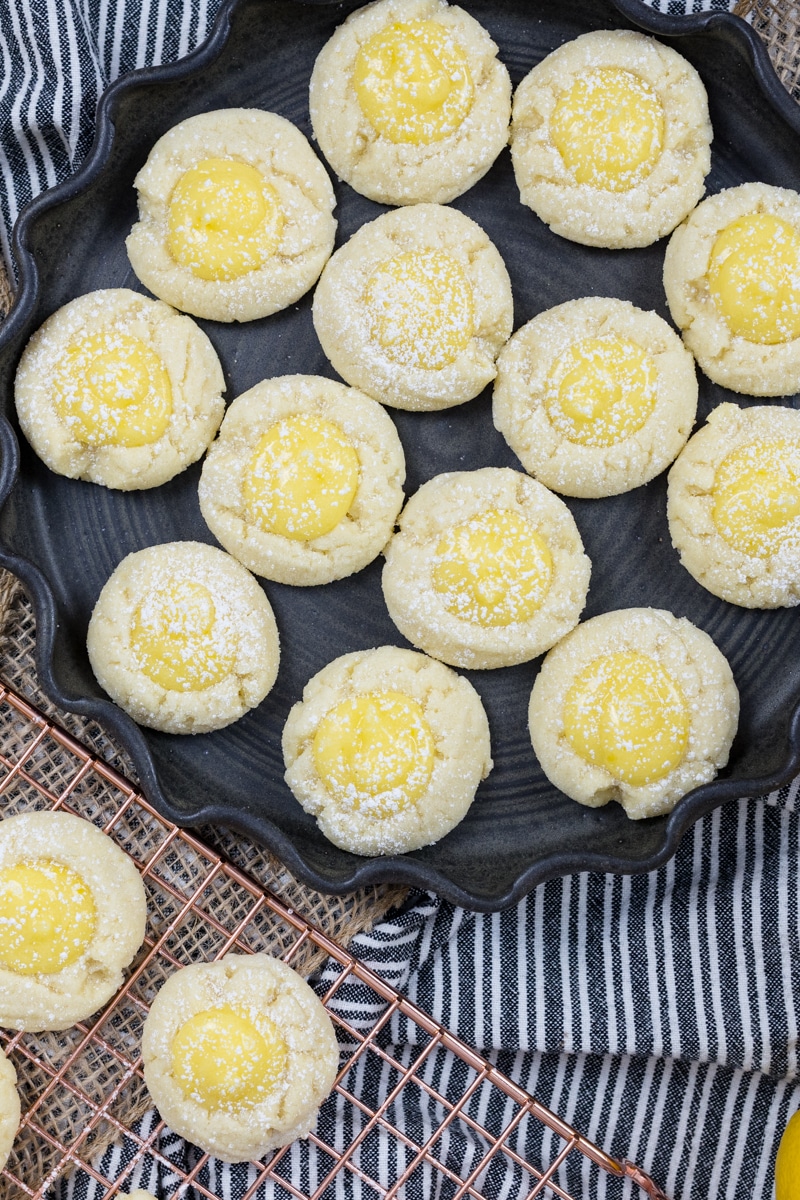 Welcome to #LemonWeek 2022 hosted by Lynn from
Fresh April Flours
and Rebecca from
Devour Dinner.
This week is sponsored by
Rodelle
and
La Tourangelle
. I may have received product samples from these sponsors to help in the creation of my recipes. All opinions are my own. Come join me and my fellow Lemon Week bloggers as we bring you recipes from appetizers to drinks to entrées and desserts!
---
Pucker up those lips for a delicious Lemon Curd Dessert Cookie you will want to make again and again.
If you love lemons like I do, then make sure to try my Lemon Cream Cheese Pound Cake Recipe, or my Lemon Sour Cream Pie recipe. Both are viewer favorites and spectacular.
Lemon Thumbprint Cookies will always win the prize for the best cookies and will definitely curb any appetite too. Making easy lemon curd is also very simple.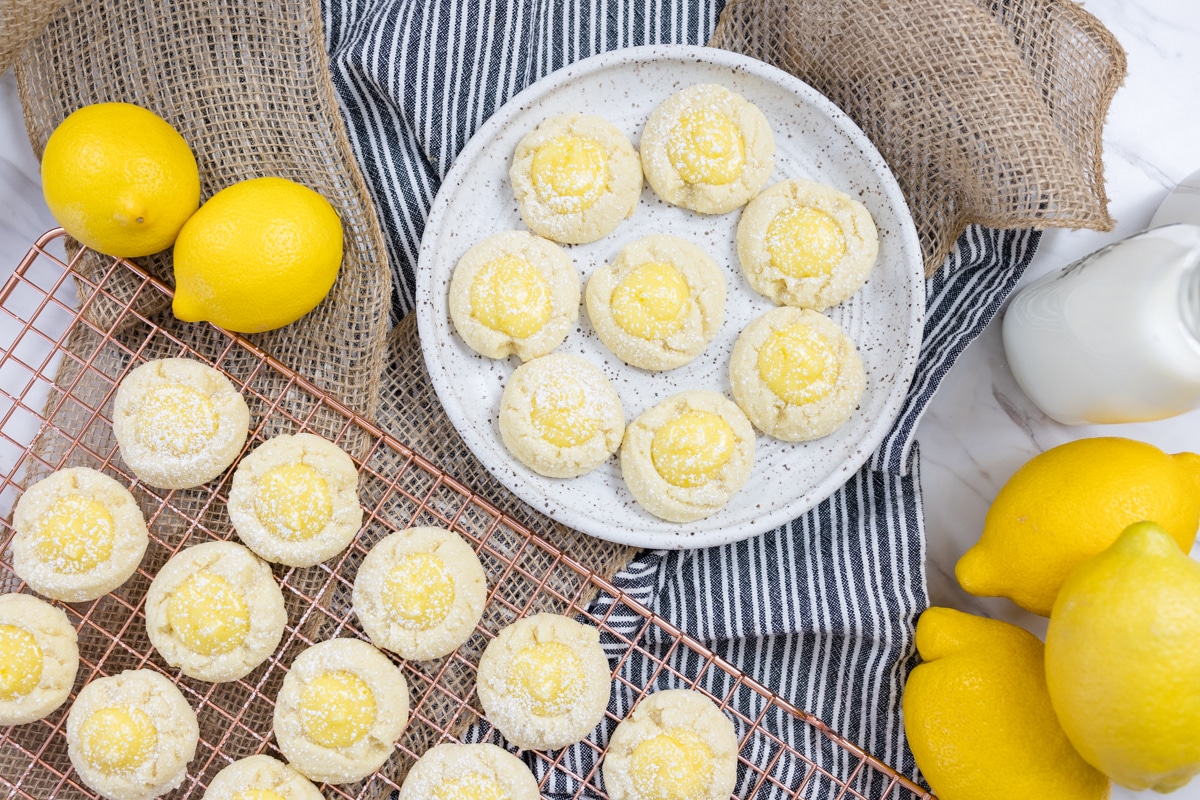 Check out how I made this lemon curd over on Devour Dinner. It has all the steps to making this easy filling.
Thumbprint cookies are a buttery shortbread cookies of sorts and topped with tart lemon curd. Typically made from a cookie dough that is a bit stiffer to hold that thumbprint shape so you have a place to fill. Makes sense, right?
Of course this recipe could also be used and filled with jam too. There are so many wonderful variations, you can't go wrong!
The center of each cookie is filled and then dusted with powdered sugar on top of the curd.
Lemon dessert recipes like this lemony cookies recipe are favorite recipes. They are refreshing and a flavor everyone loves.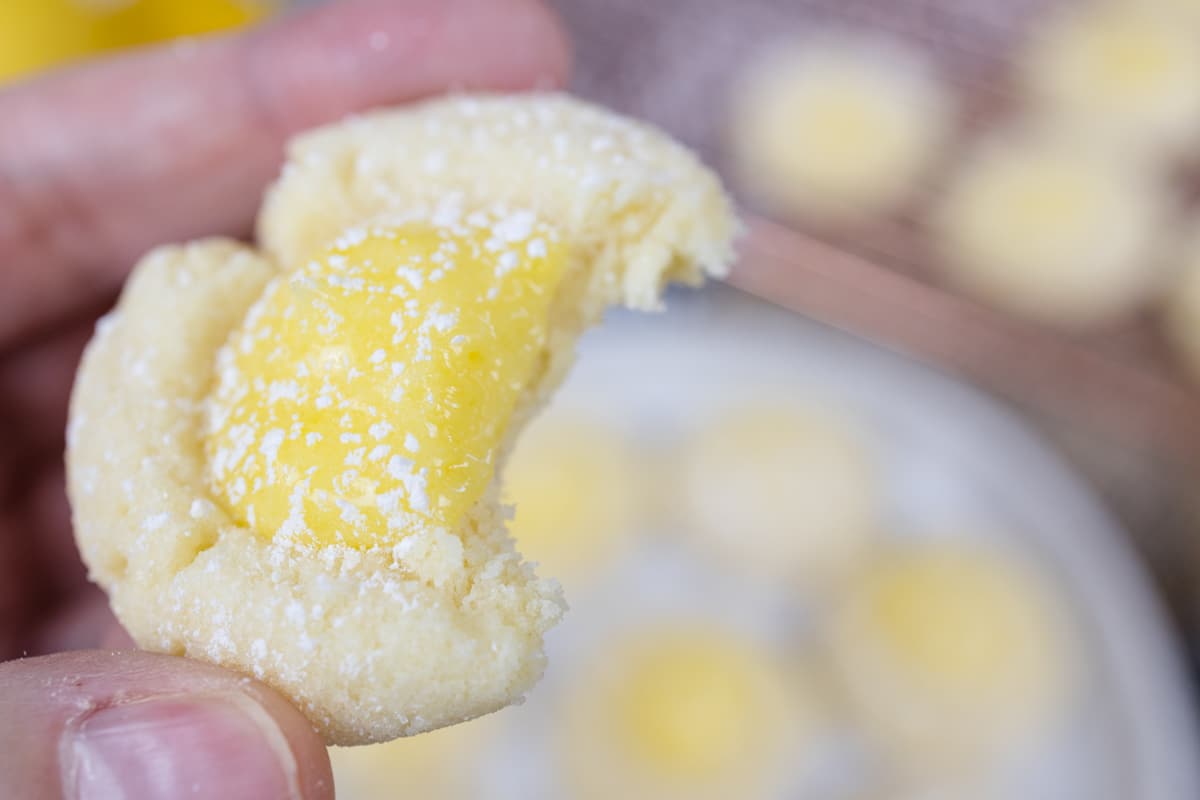 Shopping List
Dry Ingredients. All Purpose Flour, Granulated Sugar, Powdered Sugar, and salt
Egg, Butter and Extract. Always use room temperature Eggs and Butter when baking and a quality Almond Extract.
Other. Lemon Zest
How to make Lemon Curd Cookies
In a mixing bowl with an electric mixer or using a stand mixer cream butter and sugar. Creaming butter and sugar should take 3-4 minutes. The longer these ingredients cream together the lighter and fluffier they will be.
Make sure to scrape the sides of the bowl down multiple times. I find where this is such a small batch recipe, that it's important to scrape the sides of the bowl a couple of times.
Add egg yolk and Almond Extract and cream for an additional 1-2 minutes.
Gradually add flour and a pinch of salt. Mixture will be a thick cookie dough. Exactly how you want it! Cover dough with plastic wrap and chill in refrigerator for 30 minutes.
Baking
Set yourself up for success and use a preheated oven set to 350 degrees for best results. Take the time a prepared baking sheet grease with baking spray or use a parchment paper liner while dough is chilling. I've used a large baking sheet.
Using a small cookie scoop 1 inch in diameter. Scoop cookie dough balls and roll into lemon infused sugar.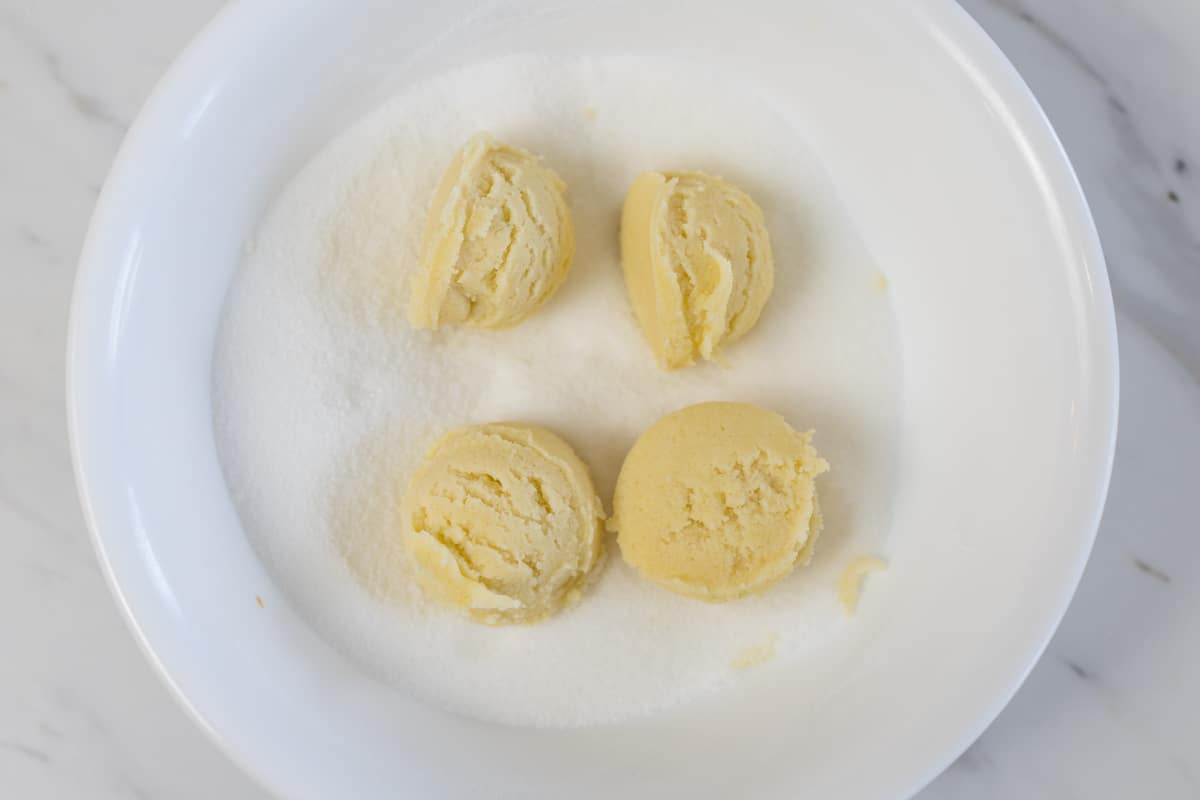 Place cookie dough 2 inches apart on baking sheet. Using the back of a measuring teaspoon, press gently into each cookie leaving a well impression. As the cookies bake this well will flatten out a little bit. That is normal.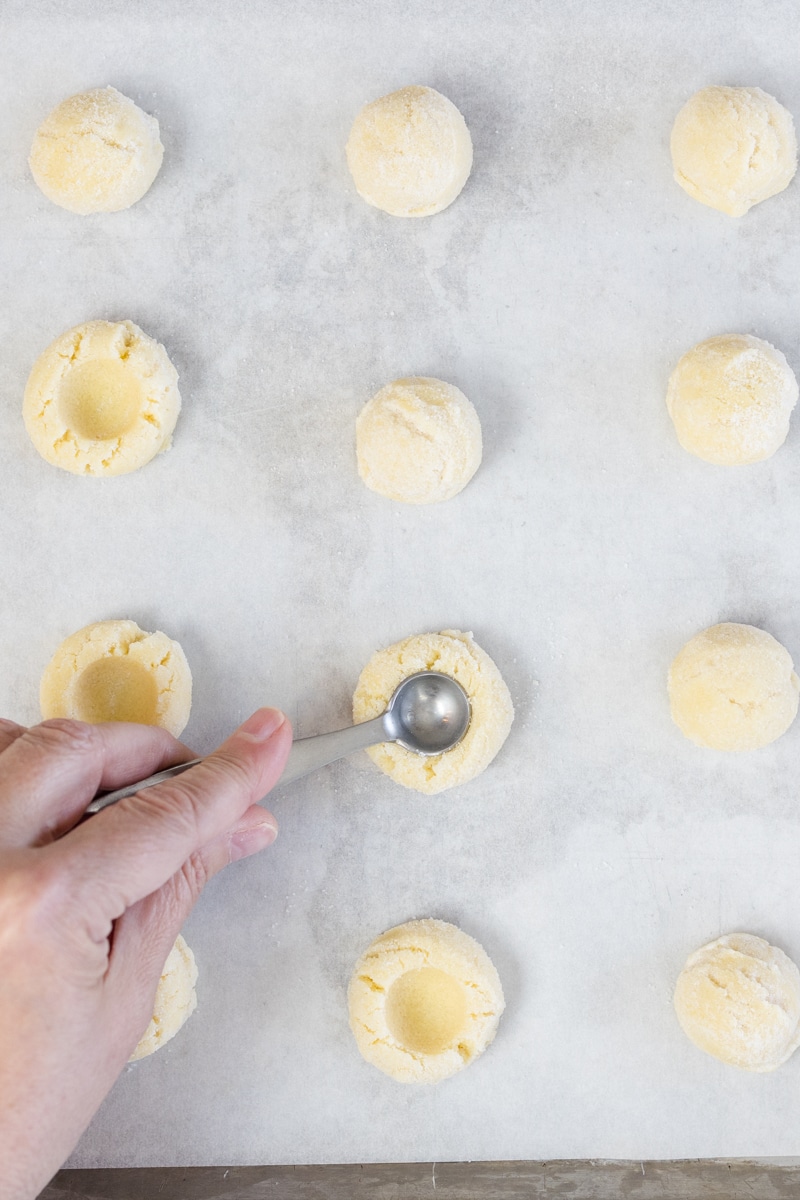 This batch will make about 24 cookies. Bake for 7-9 minutes. Edges will be set but will NOT be golden in color.
Using a measuring teaspoon gently press in center of each cooking creating a well for lemon curd. Allow cookies to cool on pan for 1-2 minutes before moving to cooling rack to cool completely.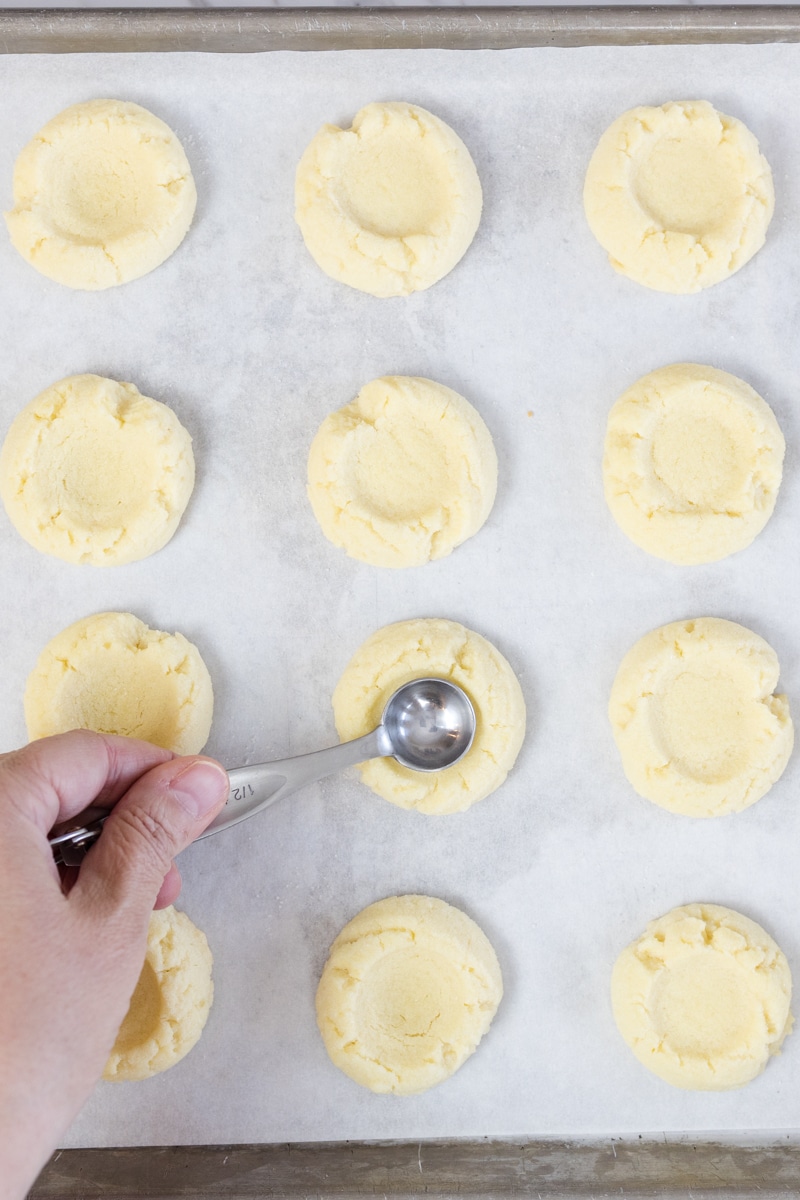 Carefully spoon or use a piping bag with the corner snipped and place about 1 teaspoon of tangy homemade Lemon Curd on each cookie. Dust lightly with powdered sugar.
I find it easiest to use a fine mesh strainer to lightly dust cookies. Enjoy!
How to Make Lemon Curd
Making homemade lemon curd is easy and deliciously fantastic! It really is easy with step by step directions. The lemon curd recipe I used and all the steps is on my sister site Devour Dinner. Please check it out! You could also use a lemon pudding or a jarred lemon curd.
However, take the extra time and make a batch fresh because it is out of this world delicious!
It's best to make the lemon curd before making the cookies so that the curd can cool properly.
How to fill Lemon Custard Cookies
There are a couple of ways to fill Lemon Curd buttery Thumbprint Cookie. You can easily use a small spoon and gently place a scoop into the thumbprint impression in the baked cookie.
Using a second spoon to push the curd into the well will keep your fingers clean.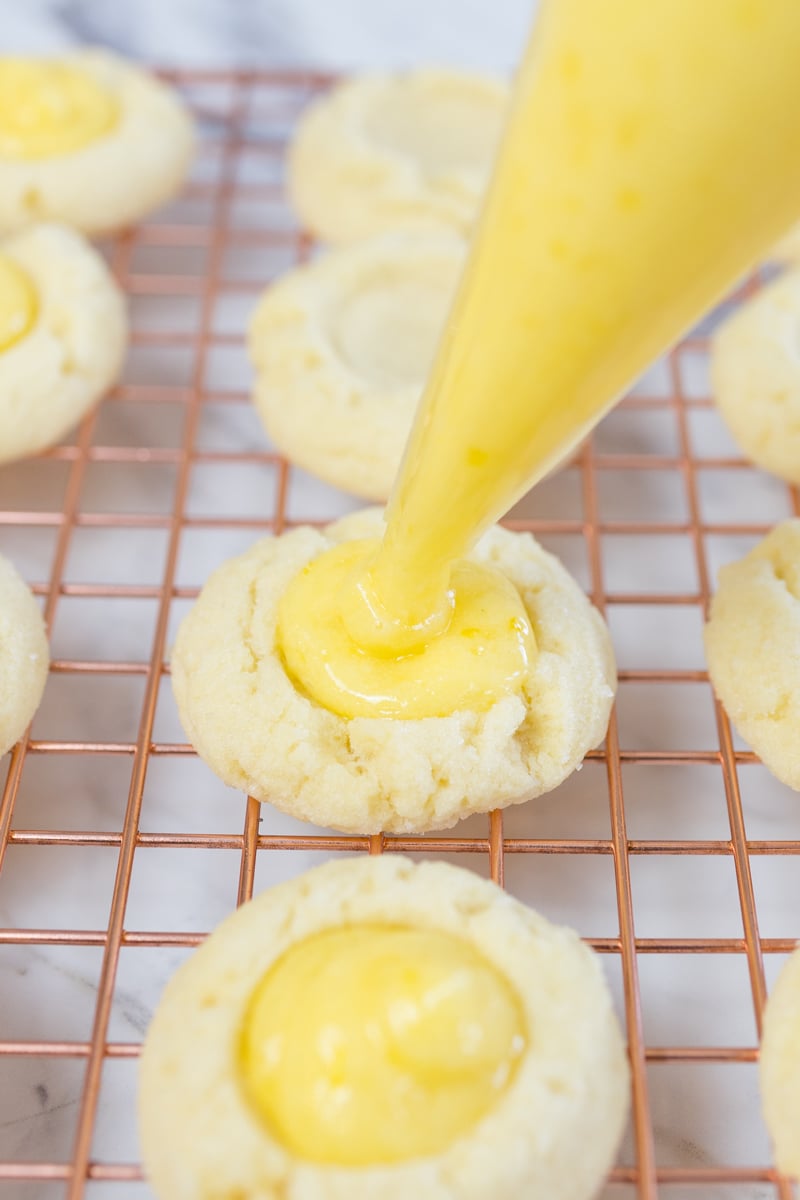 I also like to place lemon curd into a frosting bag and snip the corner of the bag. This allows me to easily fill each cookie without any mess.
Using about a teaspoon of lemon curd is all you need. It's a delicious balance of sweet and tart in every bite. The cookies have crisp edges and are soft and delicate with the creamy lemon curd.
Lemon Curd Uses
I'm in heaven thinking about all the ways to use Lemon Curd in recipes. Mmmm, my mouth is watering. Lemon Curd can be used in so many ways. Filling Crepes is delicious, or in Stuffed French Toast will blow your mind. It's also wonderful swirled into Yogurt. Leftover lemon curd can be used in so many ways.
Even using as a spread on toast or in a warm croissant is also fantastic too. And let's not forget to use in a layer cake or fill cupcakes. And if all else fails, enjoying lemon curd with a spoon is always welcomed in my home.
Try lemon curd in a lemon meringue pie or even over vanilla ice cream.
How to Store
I'm often asked the question "Do Lemon Curd Cookies need to be stored in the refrigerator?" and the answer is YES! Store cookies in an airtight container. Place a sheet of parchment paper between layers of cookies and store in refrigerator.
Cookies will last up to 5 days. But I prefer to enjoy these cookies within 2-3 days. I find the cookies become very soft the longer they sit in the refrigerator and can become crumbly.
Freeze. Cookies can also be frozen for up to 3 months when sealed in an air tight container.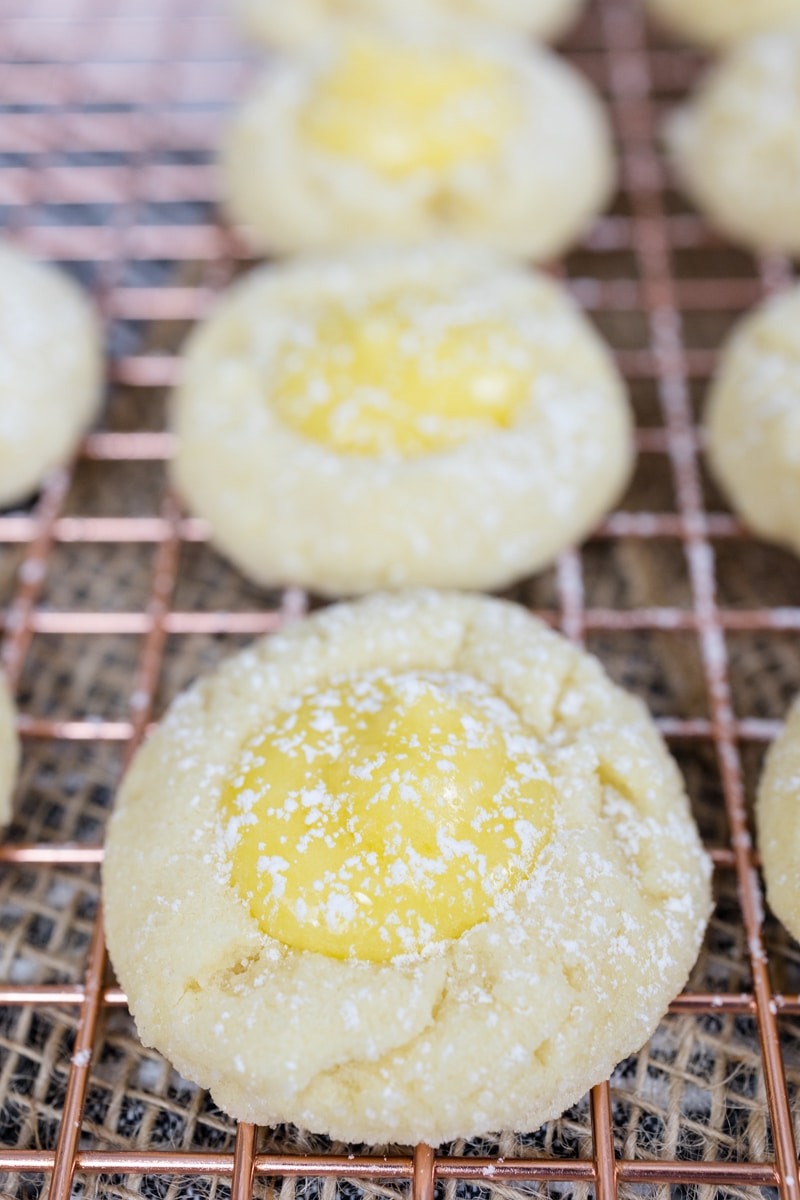 Sponsors for Lemon Week
I loved receiving product from both our sponsors. Rodelle provided extract and I found their extract to be a great high quality extract that was rich in flavor and I loved the added taste it added to my cookies.
La Tourangelle prides themselves in making high quality products used in baking. Their baking spray is fantastic. I've used their baking spray as well as avocado oil which I love when using my Air Fryer.
Monday #LemonWeek Recipes
Lemon Curd Cookies

Delicious Lemon Curd Cookies made with a sugar shortbread cookie and filled with homemade lemon curd.

Ingredients

½

Cup

Butter

Softened

¾

Cup

Granulated Sugar

Divided

1

Cup

All Purpose Flour

Plus 2 Tablespoons

½

teaspoon

Almond Extract

1

Egg Yolk

Large

¼

teaspoon

Salt

1

teaspoon

Lemon Zest

2

Tablespoons

Powdered Sugar

½

Cup

Lemon Curd

Lemon Curd

6

Egg Yolks

1

Cup

Sugar

200g

½

Cup

Lemon Juice

Freshly squeezed

2

Tablespoons

Lemon Zest

½

Cup

Butter

Cold

Instructions

In a mixing bowl or using a stand mixer cream butter and ½ cup sugar. Creaming butter and sugar should take 3-4 minutes. Make sure to scrape the sides of the bowl down multiple times.

Add egg yolk and Almond Extract and cream for an additional 1-2 minutes

Gradually add flour and a pinch of salt. Mixture will be a thick cookie dough.

Cover dough with plastic wrap and chill in refrigerator for 30 minutes.

Make infused Sugar with Lemon

Combine ¼ Cup Sugar with 1 teaspoon lemon zest and mix together.

Baking

preheat oven to 350 degrees. Take the time to grease a cookie sheet with baking spray or use a parchment paper liner

Using a small cookie scoop 1 inch in diameter. Scoop cookie dough balls and roll into lemon infused sugar.

Place cookie dough 2 inches apart on baking sheet.

Using the back of a measuring teaspoon, press gently into each cookie leaving a well impression.

Bake for 7-9 minutes. Edges will be set but will NOT be golden in color.

Using a measuring teaspoon gently press in center of each cooking creating a well for lemon curd. Allow cookies to cool on pan for 1-2 minutes before moving to cooling rack to cool completely.

Carefully spoon or use a piping bag with the corner snipped and place about 1 teaspoon of Lemon Curd on each cookie.

Dust lightly with powdered sugar.

Lemon Curd

Combine Egg Yolks with Sugar in a double boiler. Whisk ingredients together

Heat over a medium/low heat continually whisking ingredients so eggs do not scramble

Add fresh lemon juice and lemon zest and continue whisking.

Slowly bring temperature to just barely a boil. The edges will begin to bubble. This can take 10-15 minutes. Adjust heat as needed.

Remove from heat and add cold butter. Whisk until fully melted and combined

Pour Lemon Curd into a container placing plastic wrap on top and allowing to cool.

Notes

How to Store

Store cookies in an airtight container. Place a sheet of parchment paper between layers of cookies and store in refrigerator.

Cookies will last up to 5 days. But I prefer to enjoy these cookies within 2-3 days.

Freeze. Cookies can also be frozen for up to 3 months when sealed in an air tight container. Place parchment paper between layers to freeze.

Nutrition Disclaimer

All nutrition values are approximate and calculated by a plugin and are provided as a courtesy. Adding or subtracting ingredients will change the nutritional value.

Calories:

148

kcal

|

Carbohydrates:

31

g

|

Protein:

2

g

|

Fat:

2

g

|

Saturated Fat:

1

g

|

Polyunsaturated Fat:

0.3

g

|

Monounsaturated Fat:

1

g

|

Trans Fat:

0.03

g

|

Cholesterol:

57

mg

|

Sodium:

92

mg

|

Potassium:

23

mg

|

Fiber:

0.3

g

|

Sugar:

23

g

|

Vitamin A:

76

IU

|

Vitamin C:

3

mg

|

Calcium:

30

mg

|

Iron:

1

mg