When it's time to celebrate, these 4th of July Sugar Cookie Bars are always top on my list. they are soft and delicious and the best 4th of July desserts for a crowd. It makes a nice size pan and is easily shared.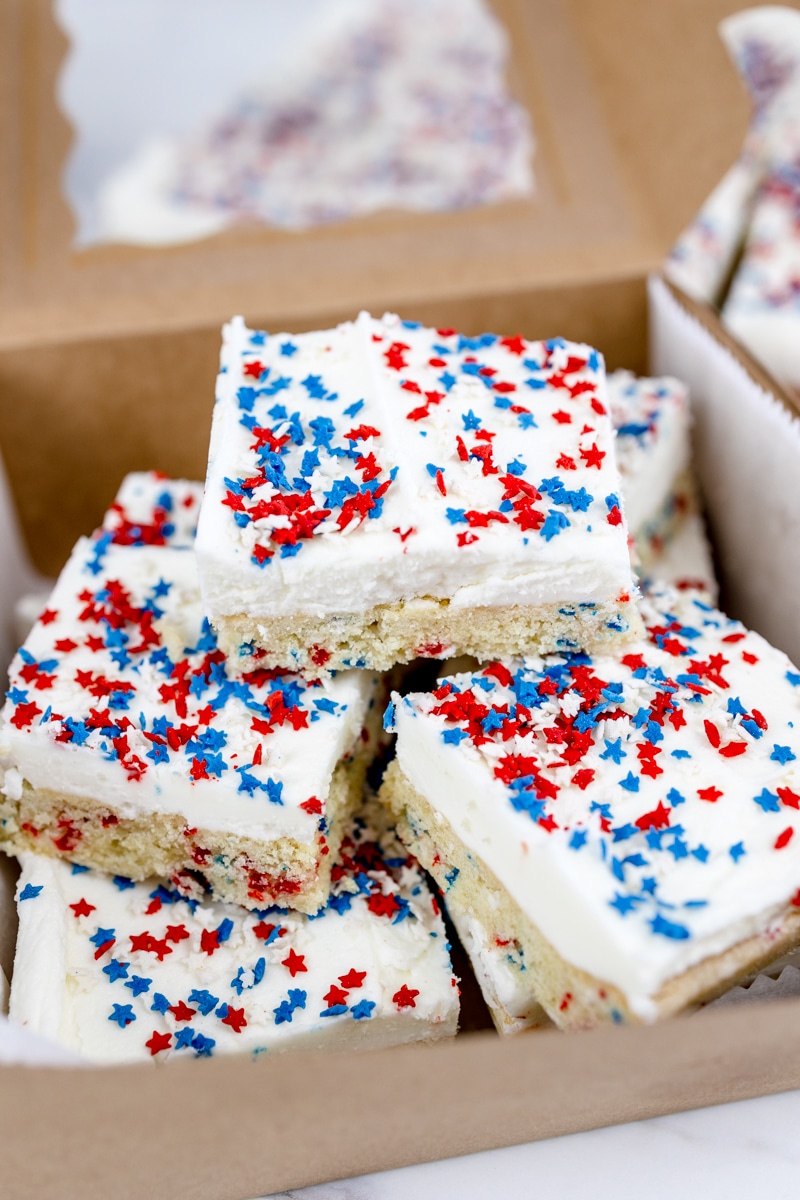 Red White and Blue, patriotic colors warms my soul. It's a time to celebrate our freedoms and those who fought so hard for a country I love.
Let's celebrate with a day full of BBQ's, Parades, 5k Fun Runs, Pot Lucks, and of course Fire Works.
I love spending time with friends and family gathering together which can only mean there is lots and LOTS of great food!
Mmmm, Pot Lucks are the BEST because they have an abundance of all my favorite things.
If I had my way these Sugar Cookie Bars would always be included in Easy Desserts 4th of July. I'm using my famous soft sugar cookie recipe baked in a quarter sheet baking pan.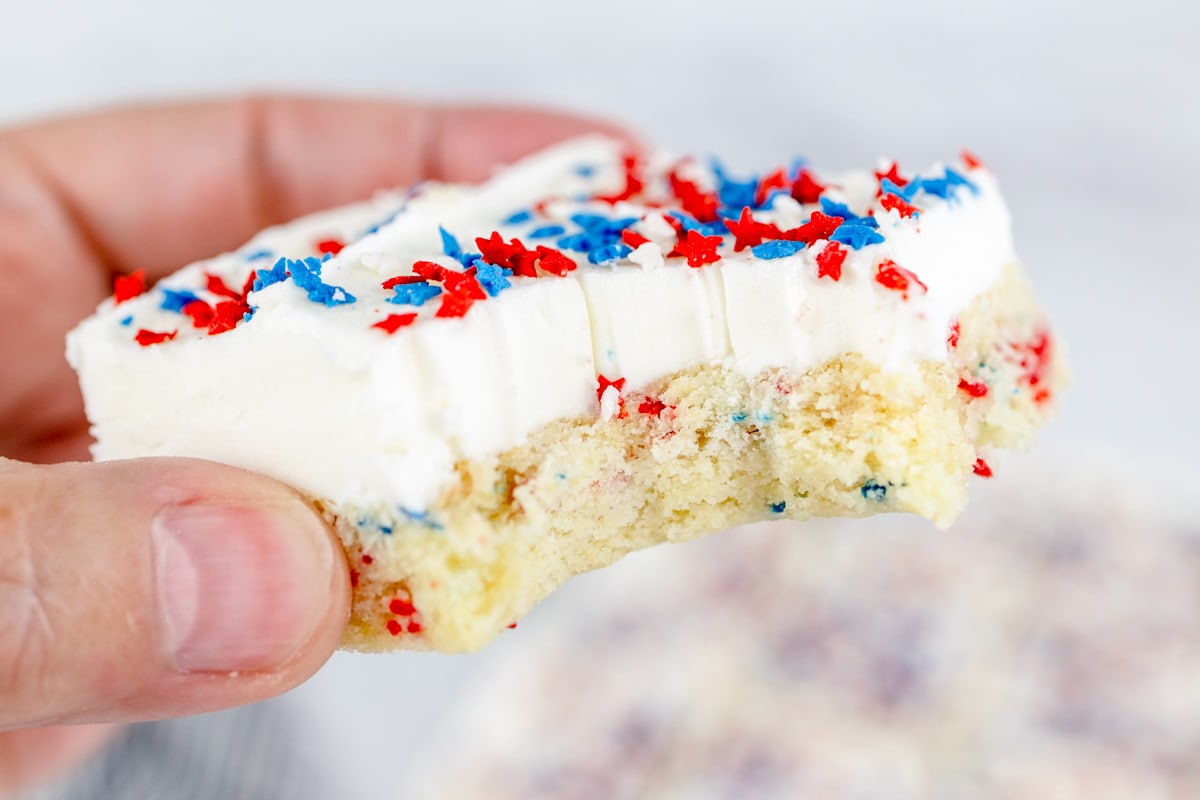 Topped with a thick and delicious white frosting and sprinkled with Red White and Blue Star Sprinkles. So choose your favorite sprinkle and let those little ones help decorate!
Everyone loves July 4th Cookies and there are so many dessert recipes for the fourth of July that you really can't go wrong.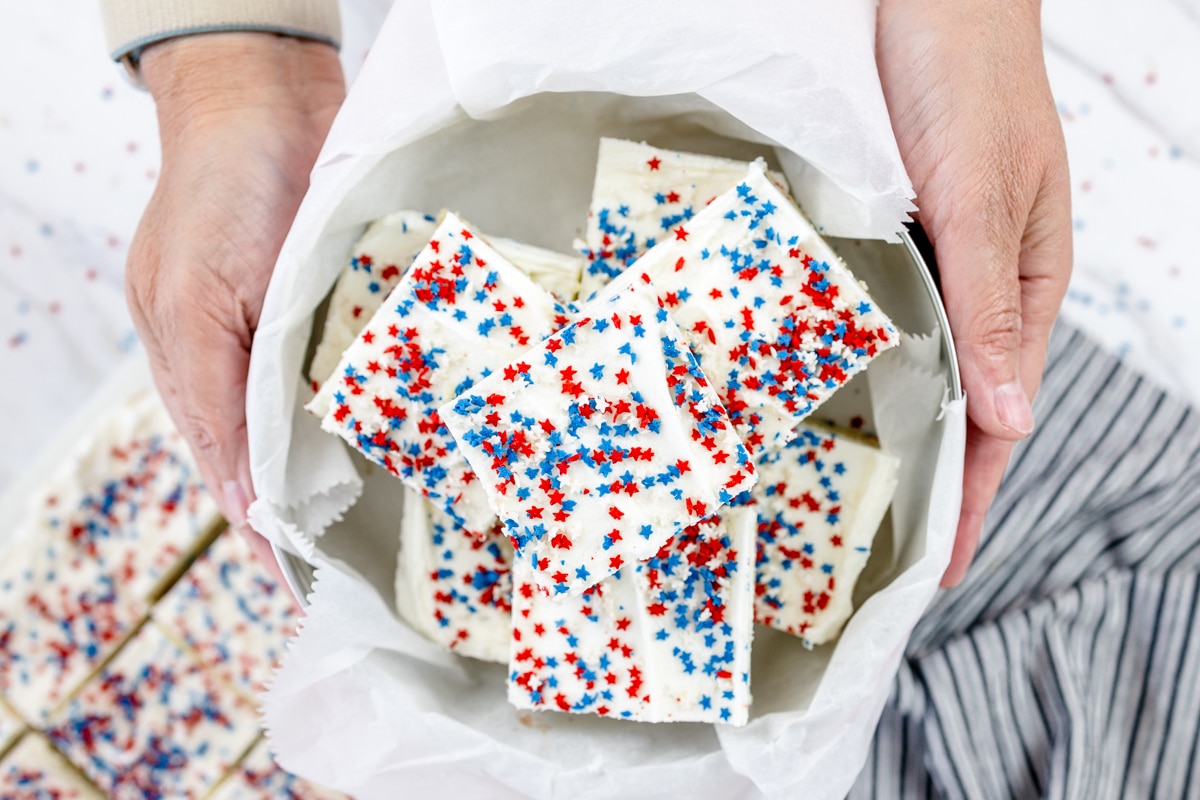 Shopping List
Sugar. Granulated Sugar and Powdered Sugar or added softness to the cookie
Fats. Softened Butter and Vegetable Oil
Egg and Vanilla. The egg gives lift and helps bind the ingredients together and the Vanilla adds richness of flavor too. But try adding Almond Extract. YUM!
Dry Ingredients. All Purpose Flour, Salt, Baking Soda, and Cream of Tarter
Sprinkles. Red White and Blue Sprinkles
Frosting
Sugar. Powdered Sugar is the only sugar to use when making frosting. It creates a nice smooth frosting
Fats. Butter and Coconut Oil or substitute Crisco
Liquid. Almond Extract and Heavy Whipping Cream or Half and Half or Whole Milk as a substitute.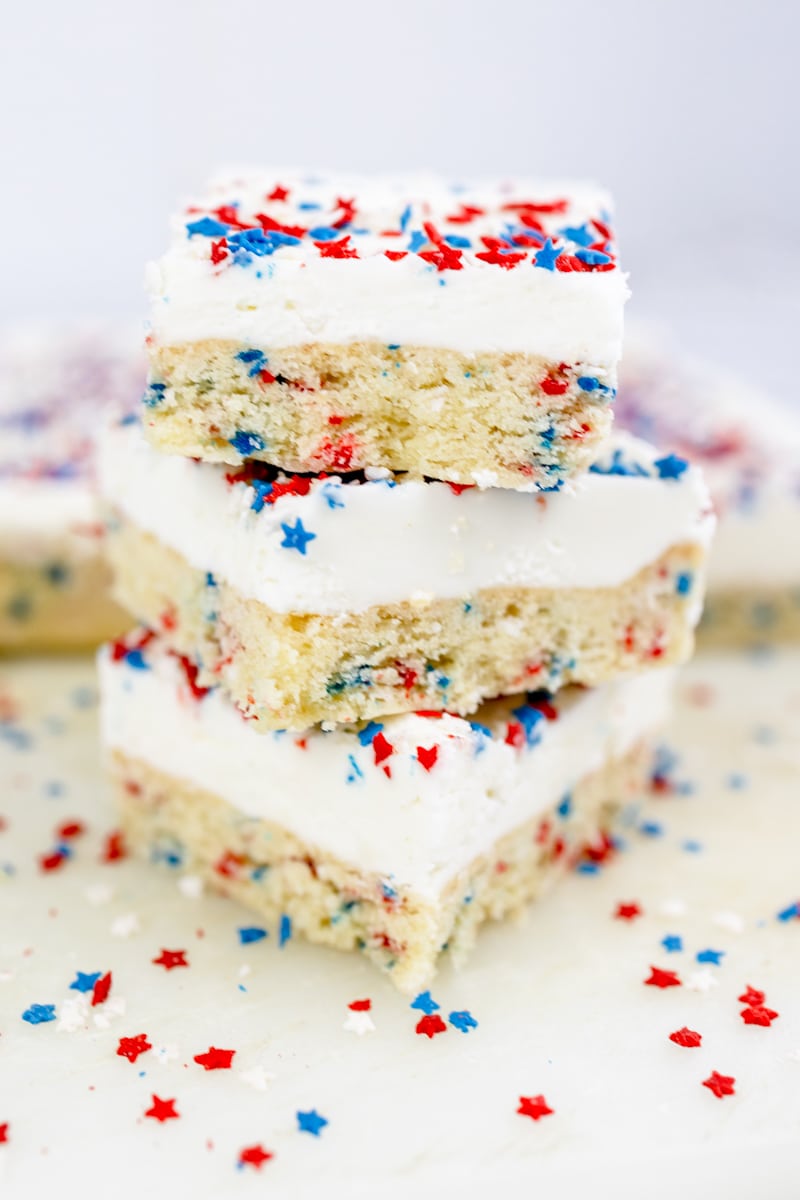 Fourth of July Traditions
How do you celebrate July 4th? What traditions do you have in your family? In my family we celebrate being together. A day full of activities and events and of course filled with food.
Our day starts with a neighborhood 5k Fun Run and breakfast. Then everyone heads off to the local parade. Living in a small town is great because the parades have homemade floats that are so creative and fun to see. And of course the kids love all the candy.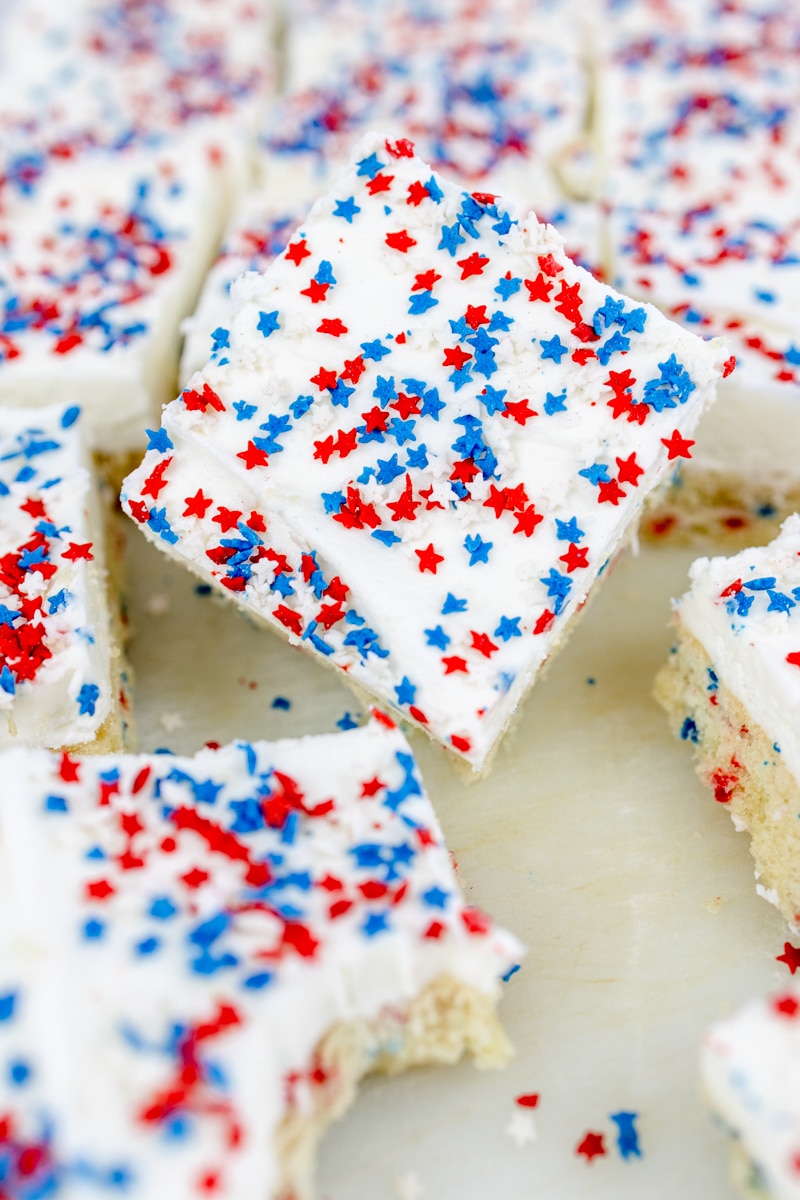 By late afternoon it's time for family games, water balloon fights and to bring out the array of foods. It's always fun to see what everyone will bring to make the even a success. We do have a few favorites and traditions that show up every year.
I'm always asked to make the BEST Dessert Bar recipes. You know, the tradition sugar cookie bar with pink frosting. This recipe is the same with white frosting and start sprinkles. So easy, so good. Everyone loves them.
How to make Fourth of July Sugar Cookies Bars
Gather the ingredients needed and weight and measure for accuracy. If you need help measuring or weighing ingredients here are my tips for consistent baking.
Using a large bowl and hand mixer or using a stand mixer cream together softened butter and granulated sugar for 2-3 minutes.
It will be necessary to scape sides of bowl down a couple of times as the butter mixture creams. This will help to mix ingredients together smoothly.
Beat egg and vanilla extract into mixture until combined. Then drizzle vegetable oil into mixture followed by powdered sugar. Allow to cream for another 2-3 minutes.
Creaming ingredients adds air pockets with create light and fluffy bar cookies.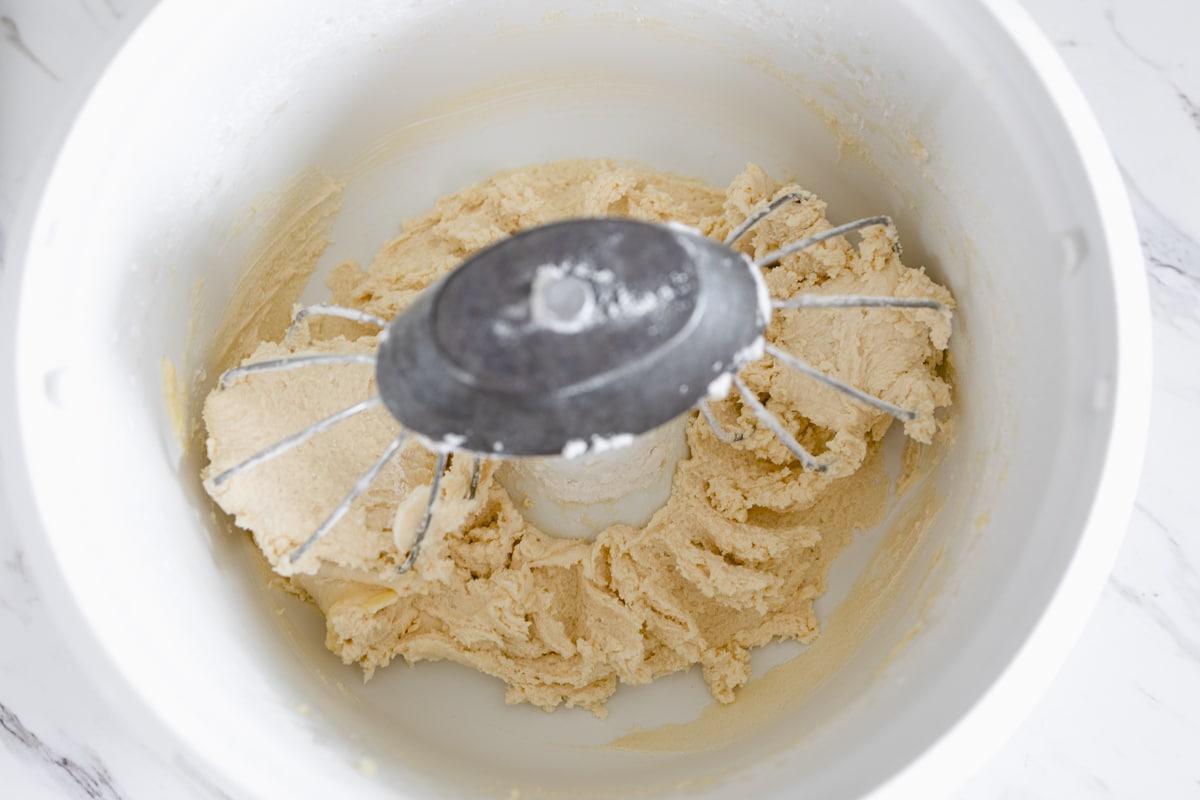 In a separate bowl combine dry ingredients of flour, cream of tartar and baking soda and mix. Add dry ingredient mixture slowly to butter mixture making sure it's fully combined before adding more.
I love to add holiday sprinkles right into the cookie dough mix for added fun. It's optional but definitely fun!
Spread cookie dough into prepared cookie sheet and bake in a preheated oven to 350 degrees.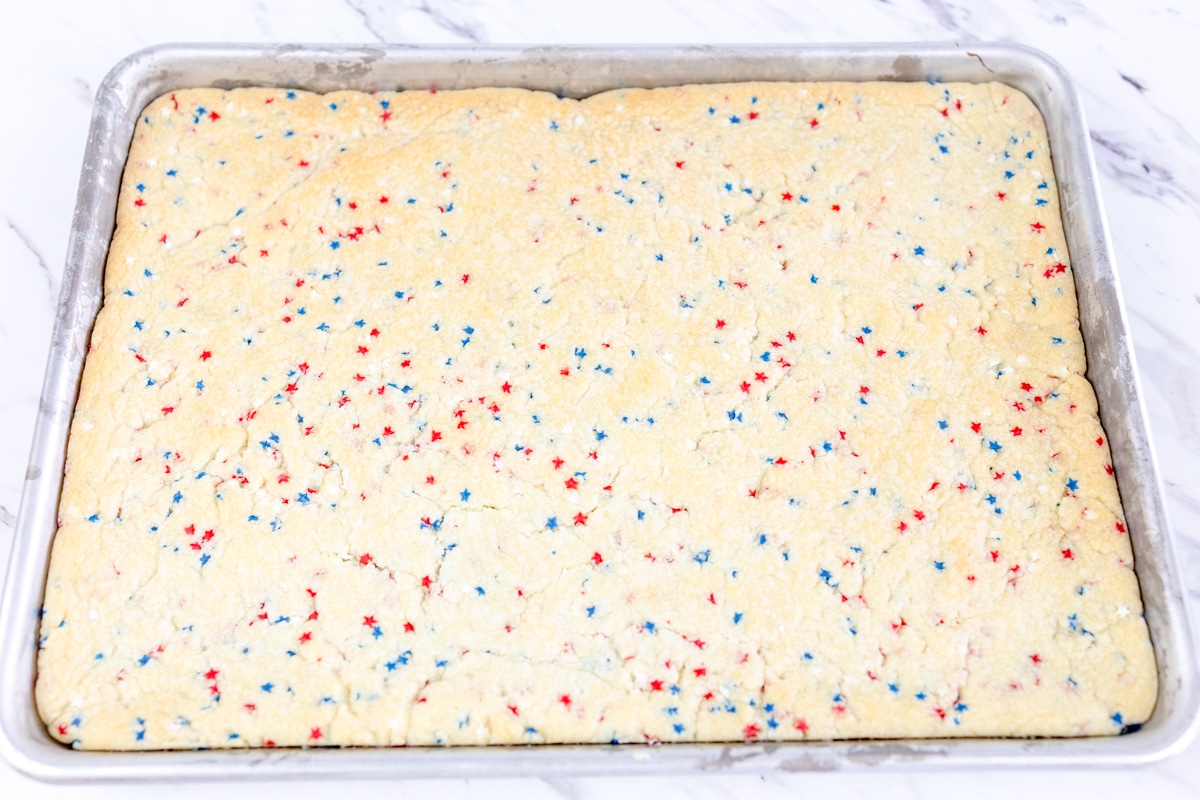 Sugar Cookie Bars are done when edges have turned a light golden brown and center is set. Remove from oven and allow to cool in pan for at least an hour before frosting.
Making July 4th Sugar Cookies Bars Frosting
Frosting is so fun and quick to make, so lets dive in! You will need a large bowl.
Mix softened Butter with Coconut Oil until light a fluffy. It will take a minute or two. Scrape sides of bowl as needed.
Add powdered sugar to mixture until all combined. It's important to note that initially the mixture will seem dry and may not combine well. Keep mixing together and ingredients will become a very thick frosting.
Add extract for some flavor and drizzle heavy cream in a little at a time until desired thickness of frosting is achieved.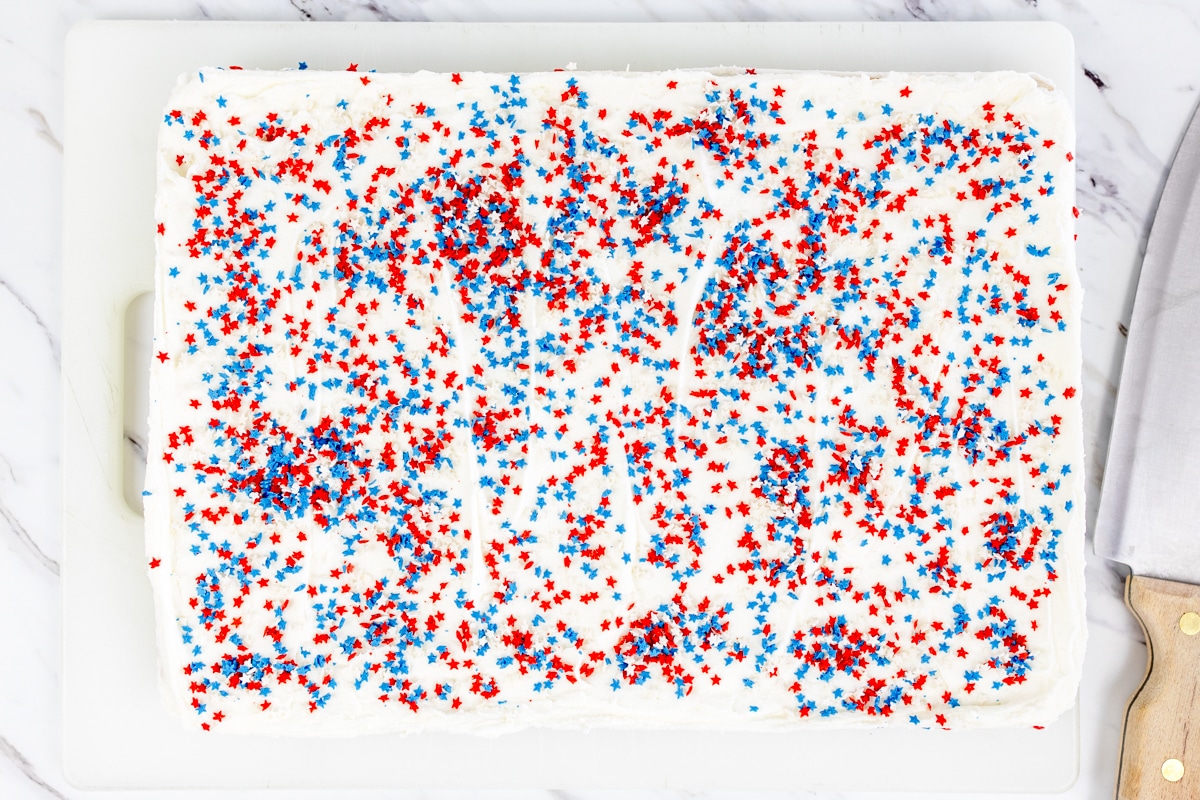 Frosting should be stiff and just a little sticky. You need a little stickiness to hold the sprinkles.
Immediately sprinkle colors sprinkles on top a frosted bar cookie. Cut into squares and serve.
Pro Tips
Room Temperature Ingredients. Always use room temperature butter and egg. What does this mean? Well, I recommend taking butter out of the refrigerator for 1 hour. Butter should still be firm to the touch but you should be able to leave an indention.
If the butter has turned to mush, it's far to soft. Mushy butter does not cream well and melts to quickly. For best results use a softened butter that has only sat out for 1 hour.
Baking Sheet. I use a silver baking sheet lined with parchment paper or greased with a cooking spray.
Baking Time. Do not over bake. Sugar Cookie Bars are done with edges have sent and have turned a very light golden. The center will also be set.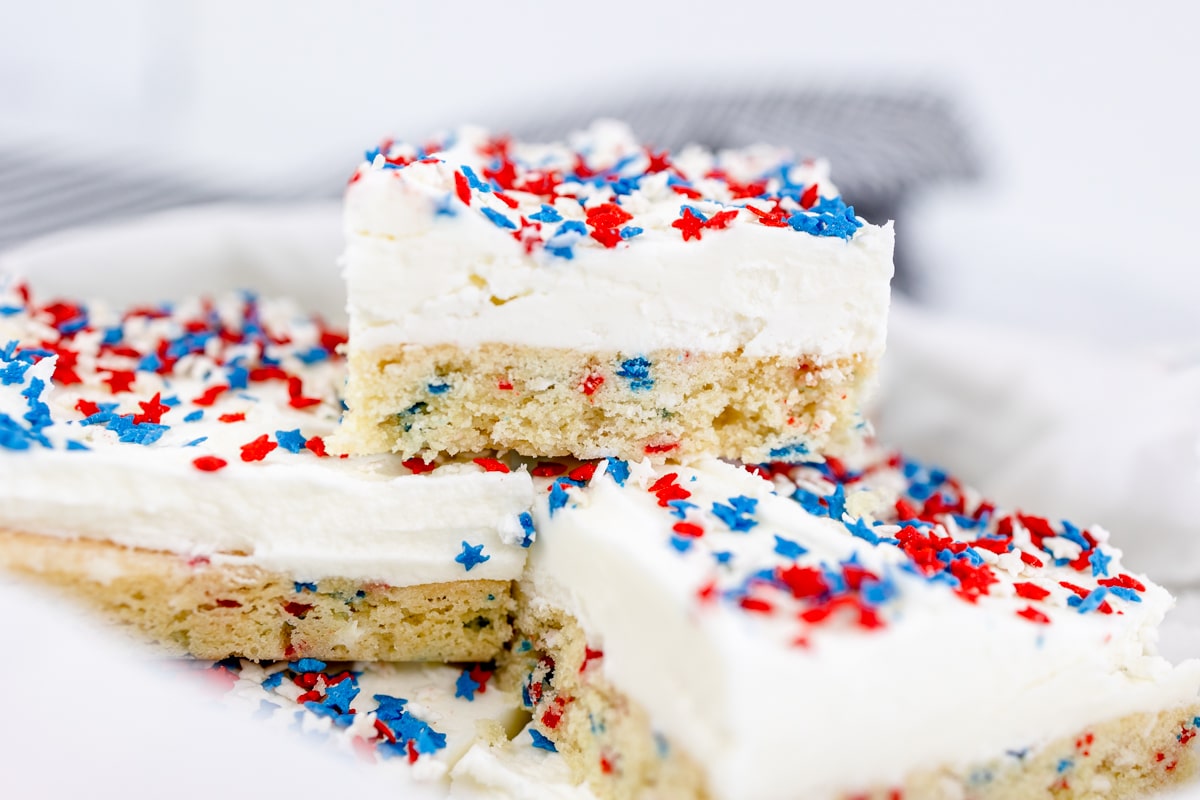 Storage and Freezing
Store cooled bar cookies covered with plastic wrap. Cookies can be made a day early if needed but I do love them fresh!
Sugar Cookie Bars can also be frozen for up to 3 months when properly sealed and stored.
Substitutions
This recipe is pretty simple with common ingredients so very few substitutions are needed if any when making 4th of July Sugar Cookie Bars. But I'm often asked about using store bought frosting.
I say, Go for it! If that is what you like or works for the occasion.
Sprinkles. I used a Red White and Blue Star shaped sprinkles. But you could also decorate the cookie bars in a Flag Cake design with red strips made from red sprinkles leaving white showing for the white stripes.
Adding blue sprinkles in the upper corner for the field of blue is also perfect. And don't hesitate to use fresh fruit in place of sprinkles too.
I hope this year you celebrate this blessed country we live in and enjoy the friendships you are surrounded with. Don't forget to take a photo of your delicious 4th of July Cookies and tag @bestcookierecipes on social platforms. I'd love to see them!
Extract. I do love Almond extract used in the frosting. But you could use Vanilla extract, Coconut Extract, or any flavor extract you wish.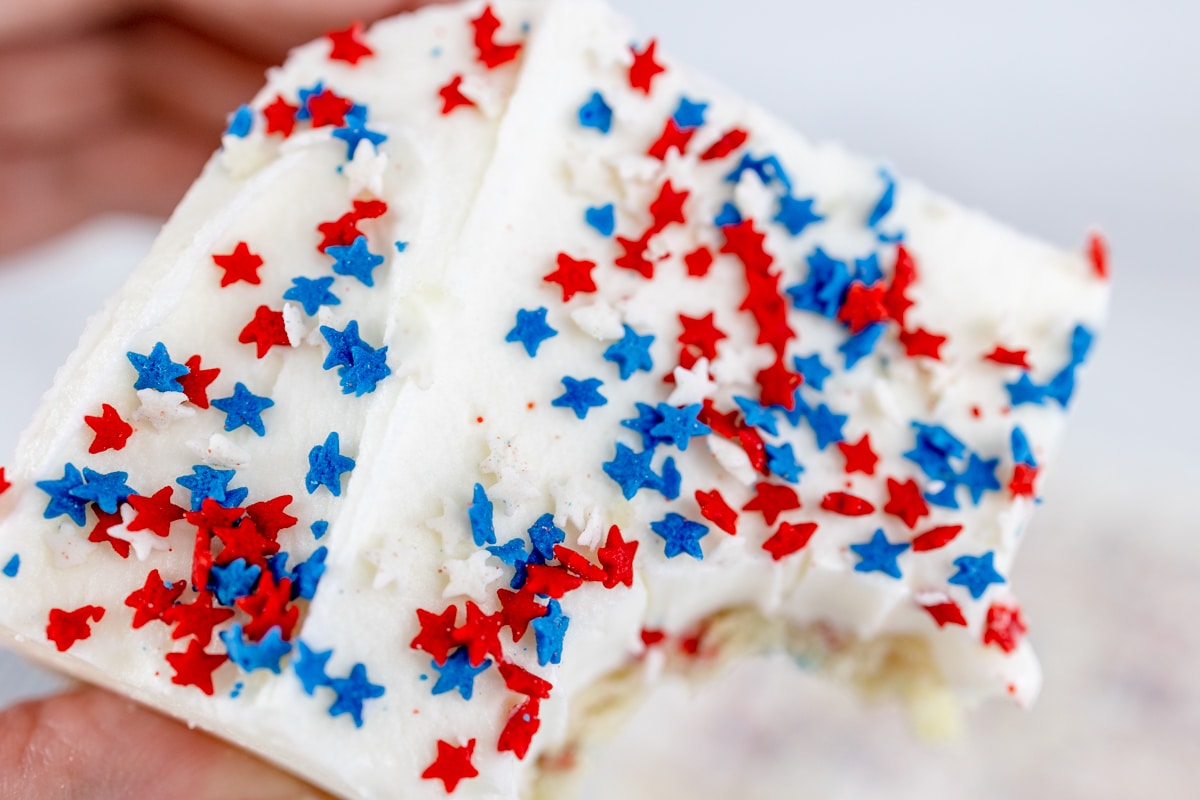 More Dessert Recipes for the 4th of July
4th of July Sugar Cookie Bars
Soft 4th of July Sugar Cookie Bars topped with creamy fluffy frosting and Red White and Blue Sprinkles to celebrate our freedom.
Ingredients
½

Cup

Butter

Softened

½

Cup

Granulated Sugar

100g

½

Cup

Powdered Sugar

65g

¼

Cup

Vegetable Oil

1

Egg

Large

1

teaspoon

Vanilla Extract

½

teaspoon

Cream of Tartar

½

teaspoon

Baking Soda

2

Cup

All Purpose Flour

240g

1

Cup

Sprinkles

Red White and Blue Sprinkles
Frosting
½

Cup

Butter

½

Cup

Coconut Oil

4

Cup

Powdered Sugar

500g

1

teaspoon

Almond Extract

¼

Cup

Heavy Whipping Cream
Instructions
Preheat oven to 350 Degrees and line ¼ size baking sheet with parchment paper

Allow Butter and egg to come to room temperature by setting it on the counter for 1 hour

In a large bowl using a hand mixer cream butter and sugar together for 2-3 minutes

Drizzle Vegetable Oil into butter mixture and allow to fully combine before adding powdered sugar

Cream for another 2-3 minutes until light and fluffy.

Add egg and vanilla extract and cream for 1 more minute

In a separate bowl combine dry ingredients of All Purpose Flour, Cream of Tartar, and Baking Soda adding a little at a time making sure to fully mix together before adding more.

Hand stir in ½ cup Sprinkles into cookie dough before baking

Spread cookie dough in prepared baking pan and bake at 350 degrees for 18-20 minutes or until edges are golden brown. Do not over bake.

Allow bar cookies to fully cool before adding frosting
Frosting
In a mixing bowl combine butter and coconut oil together scraping down sides of bowl as needed.

Add Powdered Sugar and mix using a hand mixer.

Add Almond Extract and whip. Add Heavy Whipping cream one Tablespoon at a time and only use enough to reach desired consistency

Mix in food coloring and blend until you no longer see white streaks and frosting is all one color. Use as much or as little as you want to reach desired color.

Spread frosting on cooled sugar cookie in pan and immediately top with sprinkles

Cut into bite size bars to serve.
Notes
Store and Freeze
Store recipe for sugar cookie bars in a sealed container or wrap with a layer of plastic and foil on top to keep air out. Pink Frosting Cookie can be stored at room temperature but it's also fantastic stored and served chilled.
Freeze. Sugar cookie Bars can be frozen. Wrap each bar individually in plastic and place in a sealed container to freeze. Sugar Cookies can be frozen for up to 3 months.
Nutrition Disclaimer
All nutrition values are approximate and calculated by a plugin and are provided as a courtesy. Adding or subtracting ingredients will change the nutritional value.
Calories:
276
kcal
|
Carbohydrates:
49
g
|
Protein:
2
g
|
Fat:
9
g
|
Saturated Fat:
5
g
|
Polyunsaturated Fat:
2
g
|
Monounsaturated Fat:
1
g
|
Trans Fat:
0.04
g
|
Cholesterol:
10
mg
|
Sodium:
99
mg
|
Potassium:
32
mg
|
Fiber:
0.4
g
|
Sugar:
37
g
|
Vitamin A:
46
IU
|
Vitamin C:
0.01
mg
|
Calcium:
25
mg
|
Iron:
1
mg