Gideon's Frankenstein Cookie Copycat recipe, It's halloween and Frankenstein Lives! These giant gourmet cookies are a copycat recipe and limited edition found at Gideon's Bakehouse in Disney Springs.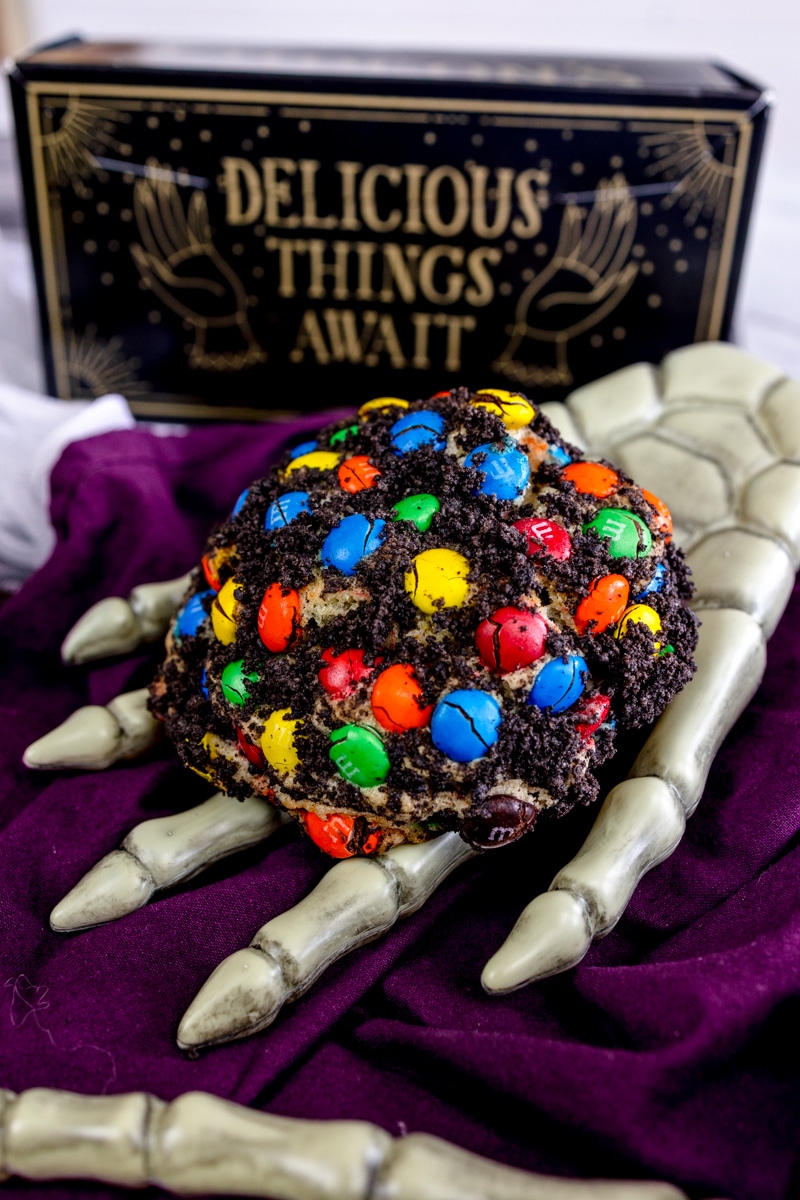 A vanilla cookie base loaded with Oreos, chocolate, and M&M's candy pieces to create a spectacular cookie recipe.
Rolled in M&M candy pieces and Oreo crumbs for truly a rich and delicious cookie recipe.
Want a more traditional gourmet cookie? Try my Copycat Recipe for Gideon's Bakehouse Chocolate Chip Cookies. YUM! The Bride of Frankenstein Cookie is the Vanilla version of this same cookie. A little less sweet and so delicious.
What is Gideon's Bakehouse Cookies
Gideon's Bakehouse found in Orlando Florida is a perfectly themed bakery in Disney Springs. Plan your visit with time to spare as there is always a wait to enter.
Each month a new limited edition cookie is introduced and naturally for the month of October the Frankenstein Cookie is a huge hit.
The cookie is loaded with chocolate making it a favorite by many. I personally love the added taste and texture of the large Oreo cookie pieces mixed into the cookie dough.
But wait! You can't have Frankenstein without the Bride of Frankenstein and Gideon's Bakehouse does not disappoint. This month they have 2 limited edition cookies.
Gideon's Bakehouse Cookies Tips
Gideon's Bakehouse boasts that cookies take well over 24 hours to make which helps meld all the flavors together prior to baking these ½ pound cookies.
The cookies are perfectly balanced and when baked give a delicious ooey gooey centers while still being perfectly baked.
I have found that I do prefer to allow the cookie dough to chill for a few hours prior to baking. This also helps the cookies to from spreading too.
Please make sure to follow the directions in the recipe card below when making these cookies. I will help you ever step of the way!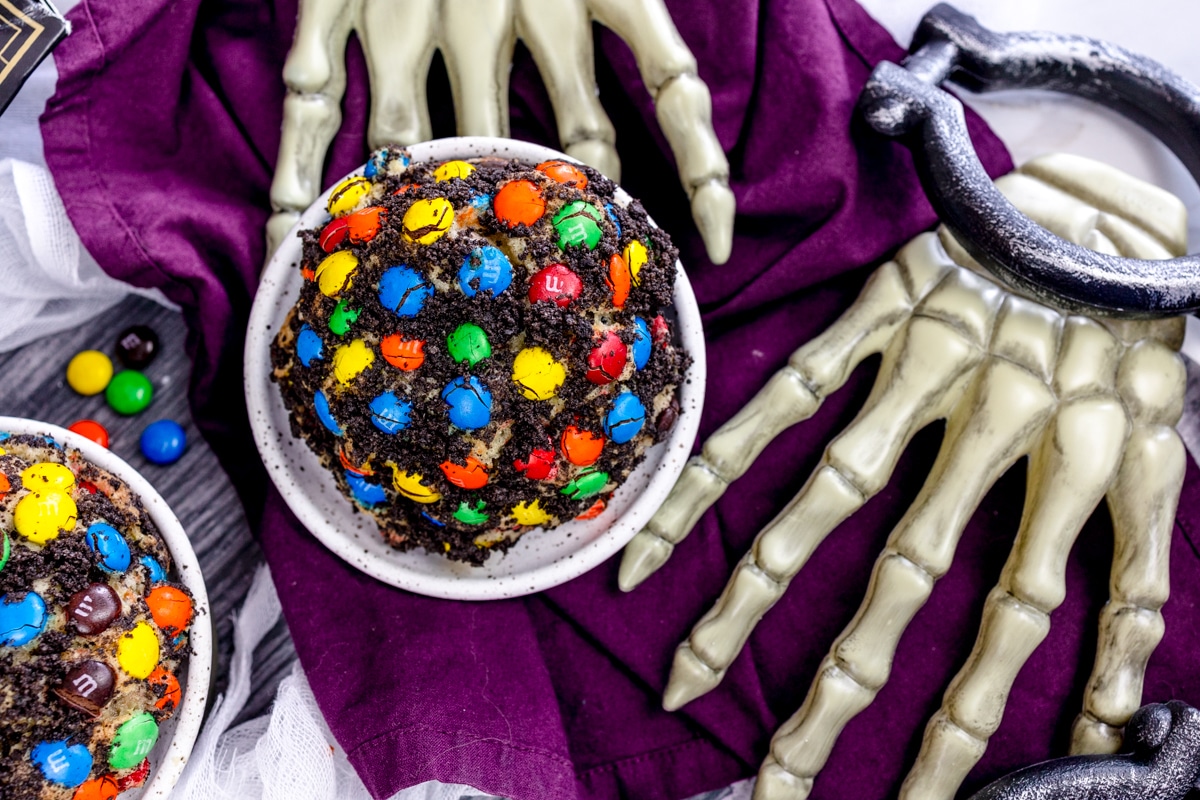 Ingredients
Dry Ingredients: Brown Sugar, Granulated Sugar, Cake Flour, Bread Flour, Cornstarch, Baking Soda, Salt, Sea Salt (garnish)
Wet Ingredients: Butter, Eggs, Vanilla Extract Paste
Other Ingredients: Chocolate Chips, Double Stuffed Oreos, Oreo Crumbs, M&M's Candy Pieces
See Recipe Card Below for Ingredient Measurements and Full Directions
This recipe will make 8 gourmet cookies each weighing approximately a half pound. They are a fantastic size for sharing. A little really does go a long ways.
Gather all ingredients and supplies needed. This will help make sure you don't leave out any ingredients and you are ready to make these cookies with all the supplies you need.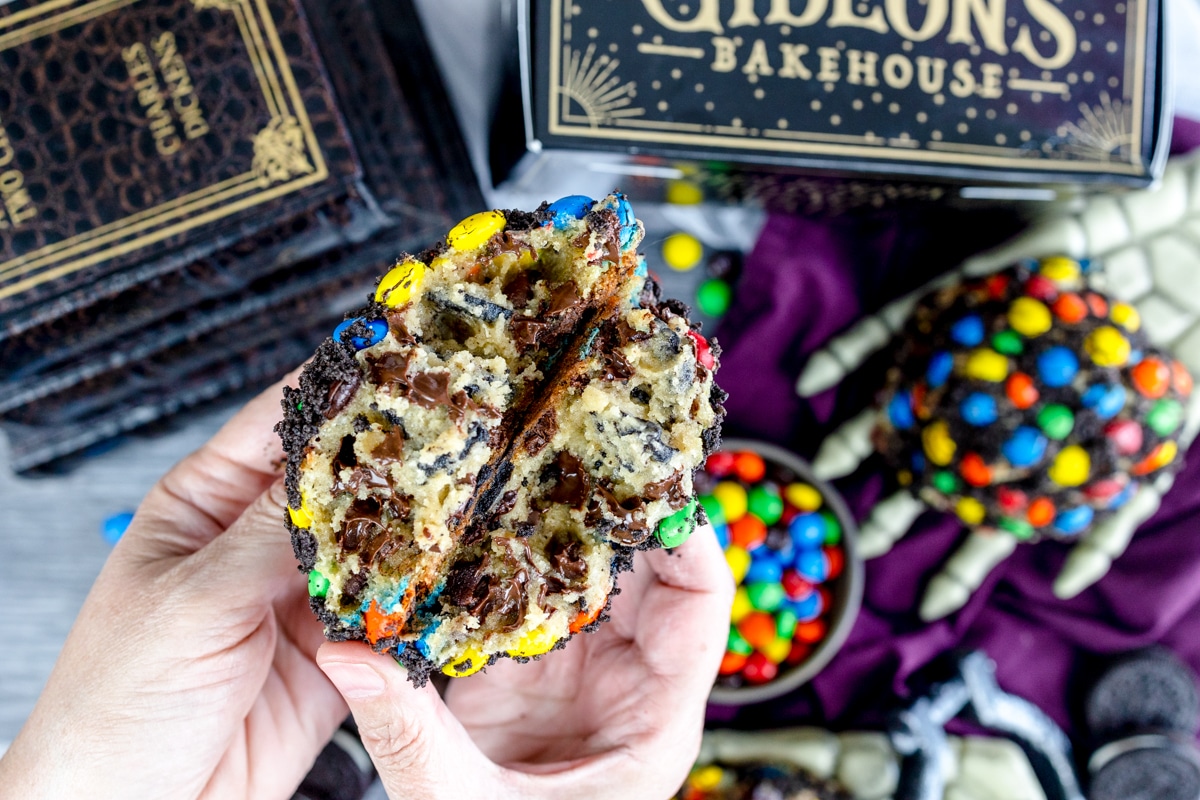 Baking Supplies
Mixing Bowl and Hand Mixer OR Stand Mixer
Small mixing bowls
Cookie Sheets
Silicone Spatula to scrape sides of mixing bowl
Measuring cups and spoons and/or Kitchen Scale
Parchment Paper liner for Baking Sheets or Silicone Baking Mat
Wire Cooling Rack
How to make Frankenstein Cookies Copycat Gideons Bakehouse
In this recipe I recommend using cold butter. Cut butter into small cubes. I slice butter into tablespoon portions and then cut each slice into 4 smaller pieces.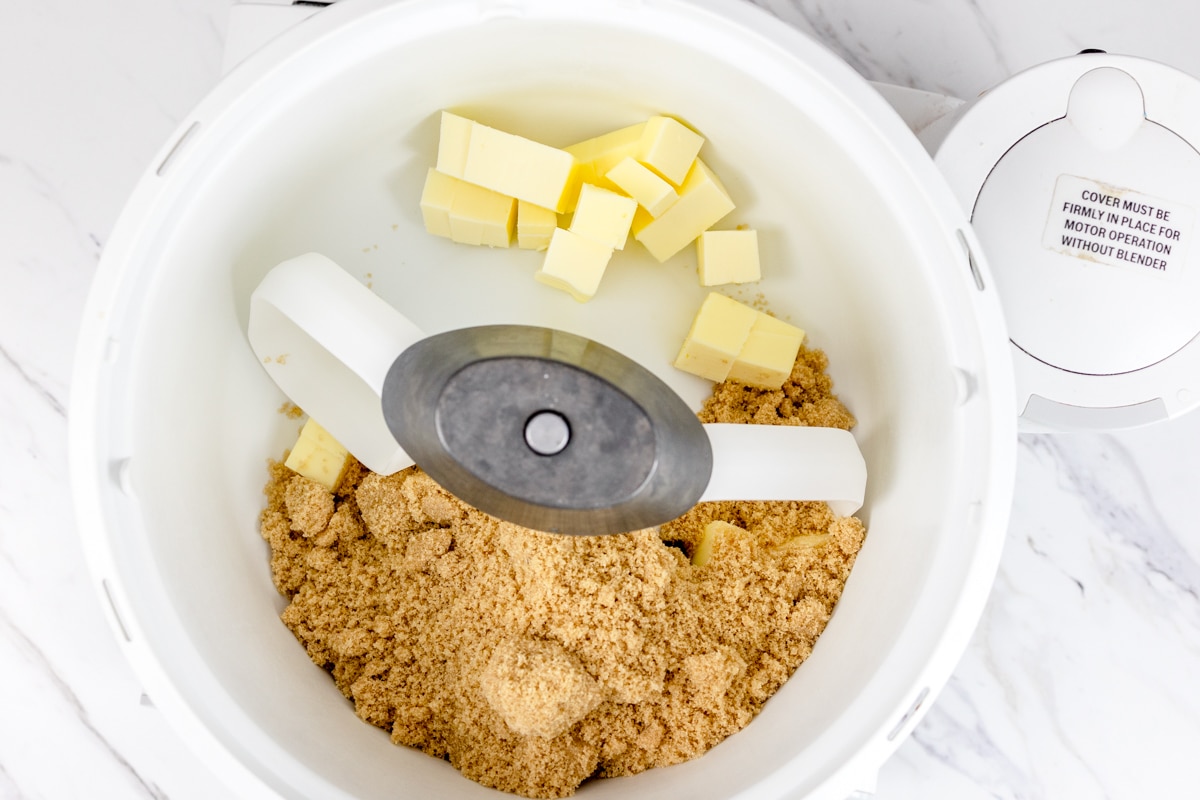 Combine cubed butter with brown sugar and granulated sugar using cookie paddles and cream ingredients together.
As ingredients combine make sure to scape sides of large mixing bowl with a silicone scraper. Once all ingredients are combined, add eggs and vanilla extract paste and continue to cream together.
In a separate medium mixing bowl combine dry ingredients of flours, baking soda, salt, and cornstarch.
Gradually add dry ingredients to butter mixture a little at a time making sure ingredients are fully combined before adding more dry ingredients.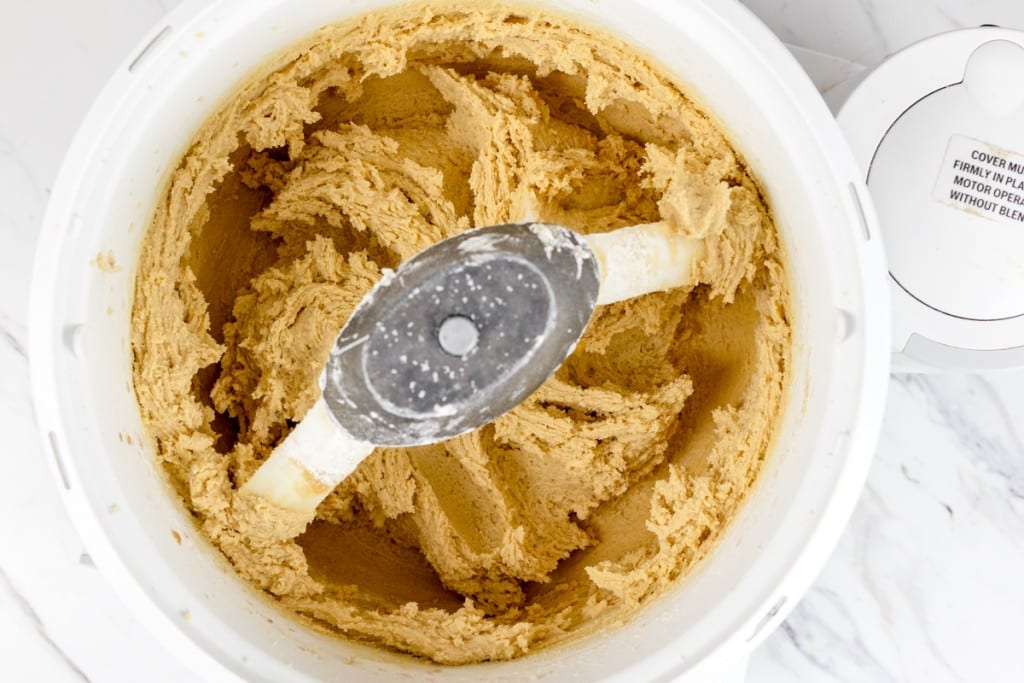 Hand Stir Additional Ingredients
Hand stir chocolate chips and double stuffed Oreo pieces into cookie dough
Using a small food processor crush Oreos making crumbs and set aside.
Separate cookie dough into 8 equal size cookie dough balls. Using a kitchen scale is ideal. And it will ensure even baking process throughout with uniform size cookie dough
Carefully roll cookie dough into M&M candies. I like to make sure the cookies have an even balance of colors and make sure to remove any candy pieces from the bottom of the cookies.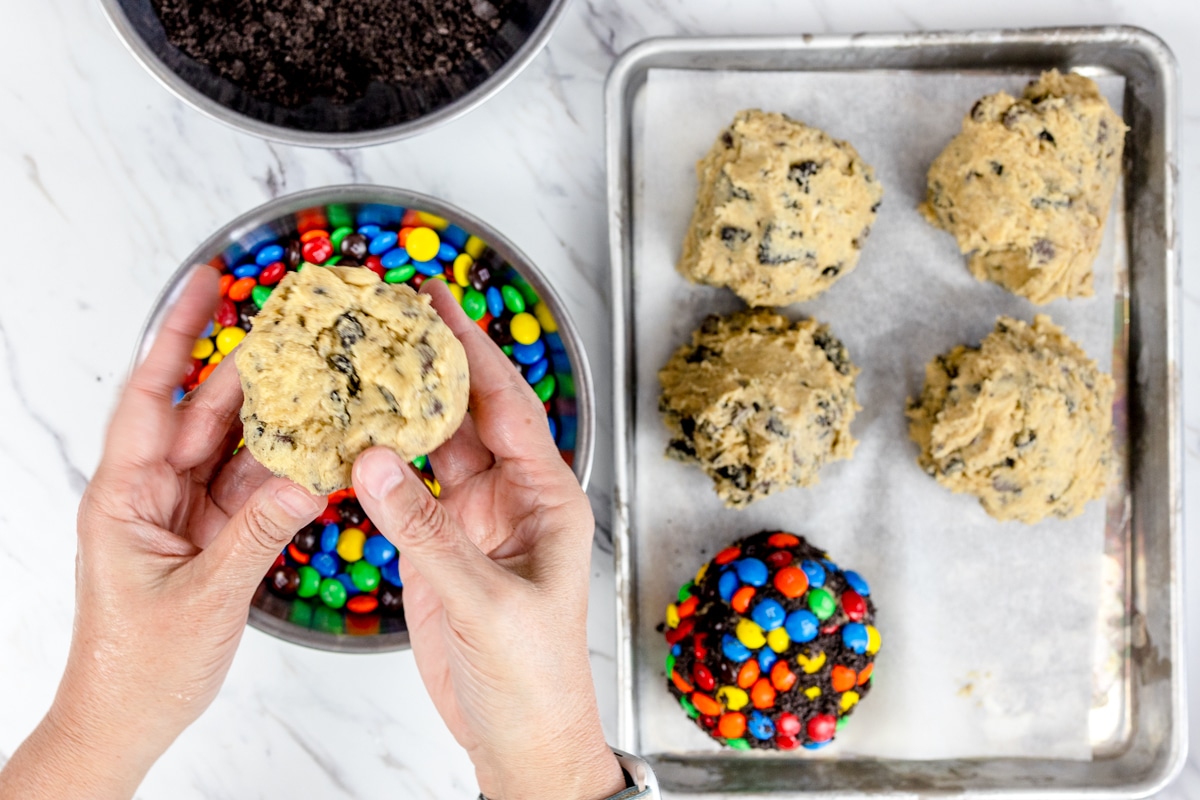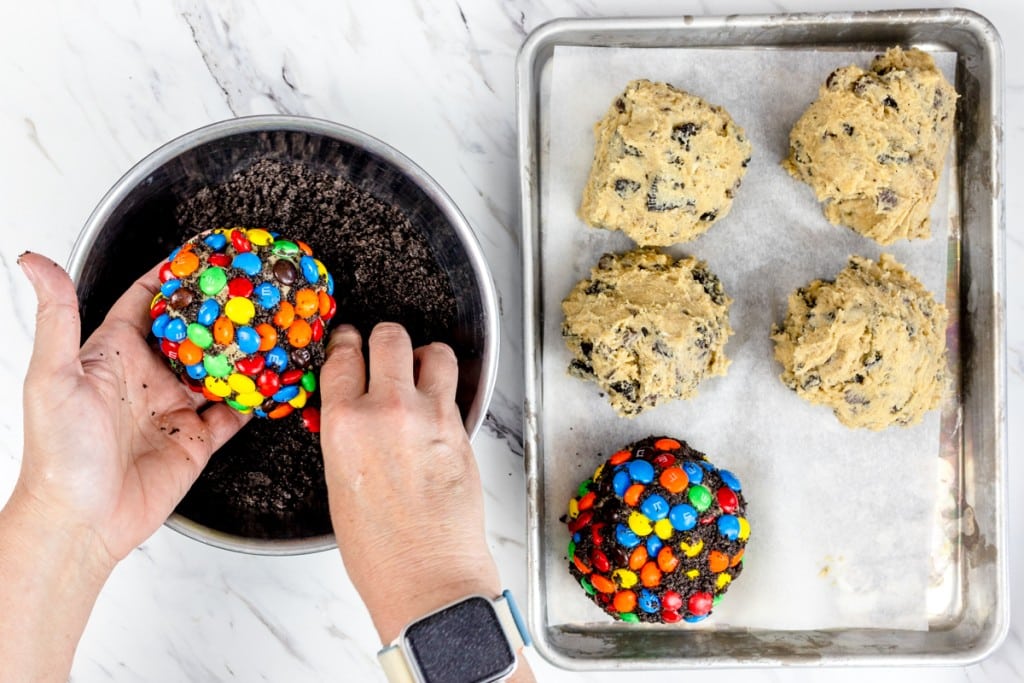 Cover cookie dough with M&M's before rolling in Oreo cookie crumbs. Press crumbs into spaces not filled by M&M's.
Baking Instructions
Place Frankenstein Cookies on baking sheet lined with Parchment paper. Cover in plastic wrap and allow to chill for 2-10 hours.
The longer the cookies have to chill the more the flavors will meld together.
Place chilled cookie dough on baking sheet leaving 4 inches of space between each cookie to allow for spreading.
Garnish with some sea salt flakes (optional). It looks pretty and balances out the sweet flavors too.
Bake in a preheated oven. Remove cookies from oven when edges are set and hold the shape.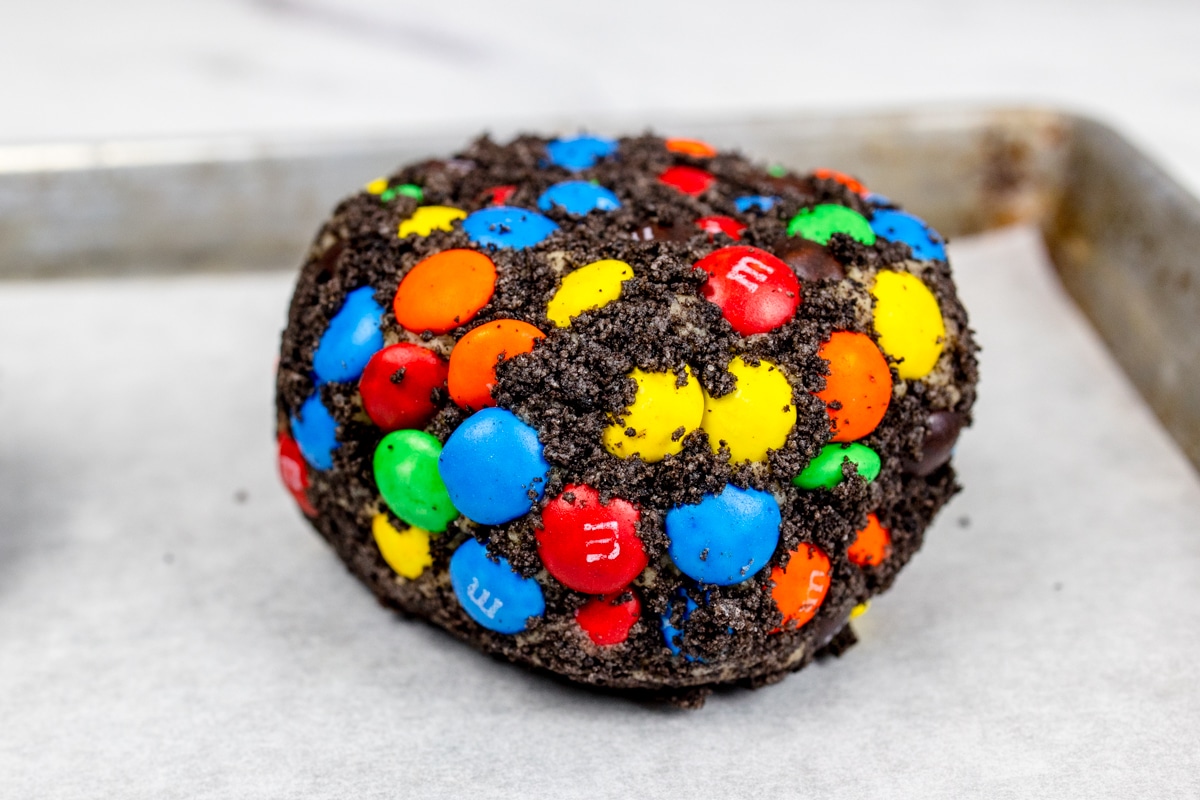 Remove from oven and keep hot cookies on hot baking sheet for 5 minutes before moving to a cooling rack.
Storage and Freezing Frankenstein Cookies
Store cooled cookies in sealed container for up to a week. Best if enjoyed within 2-3 Days.
Freeze Cookies for up to 3 months when properly sealed. Store in a sealed ZipLoc Bag or plastic container
Weighing Ingredients and Measurements
It's important to use the listed amount of ingredients for your cookies to bake properly. Using a kitchen scale is the ideal way to measure baking ingredients.
I know you want to make the same delicious perfectly baked cookies that I have here, so please follow the listed ingredients and weigh them properly.
Using cold butter over softened butter makes all the difference.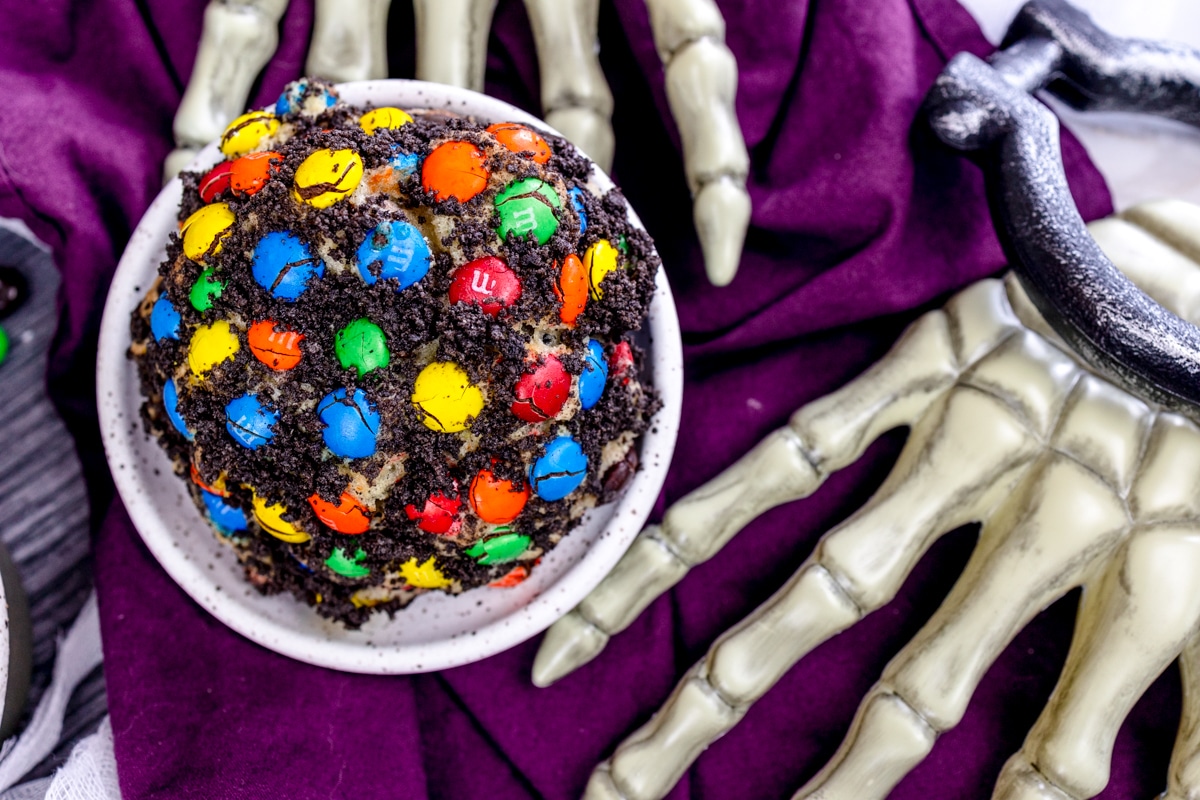 Want More Frankenstein Cookies?
Just because I make them large, doesn't mean you have to. Make 16 cookies by separating cookie dough into 16 equal portions using a kitchen scale for accuracy.
I don't suggest making more cookies than this with a single batch. The recipe is highly depended on a small group of cookies ensuring that the cookies are thick.
How to check for doneness
Checking gourmet cookies can be tricky. I suggest using a toothpick and poking into the center of the Frankenstein cookies. The centers are be loaded with melted chocolate, don't be alarmed with a toothpick does not come out clean.
Cookie centers will be soft to the touch but will not be ooey goey.
Baking is a science and it's important to understand a little bit of that science. Taking the time to whip the fats with the sugars helps introduce air into the ingredients which lightens the cookies.
Using a combination of Cake Flour and Bread Flour helps to give these cookies a better consistency along with creaming cold butter with sugars. The dough will help create a lift.
More Gideon's Bakehouse Recipes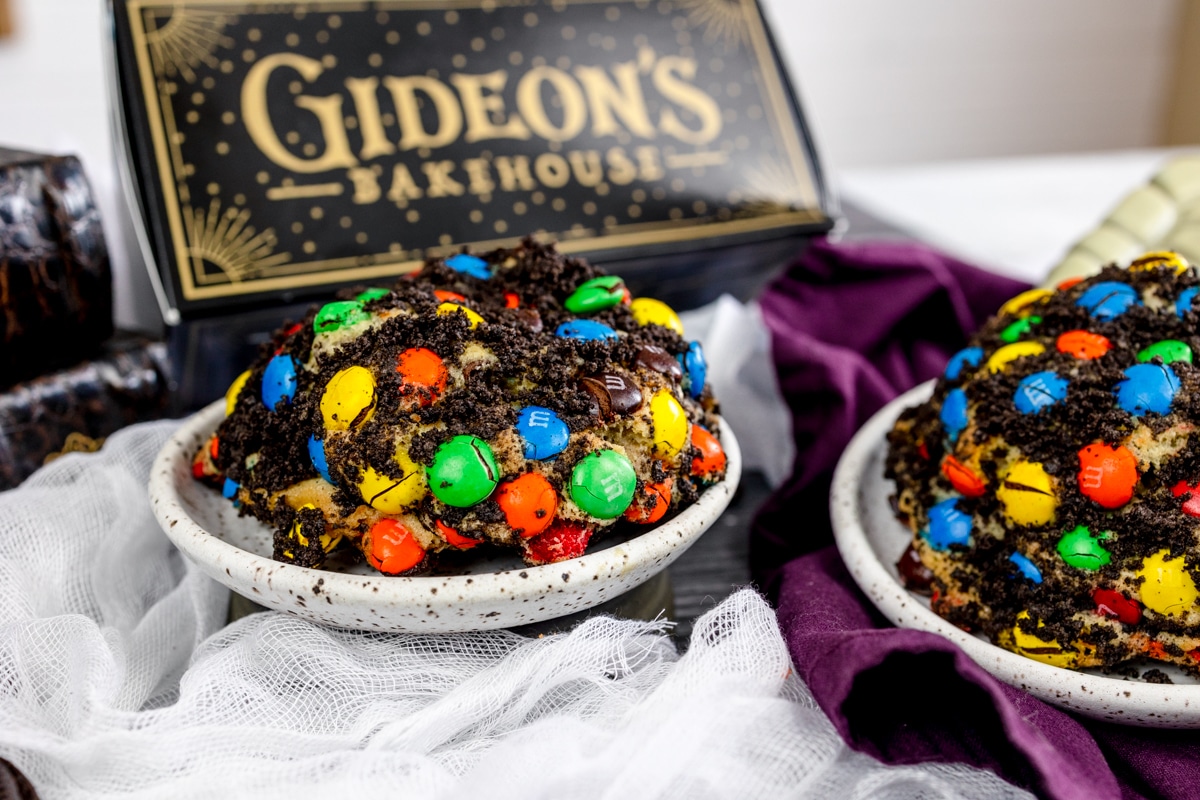 Welcome to 2022's #HalloweenTreatsWeek event!
#HalloweenTreatsWeek is a yearly Halloween blogging event that is hosted by Angie from Big Bear's Wife . This event is an online, week-long event that is filled with some amazingly wicked Halloween treats and recipes from some fantastic Halloween loving bloggers!
For this years 5th annual #HalloweenTreatsWeek event we have 20 hauntingly talented bloggers that are sharing their favorite Halloween recipes throughout the week! You can following the hashtag #HalloweenTreatsWeek on social media to collect all of these frightful recipes to use at your own Halloween parties and events!
Make Sure to check out all of the fun Halloween recipes that we're sharing this week!
Check out all of these great #halloweenTreatsWeek recipes for today
Gideon's Frankenstein Cookies Copycat
Frankenstein Cookie Copycat Recipe from Gideon's Bakehouse in Disney Springs. Large gourmet cookie to celebrate Halloween.
Ingredients
1

Cup

Butter

Cold

1

Cup

Brown Sugar

½

Cup

Granulated Sugar

2

Eggs

Large

1 ½

Cup

Cake Flour

1 ½

Cup

Bread Flour

1

Tablespoon

Cornstarch

1

teaspoon

Baking Soda

1

teaspoon

Salt

2

teaspons

Vanilla Extract Paste

2

Cups

Oreo Cookies

Crumbs

2

Cups

Chocolate Chips

Semi Sweet

16

Oreo Cookies

Cut into quarters

4

Cup

Chocolate Candies

plain M&M's
Instructions
Cream together cold butter and sugars gradually scraping side of mixing bowl as needed to include all ingredients.

Add eggs and allow ingredients to whip together. Mix in vanilla extract.

In a separate bowl combine dry ingredients of baking soda, cornstarch, salt, and flours and mix together

Gradually add dry ingredients to creamed butter mixture a little at a time. Allow ingredients to combine before adding additional dry ingredients.

Hand stir 2 cups Chocolate chips and Oreo Pieces

Separate Cookie Dough into 8 equal parts. Measure using a kitchen scale.

Carefully press M&M candy pieces into cookie dough leaving bottom of cookie free from candy pieces.

Roll cookie dough into Oreo Crumbs filling in spaces between M&M's. Remove Oreo crumbs from bottom of cookies.

* It's important that cookies are of similar sizes for preferred baking times and results.

Allow cookie dough to chill for 2 hours to 10 hours before baking. This helps to create a nice full cookie and meld ingredients together.

Bake in a preheated Oven to 400F on cookie sheet lined with parchment paper for 10-14 minutes

Cookies are done when edges turn golden brown. The center will be set with a very light golden color.

Garnish Hot Cookies with a sprinkle of course sea salt

Allow cookies to cool for a few minutes before moving to cooling rack.

Store Cookies in sealed container for up to 1 week. Best if enjoyed within 2-3 days. Freeze: Cookies can be frozen for up to 3 months
Notes
How to Store:
Store cooled cookies in sealed container for up to a week. Best if enjoyed within 2-3 Days.
Freeze Cookies for up to 3 months.
Nutrition Disclaimer
All nutrition values are approximate and calculated by a plugin and are provided as a courtesy. Adding or subtracting ingredients will change the nutritional value.
Calories:
1518
kcal
|
Carbohydrates:
239
g
|
Protein:
18
g
|
Fat:
55
g
|
Saturated Fat:
29
g
|
Polyunsaturated Fat:
3
g
|
Monounsaturated Fat:
11
g
|
Trans Fat:
0.3
g
|
Cholesterol:
19
mg
|
Sodium:
728
mg
|
Potassium:
512
mg
|
Fiber:
10
g
|
Sugar:
160
g
|
Vitamin A:
259
IU
|
Vitamin C:
1
mg
|
Calcium:
256
mg
|
Iron:
13
mg