Trader Joes Chocolate Chip Cookies are among the BEST Chocolate Chip Cookie recipes and rank right up with Toll House Cookies. A favorite recipe found on the back of Trader Joe's Semi Sweet Chocolate Morsels.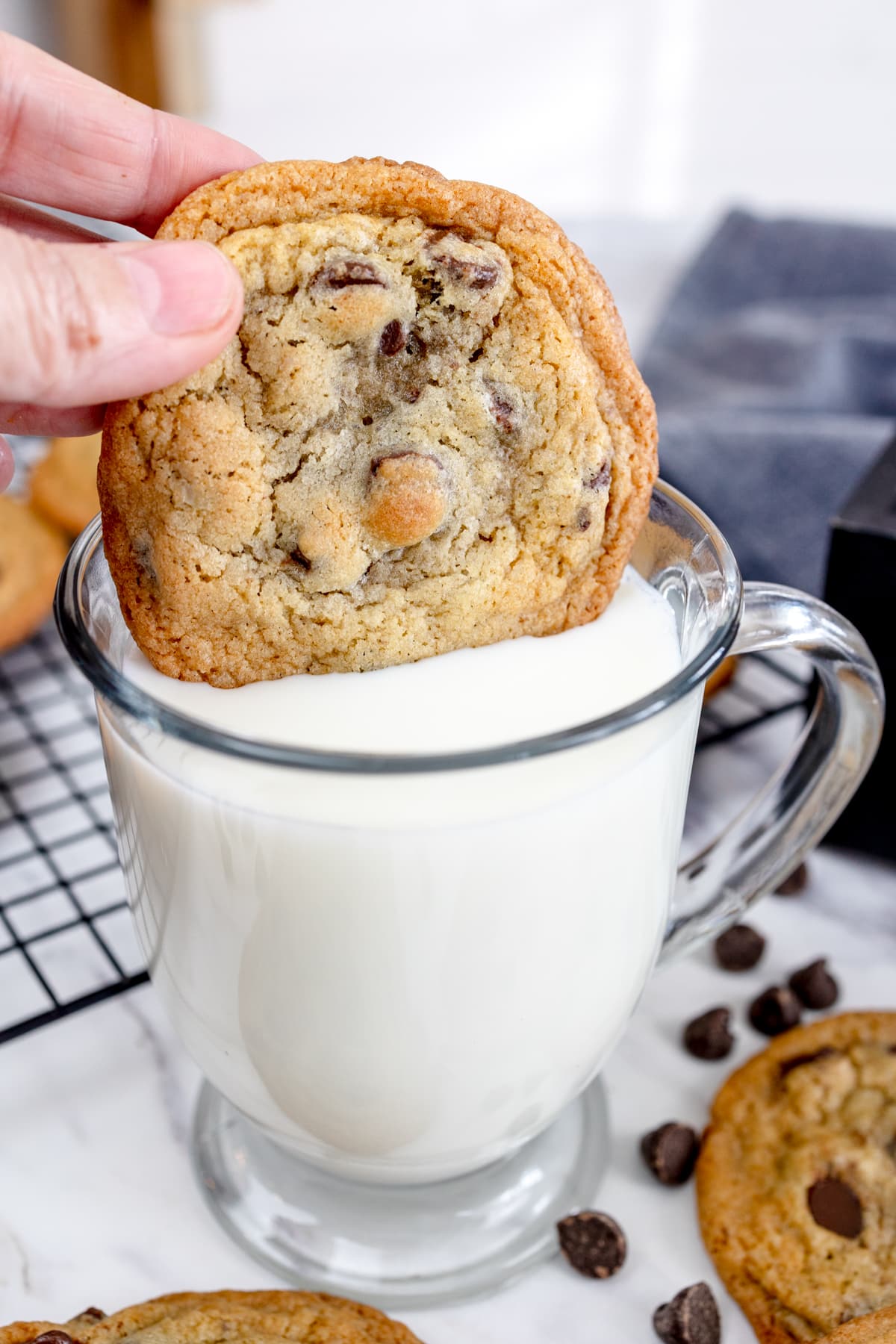 As a neighborhood grocery store National Chain market, you might be familiar with their store brand. Well known for low prices on unique food items as well as fan favorites like their Cookie Butter, Salsas, gourmet cheeses and ready to eat meals.
They have a little bit of everything and so many fun and unique seasonal items too. It's always fun to shop at Trader Joe's.
So how about their Chocolate Chip Cookie Recipe! CCC are the most basic, traditional and sought out cookie recipe.
I have a number of recipes on my site like the famous Mrs Fields Chocolate Chip Cookie, Chocolate Chip Cookies with Pudding which are super soft, and even Gideon's Bakehouse Chocolate Chip Cookies that are about ½ pound in size.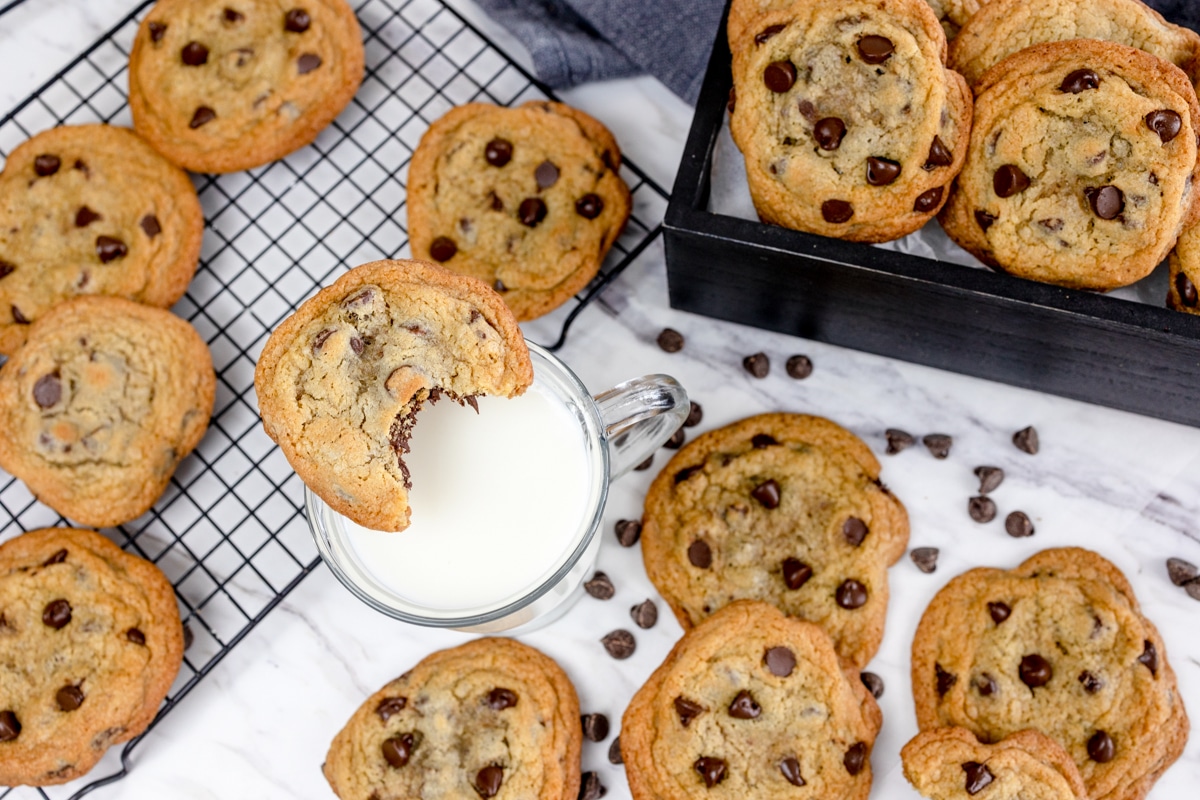 So what makes Trader Joes Chocolate Chip Cookies so great? With so many CCC Recipes, I think the difference comes down to the balance of ingredients.
In this recipe there is more brown sugar than granulated sugar which gives the cookies a depth of delicious flavor. Brown sugar also tends to make cookies a little chewier too.
The cookies are soft and loaded with semi sweet chocolate chips. And if truth be told this recipe also makes great chipless chocolate chip cookies too.
Ingredients for Trader Joe's Chocolate Chip Cookie Recipe
Dry Ingredients. All Purpose Flour, Brown Sugar, Granulated Sugar, Salt, and Baking Soda.
Wet Ingredients. Butter, Eggs, Vanilla Extract.
Additional Ingredients. Semi Sweet Chocolate Chips, Nuts (optional)
How to Make Chocolate Chip Cookies Trader Joe's
A few things before you get started. Start with softened butter. Allow butter to sit on counter for at least 1 hour to properly soften and come to room temperature. But do not allow butter to be overly soft and turn to mush.
Mushy butter will yield flat cookies that tend to become extra crispy around the edges. Butter should be about 66 F Degrees when softened. Your finger should be able to put a dent into the butter but not push through it.
This recipe has a higher butter content ratio to sugars and dry ingredients so you will find it's naturally a flatter cookie.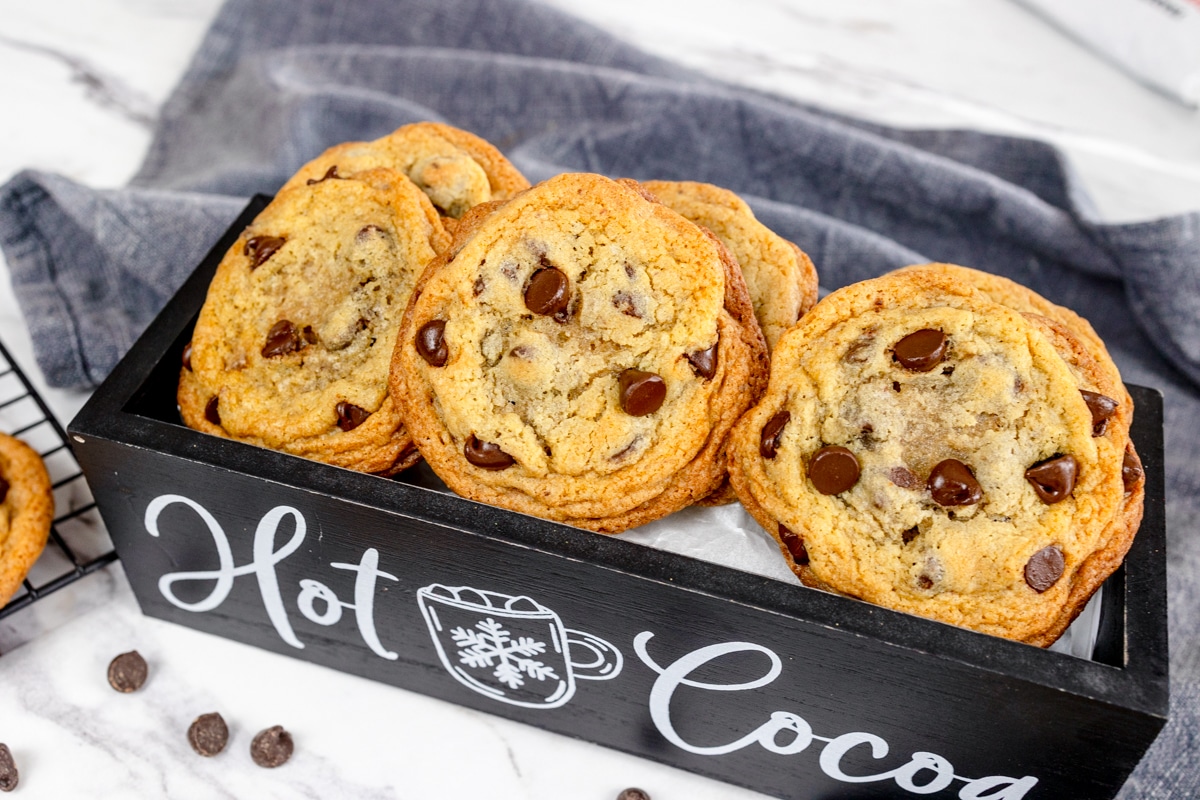 Gather all the needed equipment like mix bowls, hand electric mixer or stand mixer, measuring cups, measuring spoons, cookie sheets, cookie scoop and of course a spatula.
Line 2 cookie sheet with parchment paper or use a silicone baking sheet and set aside.
Preheat oven to 375 degrees. It will take a few minutes to reach proper temperature which gives you ample time to begin mixing the ingredients together.
Mixing Cookie Dough
In a large bowl cream butter together with both brown sugar and granulated sugar in a large mixing bowl at a medium-high speed. Add Vanilla Extract and cream until light and fluffy.
Scrape sides of mixing bowl in mix all ingredients together.
Then mix in eggs and cream for another minute or two. The mixture will become light and fluffy.
In a separate bowl combine remaining dry ingredients together of All Purpose Flour, Baking Soda and Salt.
Gradually add flour mixture to creamed butter mixer a little at a time until fully combined.
Drop cookie dough on parchment lined baking sheet allowing at least 2 inches between cookie dough for spreading while baking.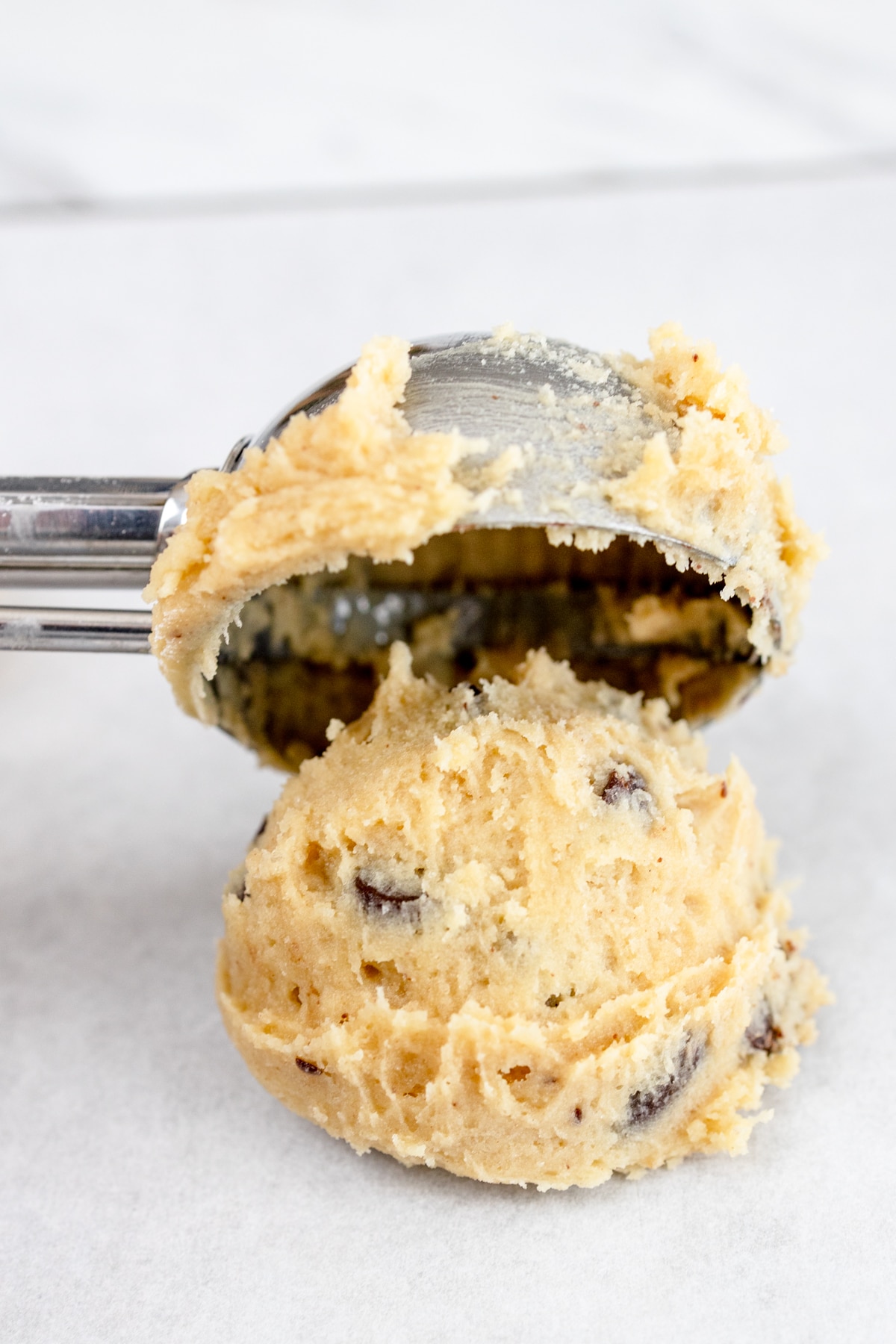 I love to use a cookie scoop. A Medium Cookie Scoop size #50 is ideal for a normal size cookie. I also love to use #60 for a smaller cookie perfect for younger children.
If you wish to use a size #24 cookie scoop which is about 3 tablespoons you will have a nice larger size cookie without being as big as most gourmet cookies.
Hand stir Semisweet Chocolate Chips into cookie dough or even use the Trader Joes Chocolate Chunks. I like to reserve a few chips to press on top of cookie dough before baking.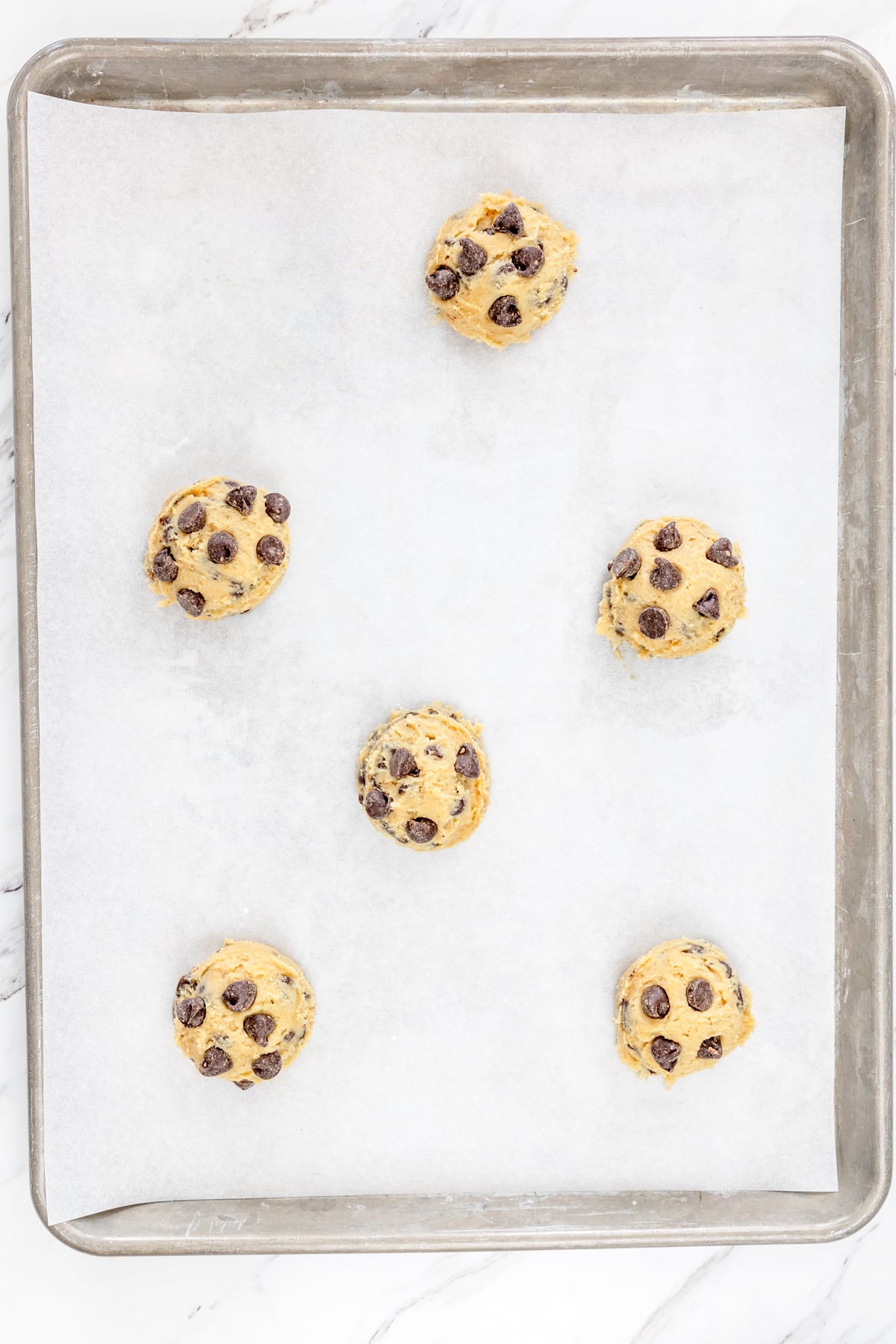 Bake Cookies in preheated oven at 375F degrees until edges are set and then remove from oven allowing cookies to cool slightly before moving to wire cooling rack.
Once cookies have cooled and chocolate has firmed up, cookies can be stored in an airtight container.
Storage and Freezing Chocolate Chip Cookies
Store cookies in an air tight container or ZipLoc bag for up to 1 week. I find cookies are best if enjoyed within 3-4 days.
To freeze cookies place cookies in a singler layer on baking sheet in freezer until firm. Then carefully place frozen baked cookies into a sealed container or ZipLoc Bag for up to 3 months.
All cookies to thaw for 15 minutes on kitchen counter before serving.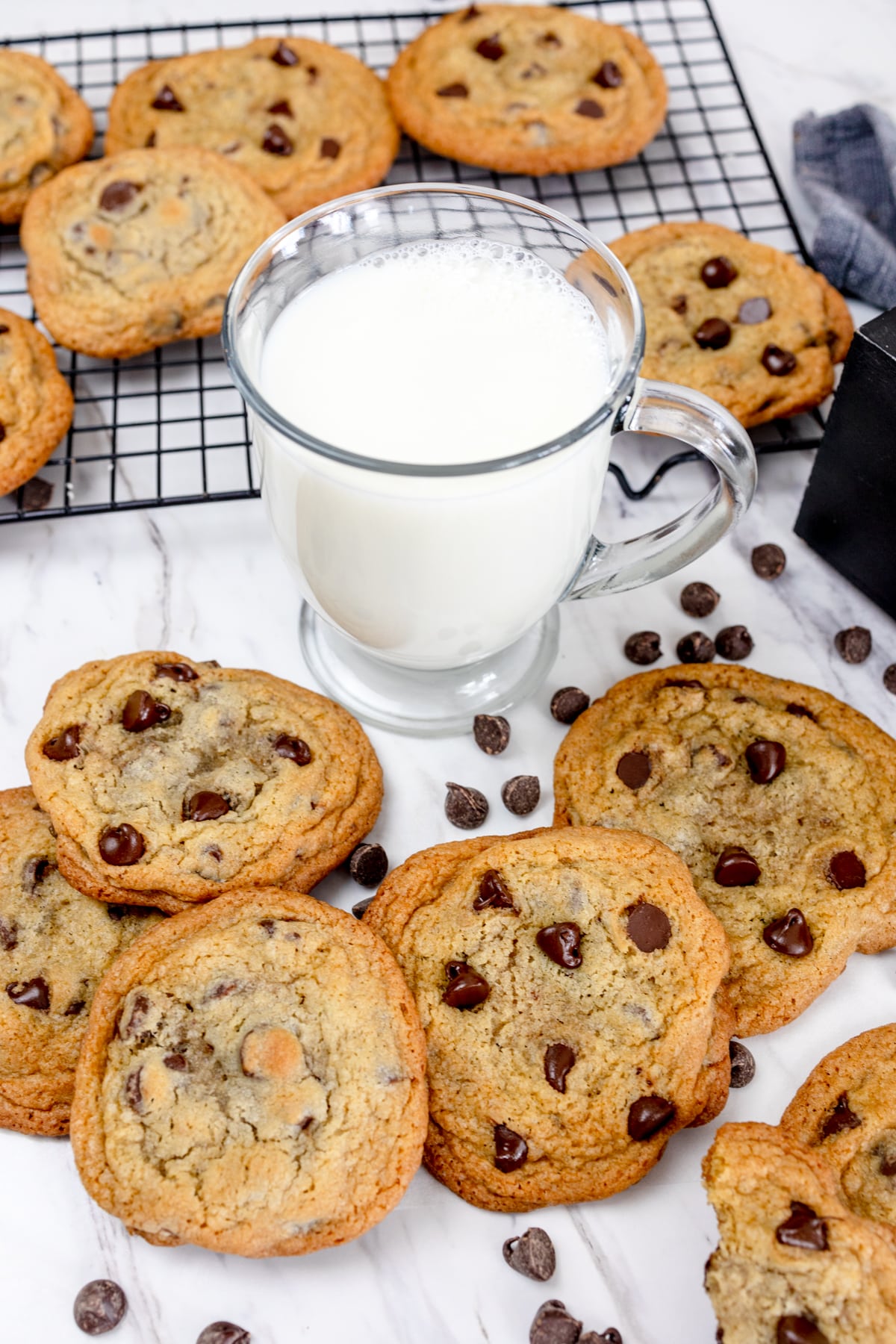 What is Trader Joe's
Trader Joe's is a National Grocery Store Chain that sells store brand products only. You won't find brands like Swanson, Toll House, Nabisco, or even Heinz but you will find all those familiar products in the Trader Joe's store brand.
And let me tell you, they also carry some unique food items and fun seasonal products which are always fun to watch for and try.
We love the variety of Salsas that TJ has to offer, and of course the Cookie Butter is always a huge hit.
Try and make a Trader Joe's Charcuterie Board with their gourmet cheese offerings and wide variety of novelty crackers. I love the cranberry crackers found in the fall.
TJ's Cookies
Don't tell on me, but I love many of the Trader Joe's products. The Chocolate Chip Cookie Dunkers are crispy, sweet and delicious. Lined with chocolate, these cookies are perfect for dunking into Hot Cocoa, Coffee or cold chilled milk.
The JoJo's are a knock off Oreo and can be found in seasonal Holiday flavors which are always a fun treat. They are among the best of the Trader Joe's Cookies.
Have I intrigued you enough to give this store brand ingredients a try? I sure hope so. And don't hesitate to ask an employee which product is their favorite. I always find a fun and simple recipe to make with the favorite ingredient. And they are always so happy to share what they have tried.
Of course a package of semi-sweet chocolate chips or even Trader Joe's Chocolate Chunks are wonderful when making cookies.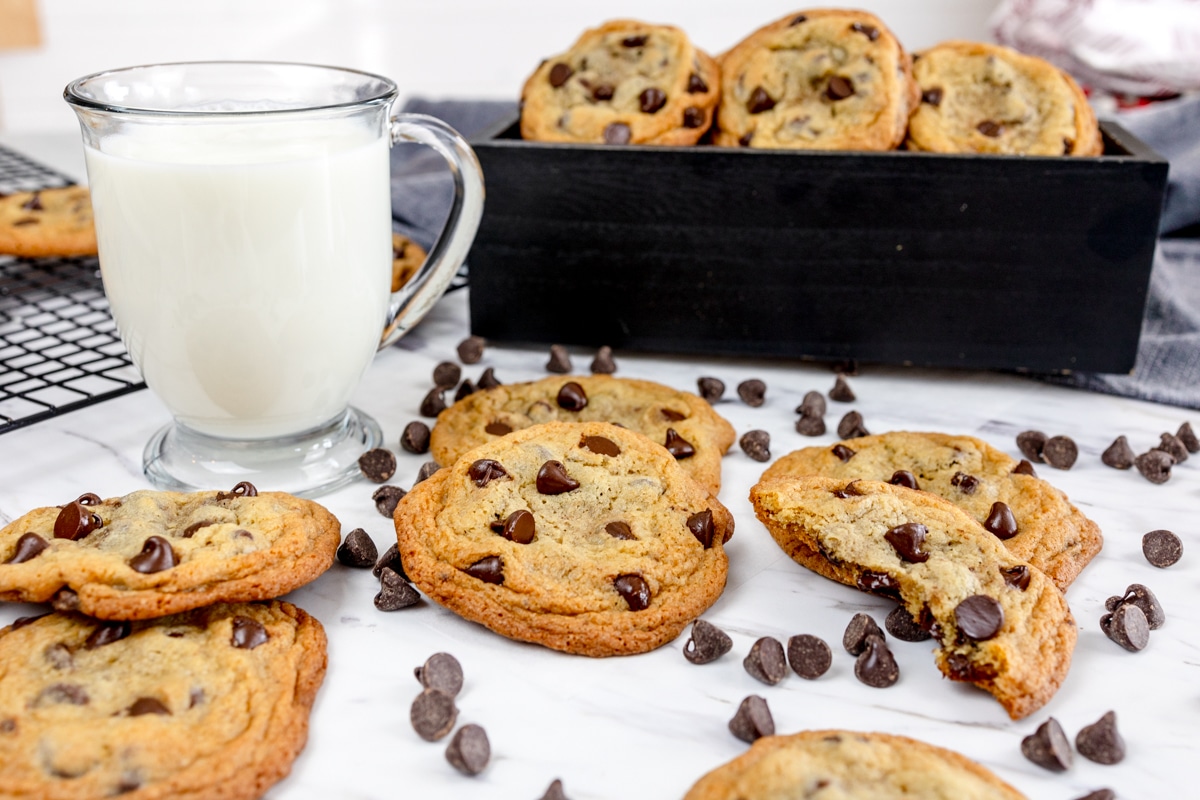 How to Measure Ingredients
Nothing will ruin a recipe quicker than not measuring ingredients correctly. Adding too much flour will cause cookies to be hard and dry. While not adding enough flour or other ingredients will cause the cookies to be a flat mess.
Ideally using a kitchen scale is the most helpful kitchen tool you could buy. I highly recommend using a scale. But when a scale is not available then use the lift, stir and spoon method.
Lift the dry ingredients with a large spoon or whisk. Stir to incorporate air into flour and carefully spoon ingredient into a measuring cup making sure not to shake or press flour into measuring cup.
Level off the top and you have a pretty accurate measurement for baking.
Look for all my baking tips below!
Weighing Ingredients.
Baking is a science and adding too much or too little of any of the ingredients will alter the recipe. Weighing and measuring dry ingredients properly makes a world of difference. Investing in a kitchen scale is ideal. When a kitchen scale is not available, make sure to stir and lift ingredients before scooping them into a measuring cup.
| | | | |
| --- | --- | --- | --- |
| | Volume | Ounces | Grams |
| All Purpose Flour | 1 Cup | 4½ Ounces | 120 Grams |
| Bread Flour | 1 Cup | 4½ Ounces | 120 Grams |
| Granulated Sugar | 1 Cup | 7 Ounces | 200 Grams |
| Brown Sugar | 1 Cup | 7½ Ounces | 213 Grams |
| Confectionary Sugar | 1 Cup | 4 Ounces | 113 Grams |
Favorite Chocolate Chip Cookies
From a soft cookie to a chewy cookie and even an original recipe for Chocolate Chip Cookies you can never go wrong when adding another fan favorite recipe. Because everyone has an idea of what their best cookie or favorite cookie truly is.
Some prefer to use melted butter which gives a crispy chocolate chip cookie while others love a gooey center cookie and let's not forget my favorite a chewy texture on a soft cookie.
Here are just a few of my favorite Chocolate Chip Cookie Recipes
Serve up a plate
Make sure to serve these cookies with a tall glass of milk, or even a scoop of vanilla ice cream on top of a warm cookie. This is the best Trader Joe's Chocolate Chip Cookies Recipe.
Have you tried this Heath Bar Toffee Bits Cookies recipe?
Let me know what you think of this recipe! Tag @bestcookierecipes on social media so I can see how great your cookies turned out! I would also love to read your comments below. Let me know what you think of these cookies. It really does help!
Trader Joe's Chocolate Chip Cookies
Rich and delicious Trader Joe's Chocolate Chip Cookies made with semi sweet chocolate chips, brown sugar, butter, flour, Vanilla Extract and eggs.
Ingredients
1

Cup

Butter

Softened

1

Cup

Brown Sugar

213g

½

Cup

Granulated Sugar

100g

1

teaspoon

Vanilla Extract

2

Eggs

Large

1

teaspoon

Baking Soda

1

teaspoon

Salt

2 ¼

Cup

All Purpose Flour

270g

1

pkg

Semi Sweet Chocolate Chips

1

Cup

Nuts (chopped)

Pecans, Walnuts, or Almonds (Optional)
Instructions
Preheat oven to 375F Degrees. Line baking sheet with Parchment Paper

Combine dry ingredients together (Flour, baking soda and salt) and set aside

In a large mixing bowl cream butter with brown sugar, granulated sugar and vanilla extract until light and fluffy

Add eggs and continue to cream together scraping sides of bowl as needed

Add dry ingredients a little at a time until fully combined

Drop cookie dough by spoonfuls onto prepared baking sheet. Or use medium size #50 cookie scoop.

Allow cookies to cool slightly before moving to wire cooling rack.
Notes
Pro Tips
Baking. Do not over bake this recipe. Mrs. Fields Recipe are always served a little undercooked. You can bake until lightly golden brown if you prefer. Cookies tend to dry out faster and are best enjoyed within 1-2 days.
Room Temperature Ingredients. Butter should sit on counter for an hour before mixing cookie dough for best results. Allow eggs to come to room temperature for an hour before using.
Chocolate Chips. Use one bag Semi Sweet Chips and one back Peanut Butter Chips. Or use White Chocolate and Milk Chocolate Chips. The combinations are endless.
Additions. Adding pecans, macadamia nuts or walnuts adds to the recipe. Nuts tend to heat up the internal temperature quicker so adjust the time as needed.
Nutrition Disclaimer
All nutrition values are approximate and calculated by a plugin and are provided as a courtesy. Adding or subtracting ingredients will change the nutritional value.
Calories:
242
kcal
|
Carbohydrates:
38
g
|
Protein:
3
g
|
Fat:
9
g
|
Saturated Fat:
4
g
|
Polyunsaturated Fat:
1
g
|
Monounsaturated Fat:
3
g
|
Trans Fat:
0.03
g
|
Cholesterol:
1
mg
|
Sodium:
136
mg
|
Potassium:
130
mg
|
Fiber:
2
g
|
Sugar:
23
g
|
Vitamin A:
10
IU
|
Vitamin C:
0.1
mg
|
Calcium:
42
mg
|
Iron:
2
mg