Quick and easy to make Pumpkin No Bake Cookies will have you enjoying your favorite fall flavor in minutes with this quick and simple recipe. No Bake Pumpkin Cookies are made with both quick oats and old fashioned oats and of course pumpkin pie spice too.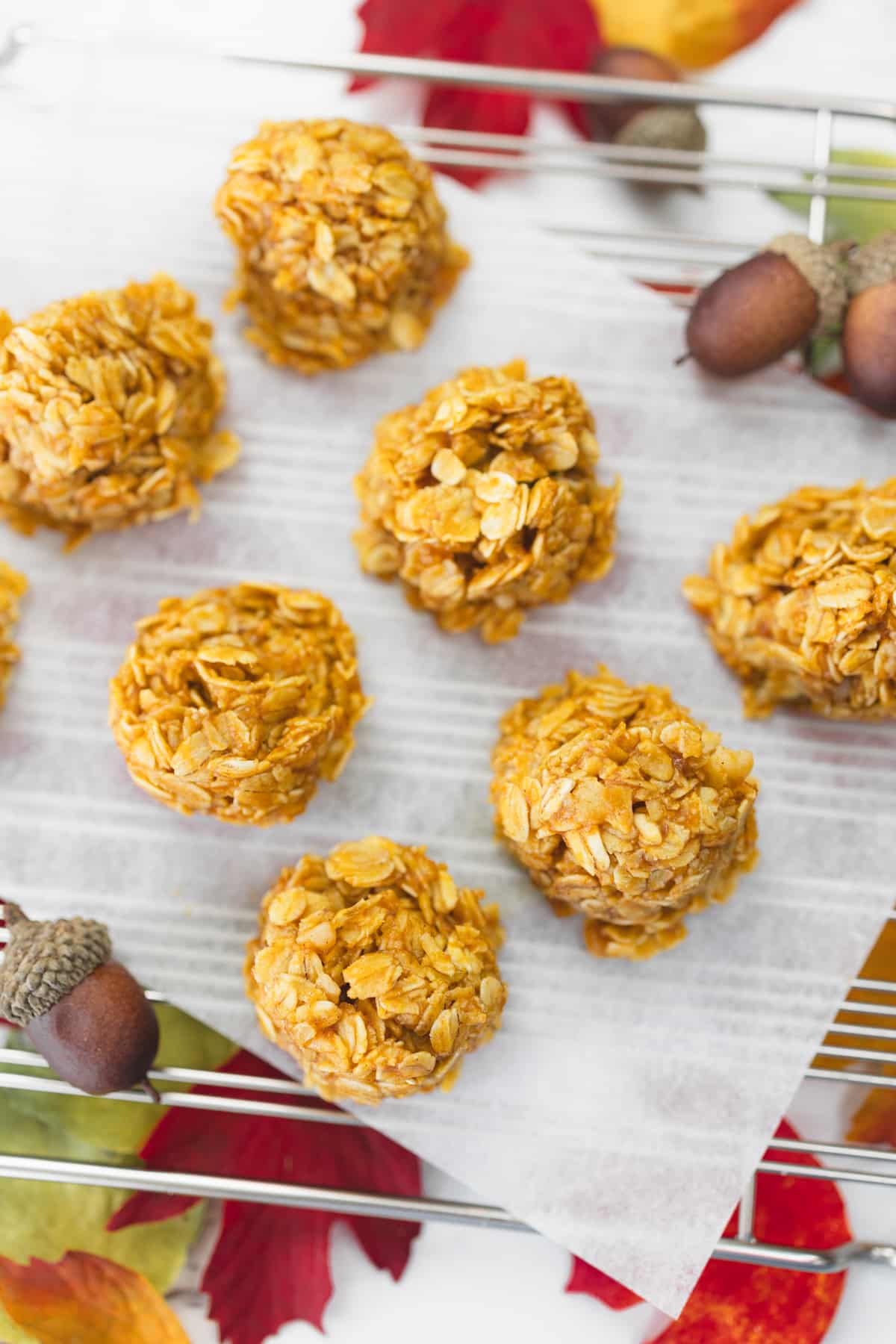 No-Bake Cookies are a favorite recipe when baking with kids young and old alike. Of course this recipe will not use an oven but will use the heat from a stove. Supervision is suggested. Making cookies with the family always makes memories and this recipe is no exception.
Make sure to add some mix-ins too. We like to add chocolate chips or even fall color M&M candies for a fun treat. Anyway you enjoy these Pumpkin Spice Cookies you will love them honestly. Just a great cookie recipe.
For a Fall Twist holiday baking in full swing you might also enjoy these Pumpkin Chocolate Chip Cookies made with a Cake Mix. Or have some fun making Frankenstein Peanut Butter Cookies with a Reese's Peanut Butter Cup.
And if you love a great Copycat Recipe, try making Gideon's Bakehouse Frankenstein Cookies loaded with M&M's and Oreo Cookie Crumbs. For a lighter flare try the Bride of Frankenstein Gideon's Cookie made with Golden Oreos. Both bake treats are good stuff and a favorite.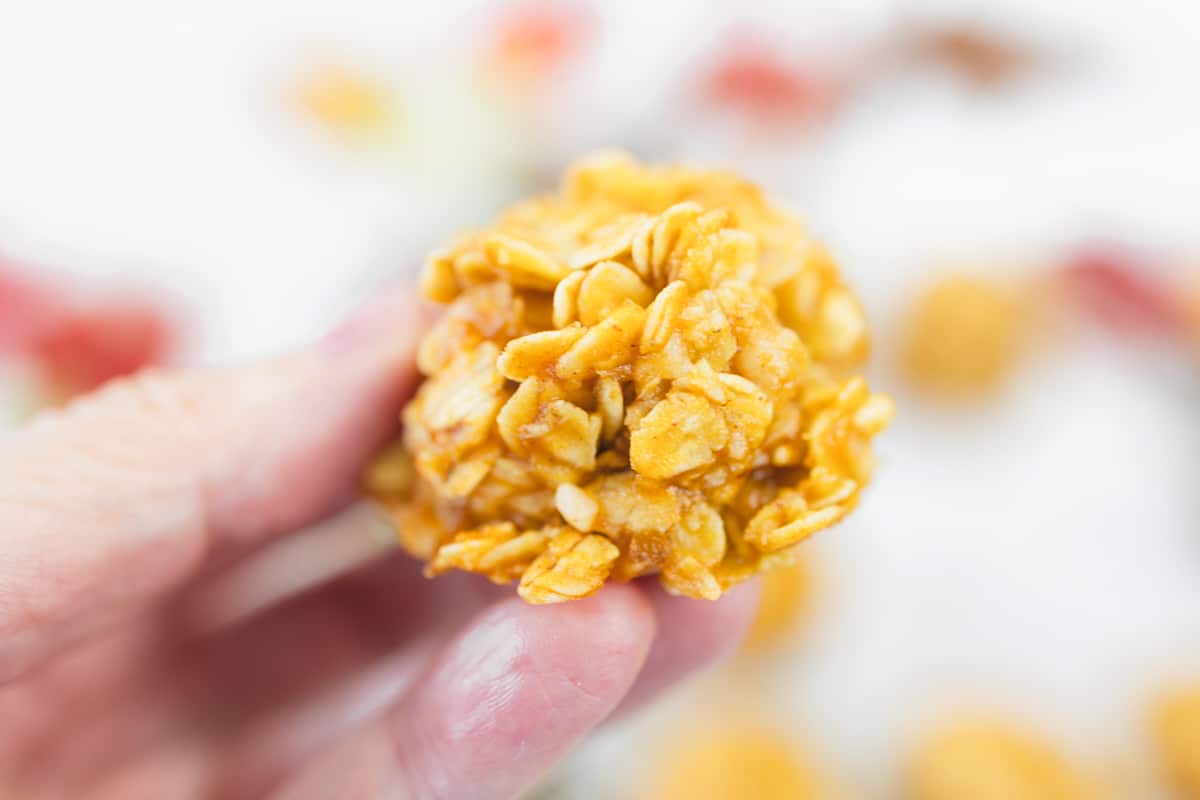 Halloween Treats Week
HAPPY HALLOWEEN!!!
Welcome to 2023's #HalloweenTreatsWeek event!
If you're new here, Welcome! If you're a returning haunt, welcome back!
#HalloweenTreatsWeek is a yearly Halloween blogging event that is hosted by Angie from Big Bear's Wife . You'll find that this fun and spooky event is an online, week-long event that is filled with some frightfully fun Halloween treats and recipes from some fantastic Halloween loving bloggers!
For this years 6th annual #HalloweenTreatsWeek event we have 18 hauntingly talented bloggers that are sharing their favorite Halloween recipes throughout the week! You can following the hashtag #HalloweenTreatsWeek on social media to collect all of these frightful recipes to use at your own Halloween parties and events!
Make Sure to check out all of the fun Halloween recipes that we're sharing this week!
Today's Halloween Offerings:
Shopping List for No Bake Oatmeal Pumpkin Cookies
Simple ingredients is all that is needed for pumpkin version of oatmeal no bake cookies.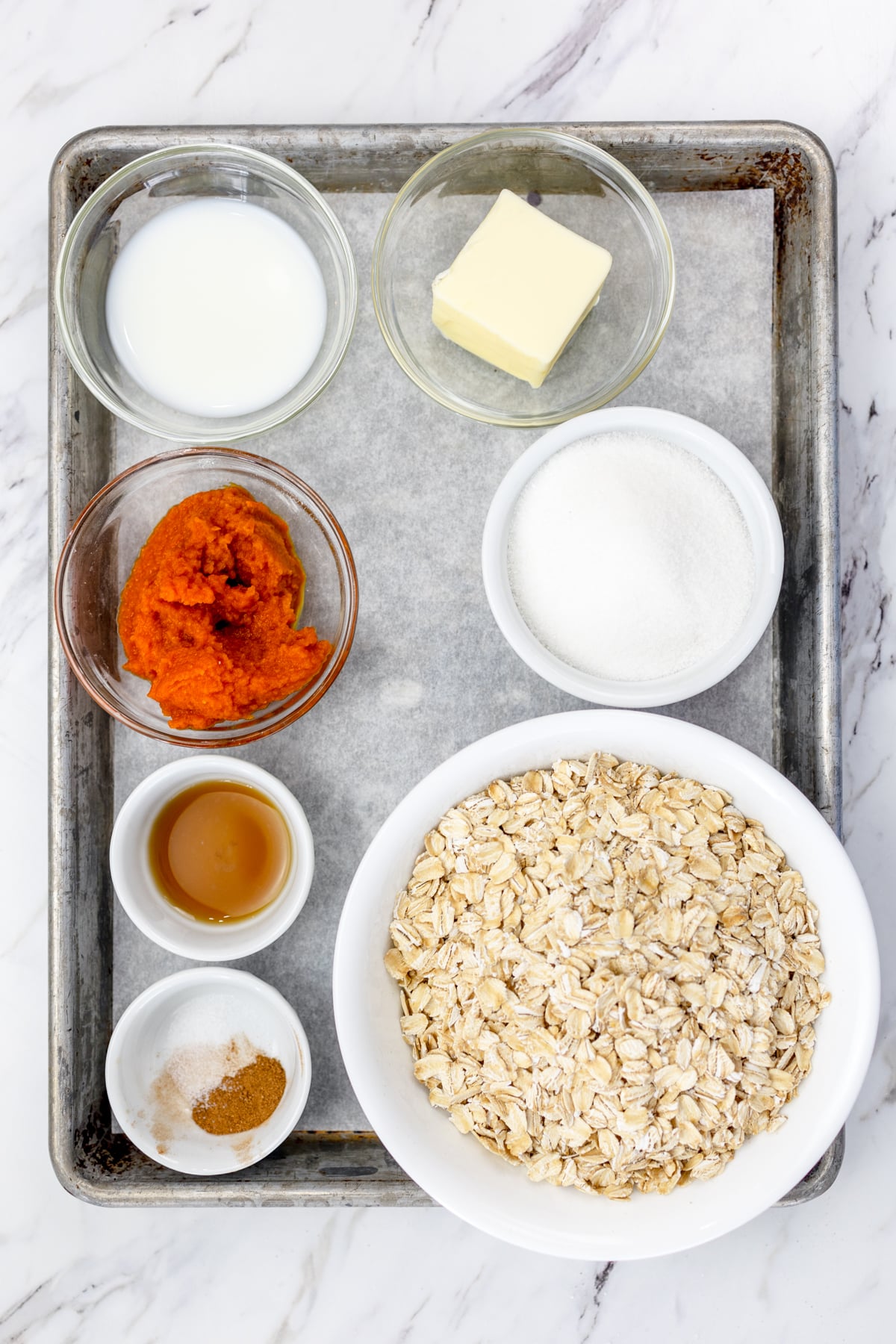 Dry Ingredients. Quick Oats, Old Fashioned Oats, Granulated White Sugar, Pumpkin Spice, Salt
Wet Ingredients. Butter, Milk, Pumpkin Puree, and Vanilla Extract
Mix-ins (optional) Semi Sweet Chocolate Chips, White Chocolate Chips, M&M Candies, Nuts, Coconut
How to make Pumpkin No Bake Cookies
After organizing all the ingredients needed grab a medium saucepan and over a medium heat melt butter, sugar, vanilla extract, milk and real pumpkin puree together. As the mixture heats make sure to stir and scrape the bottom of the pan lifting up the ingredients.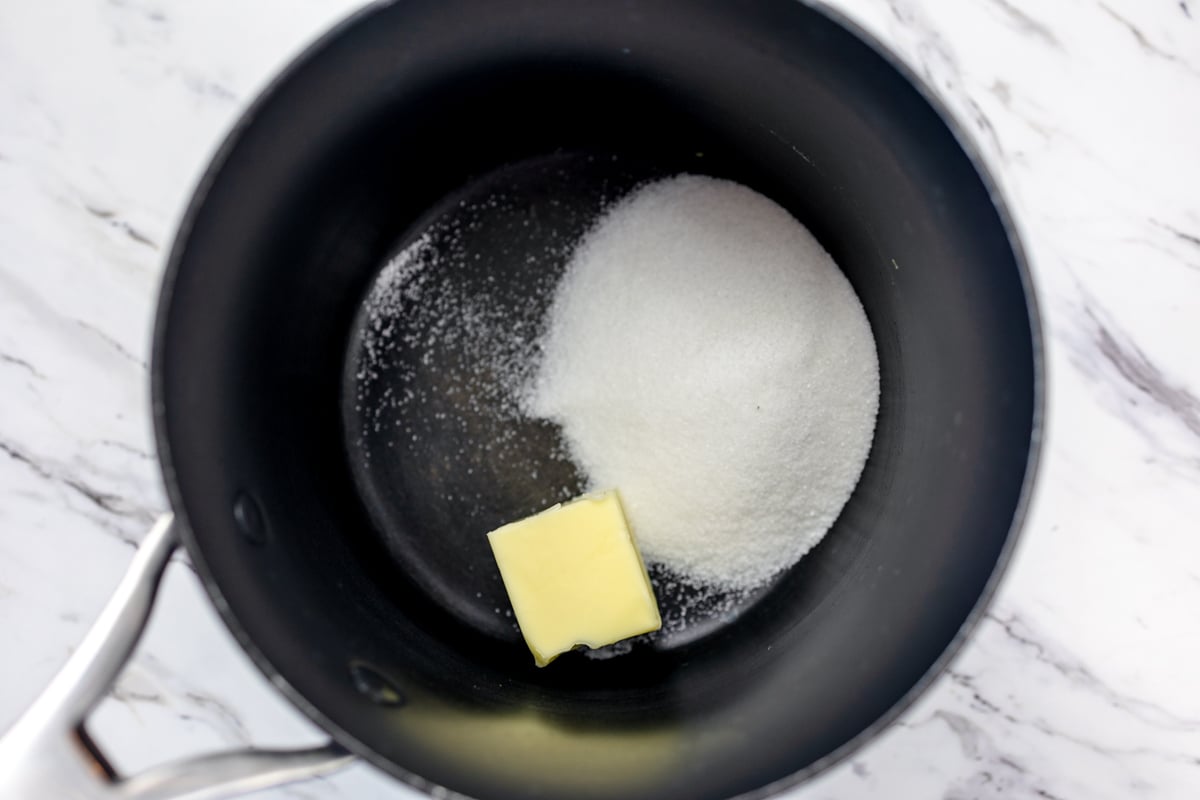 Bring mixture to a full rolling boil and boil for about 2 minutes. This is what helps to bind the ingredients all together as it cools as is a soft ball stage.
In a large mixing bowl combine quick oats with old fashioned oats along with pumpkin spice. The spice ads pumpkin flavor to this sweet treat recipe.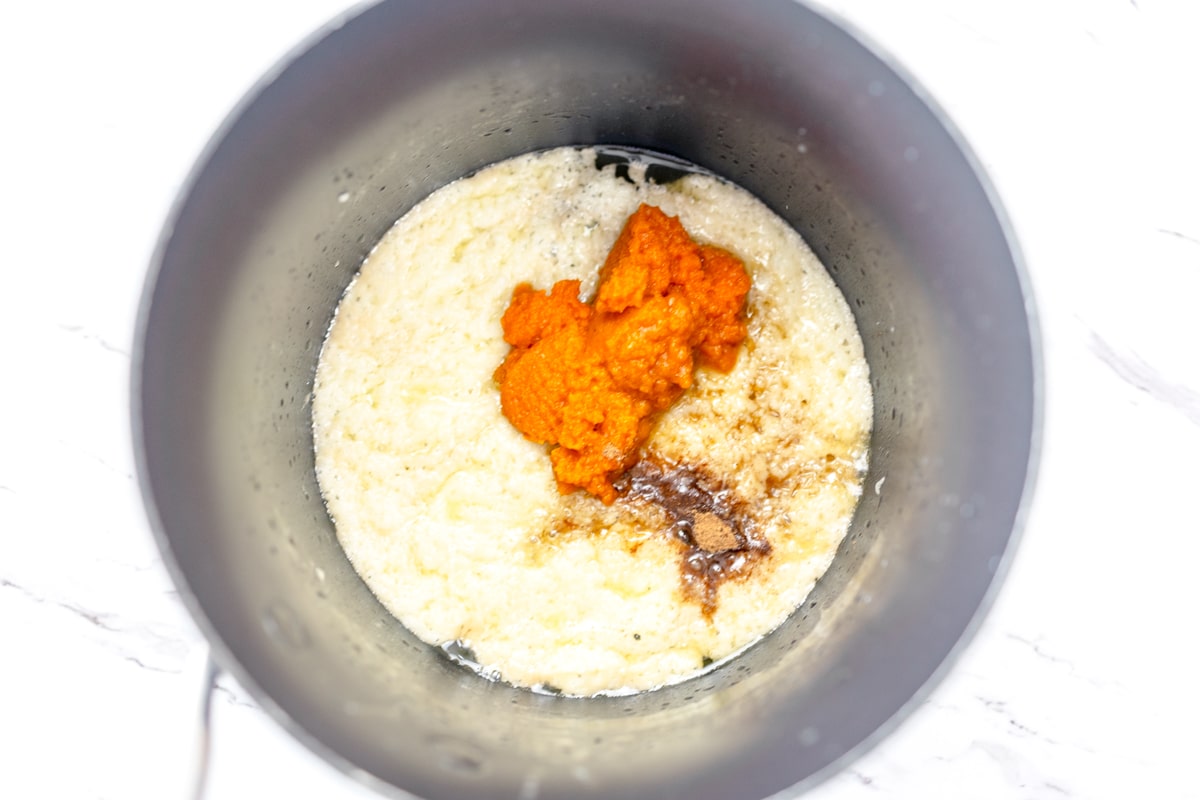 Add melted butter pumpkin mixture to the oats mixture in a large bowl and stir to combine. Making easy no bake pumpkin cookies is just this easy. Use a lined baking sheet with parchment paper or a silicone baking mat and using a medium cookie scoop or spoons drop cookie dough onto cookie sheet.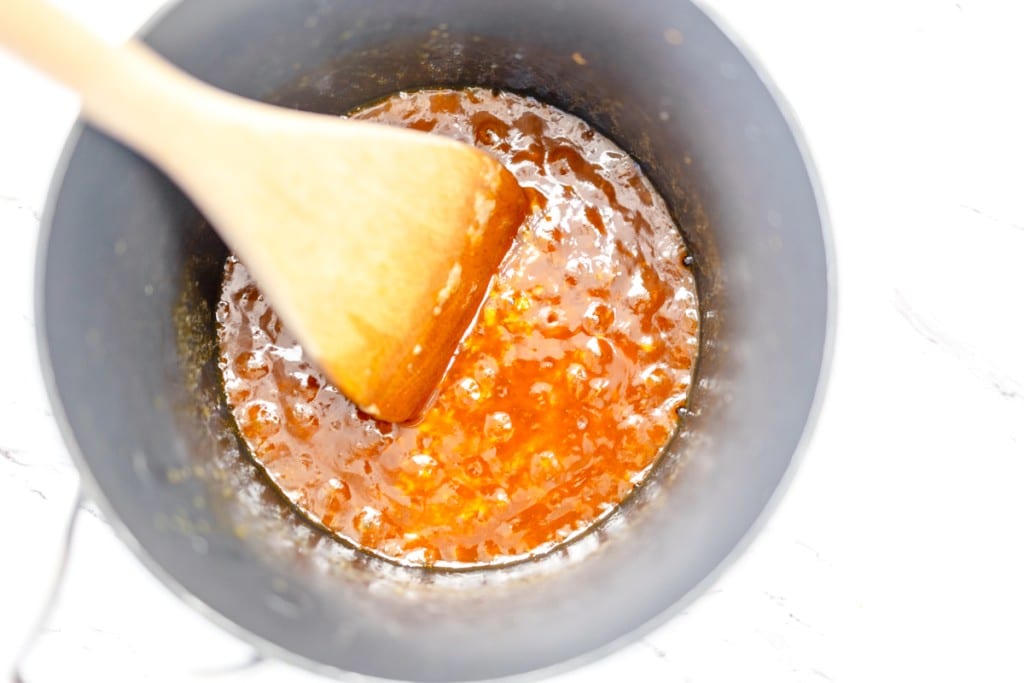 If you wish you can roll a scoop of mixture and press to form a flat circle and place on parchment lined baking sheet to cool.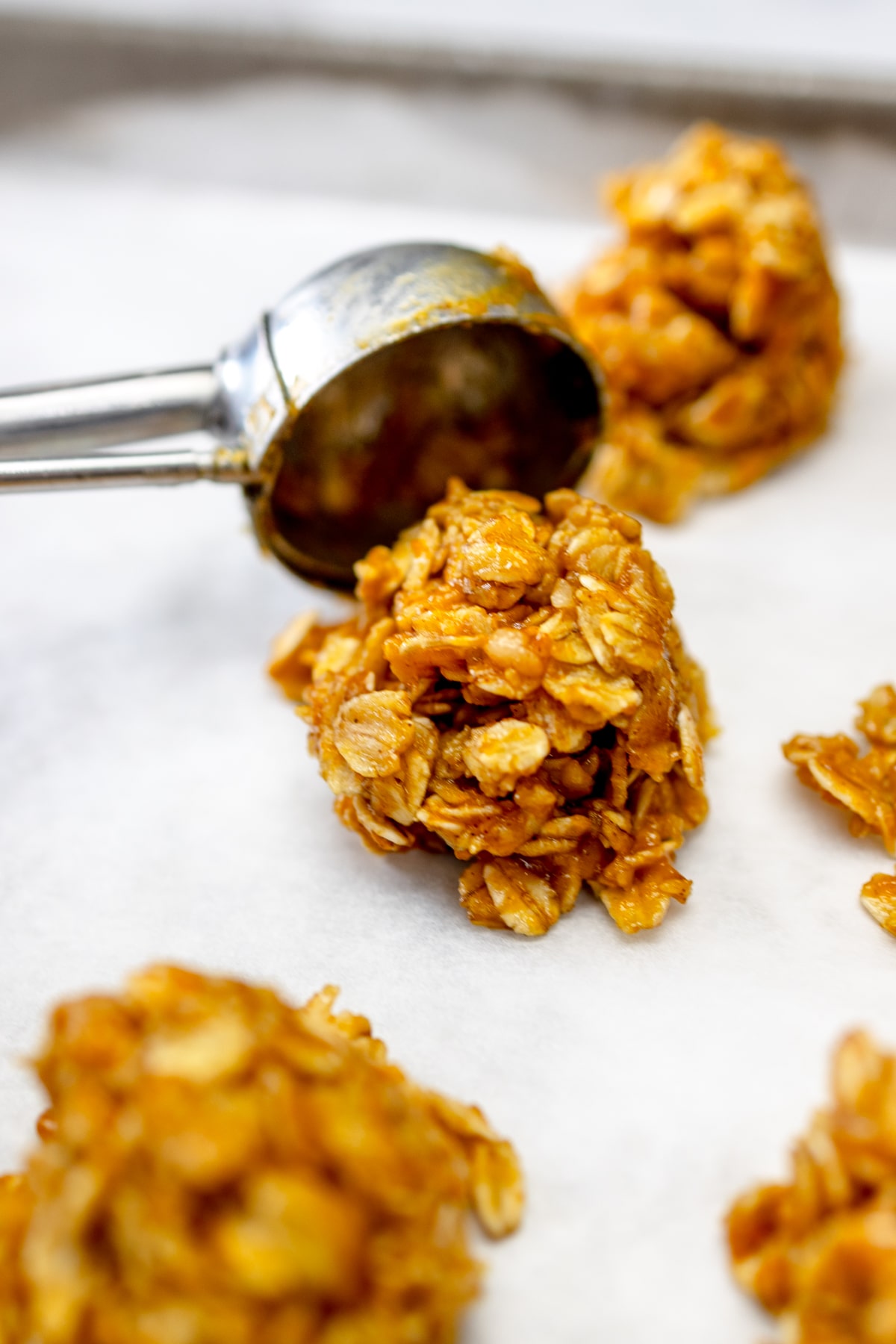 No Bake Pumpkin Oatmeal Cookies are just a fun cookie around the holidays. The recipe reminds me a little of traditional regular No Bakes Cookies made with cocoa powder and creamy Peanut Butter but I do enjoy the fall flavors of this recipe.
Allow cookies to cool before removing from pan. This recipe will make 12-15 cookies depending on size which is a fun small batch size cookie recipe. The recipe is easily doubled for larger batches.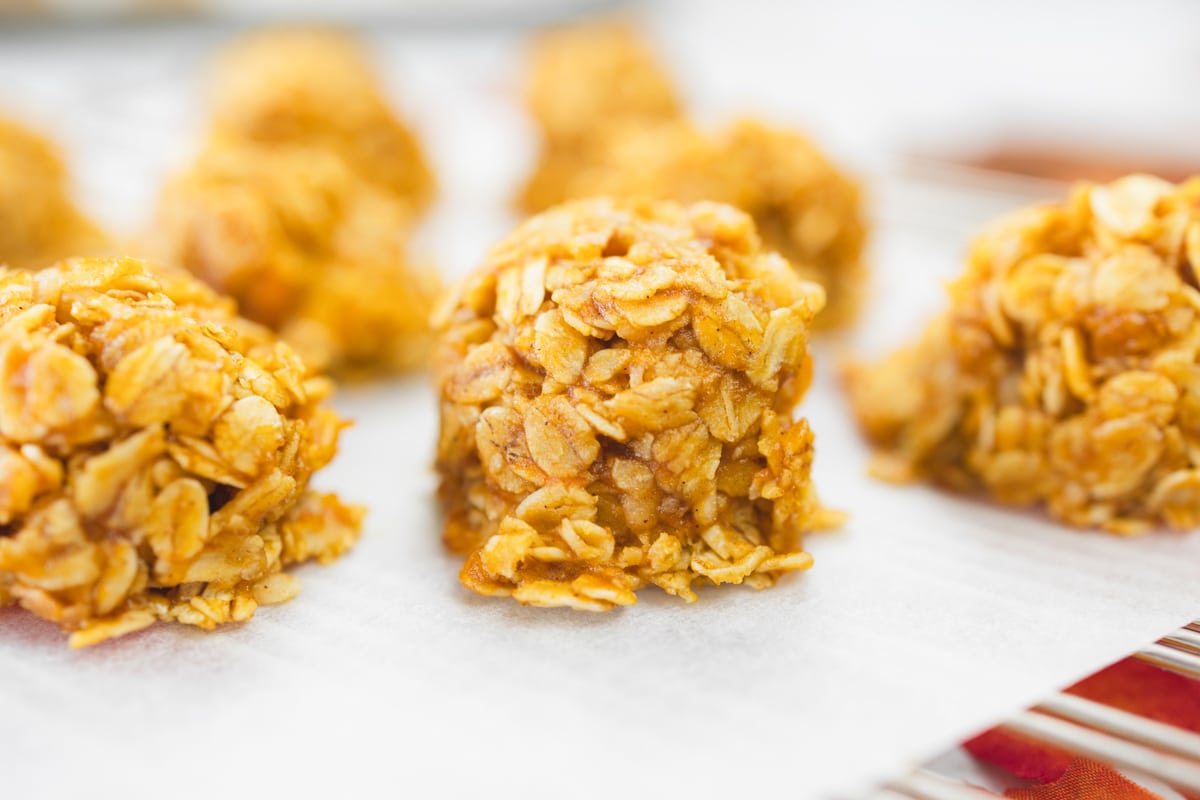 Storage
Store cookies in an airtight container or bag for up to a week and kept at room temperature. I do find that cookies are best if enjoyed with 2-3 days.
No bake cookies do not freeze well and tend to crumble. They are easy enough to make and enjoy fresh.
Easy Pumpkin Cookies
These no-bake Pumpkin Oatmeal Cookies are so fun for the fall season or for a holiday event. It's a great option to add to a dessert tray making sure you have something for everyone. I think they are the perfect treat and I truly love the texture of the cookies too.
The oatmeal gives a chewy texture that I love about rolled oats in cookies. And don't forget those mix-ins. They are optional but so good too.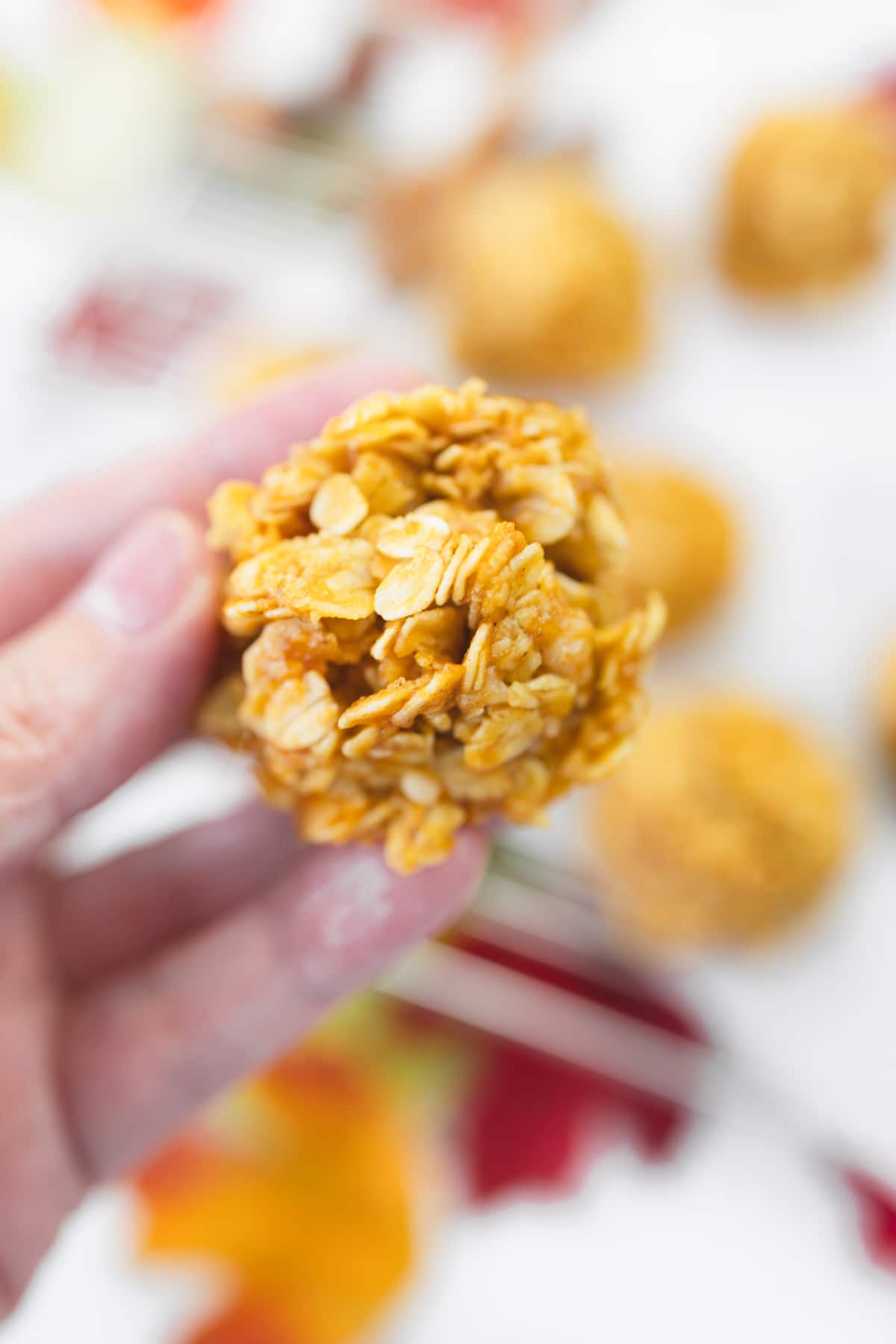 Pro Tips
Mix-ins. There are many great addition. When adding mix-ins to the warm cookie dough mixture use my tip of freezing chocolate or candies to help prevent melting when mixing into cookie dough. Our favorite mix-ins are Chocolate chips, Nuts, Coconut and M&M's
Cookie size. Small cookie shapes are ideal for no bake cookies. They spread less and cool quicker. Use a cookie scoop to drop cookie dough on cookie sheets
Baking Sheets. Line baking sheet with parchment paper, wax paper or use a silicone mat. It helps to remove cooled cookies easier and clean up is so simple too.
School Treats. No Bake cookies make great school treats in the kids lunches. And don't forget to send a few for the teacher too. She will love them.
Looking for more Fall Flavor Cookie Recipes?
I've got you covered with these fantastic easy recipe and bake desserts
Have you Tried This Recipe?
Let me know what you think of this recipe! Tag @bestcookierecipes on social media so I can see how great your cookies turned out! I would also love to read your comments below. Let me know what you think of these cookies. It really does help!
Pumpkin No Bake Cookies
Pumpkin No Bake Cookies made with Pumpkin Puree, Old Fashioned Oats, Butter, Sugar and extract for a tasty fall cookie treat.
Ingredients
¼

Cup

Butter

¼

Cup

Pumpkin Puree

½

Cup

Granulated Sugar

100g

2

Cup

Old Fashioned Oats

¼

teaspoon

Pumpkin Pie Spice

pinch

Salt

2

tablespoons

Milk

½

teaspoon

Vanilla Extract
Notes
Storage
Store No Bake Cookies in a sealed container for up to a week.
Add-ins
Add Chocolate Chips, M&M's candies, or Cinnamon Spiced Chips.
Troubleshooting
For cookies that don't stick together. You may have added too much Oatmeal which will make the cookie dry and fall apart. OR the butter and sugar mixture wasn't cooked long enough to melt and become sticky.
It's important to measure ingredients properly and not add extra amounts of ingredients.
Nutrition Disclaimer
All nutrition values are approximate and calculated by a plugin and are provided as a courtesy. Adding or subtracting ingredients will change the nutritional value.
Calories:
105
kcal
|
Carbohydrates:
22
g
|
Protein:
2
g
|
Fat:
1
g
|
Saturated Fat:
0.3
g
|
Polyunsaturated Fat:
0.3
g
|
Monounsaturated Fat:
0.3
g
|
Trans Fat:
0.01
g
|
Cholesterol:
0.3
mg
|
Sodium:
38
mg
|
Potassium:
66
mg
|
Fiber:
2
g
|
Sugar:
11
g
|
Vitamin A:
799
IU
|
Vitamin C:
0.2
mg
|
Calcium:
22
mg
|
Iron:
1
mg