Serve up a batch of these frosted lemon cookies for a weekday treat. This is a lemon lover's dream. A soft baked lemon-infused cookie that is topped with Homemade Cream Cheese Lemon Frosting.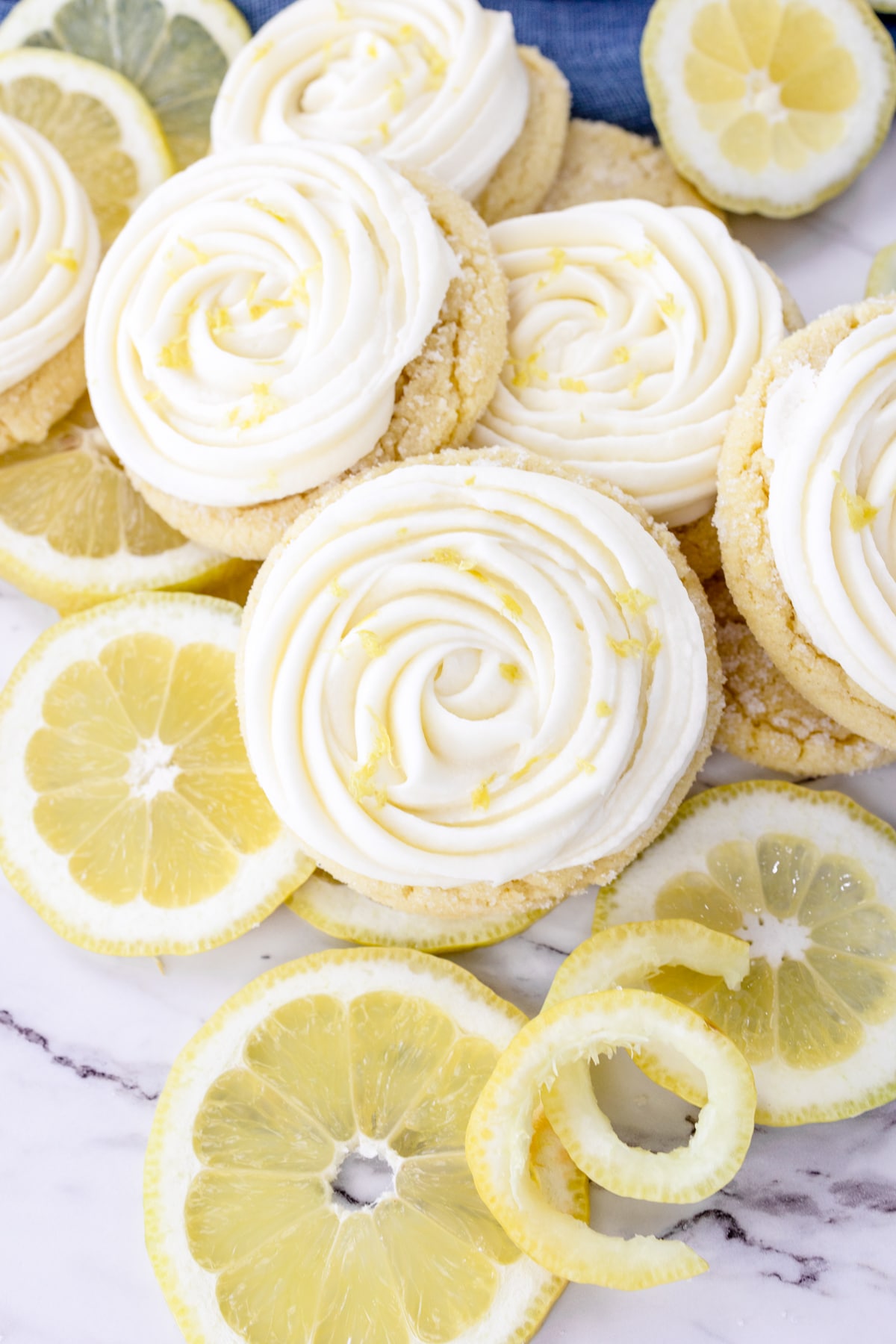 This cookie recipe is sweet, soft, citrusy, and buttery in each bite.
The fresh lemon juice and lemon zest transform these lemon sugar cookies into a whole new dimension of cookie heaven.
You will find that this lemon cookie recipe is made from scratch and I used fresh lemons for optimal flavor.
Whip these cookies up for a baby shower, weekday dessert to serve after dinner, or to bring to a summer cookout. A delicious cookie kids and adults will enjoy.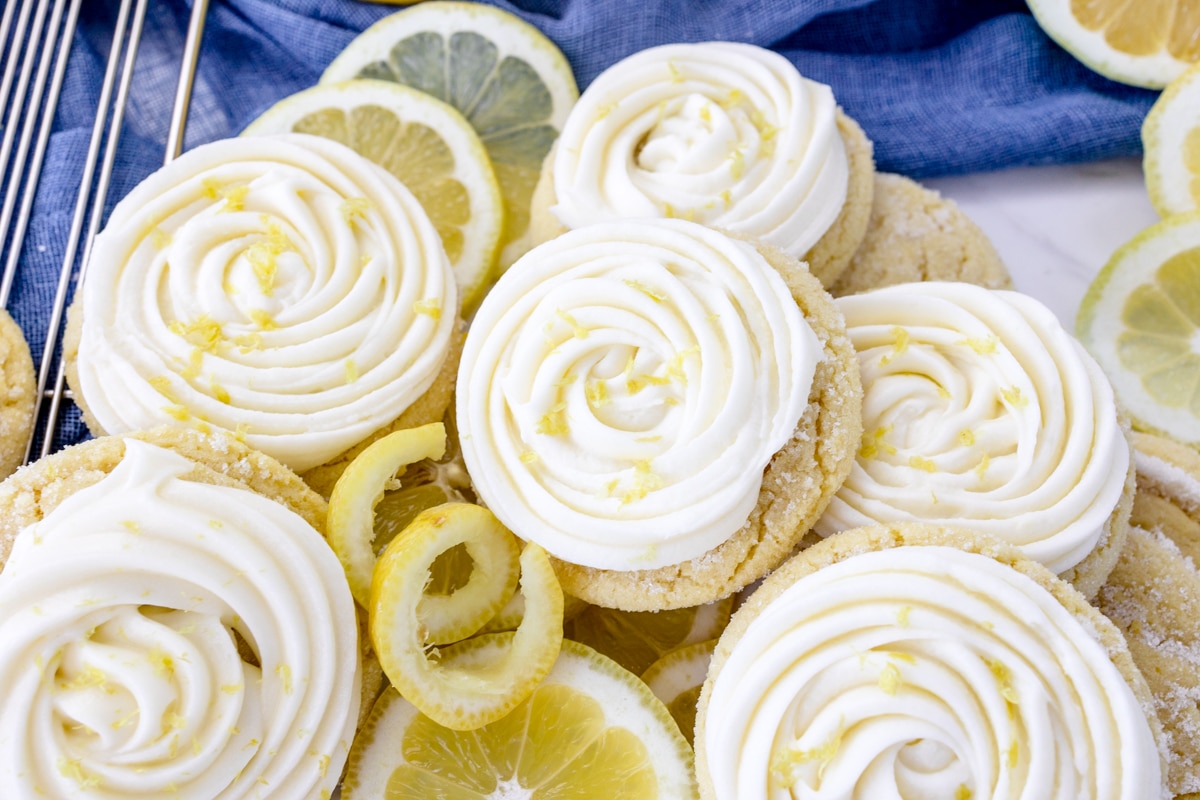 Soft sugar cookies are a favorite in our home. Try your hand at my strawberry sugar cookies for another fruit-flavored cookie that is a twist on a classic sugar cookie.
Also, check out my lemon curd thumbprint cookies for another unforgettable lemon dessert.
Are you wanting more lemon recipes? Strawberry lemon bars, lemon blueberry cookies with a delicious lemon glaze, or this lemon oatmeal bars recipe.
Shopping List
Wet Ingredients. Butter, Vegetable Oil, Egg, Lemon Extract, Lemon Zest, Butter, Cream Cheese, Lemon Juice.
Dry Ingredients. Granulated Sugar, Powdered Sugar, All Purpose Flour, Baking Soda, Cream of Tartar.
How to Make
Preheat the oven to 350 degrees Fahrenheit. Then line 2 baking sheets with parchment paper or a silicone mat to prevent cookies from sticking.
In a large mixing bowl or stand mixer, use the paddle attachment and cream your unsalted butter and granulated sugar together.
Cream for 2-3 minutes, allowing the mixture to become light in color and fluffy in texture.
Add in the egg, lemon extract, and mix for a minute or two longer. Then add in the oil and powdered sugar. Cream for another 2-3 minutes. The mixture will turn glossy and smooth.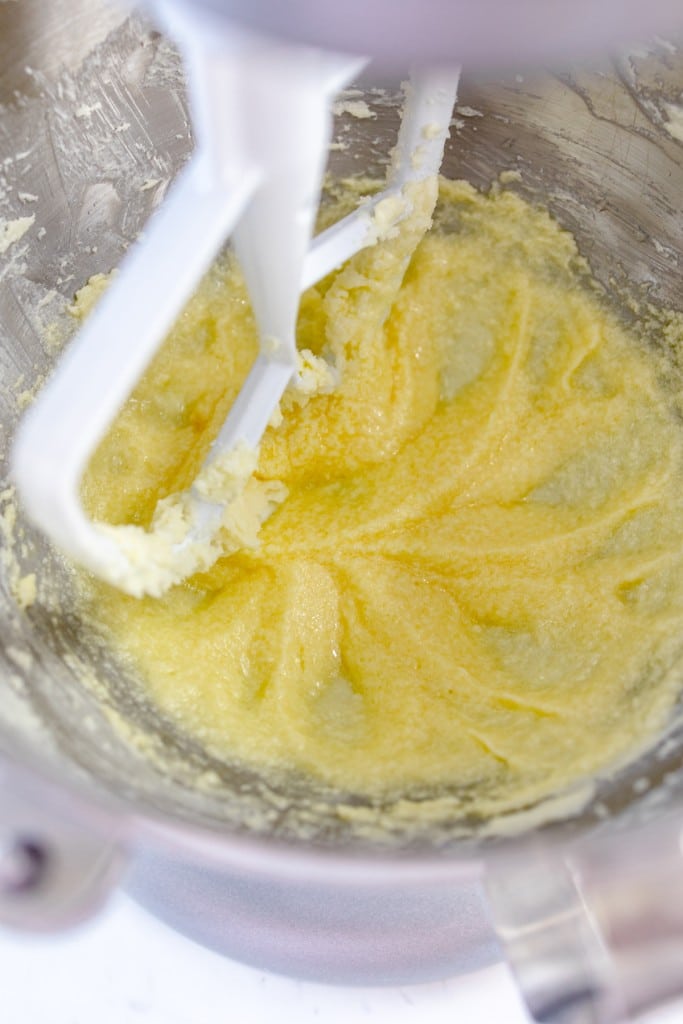 Now you will add your dry ingredients, all purpose flour, baking soda, and cream of tartar to the cookie batter, and mix to combine the cookie dough. Don't over mix. Just mix until the flour is combined.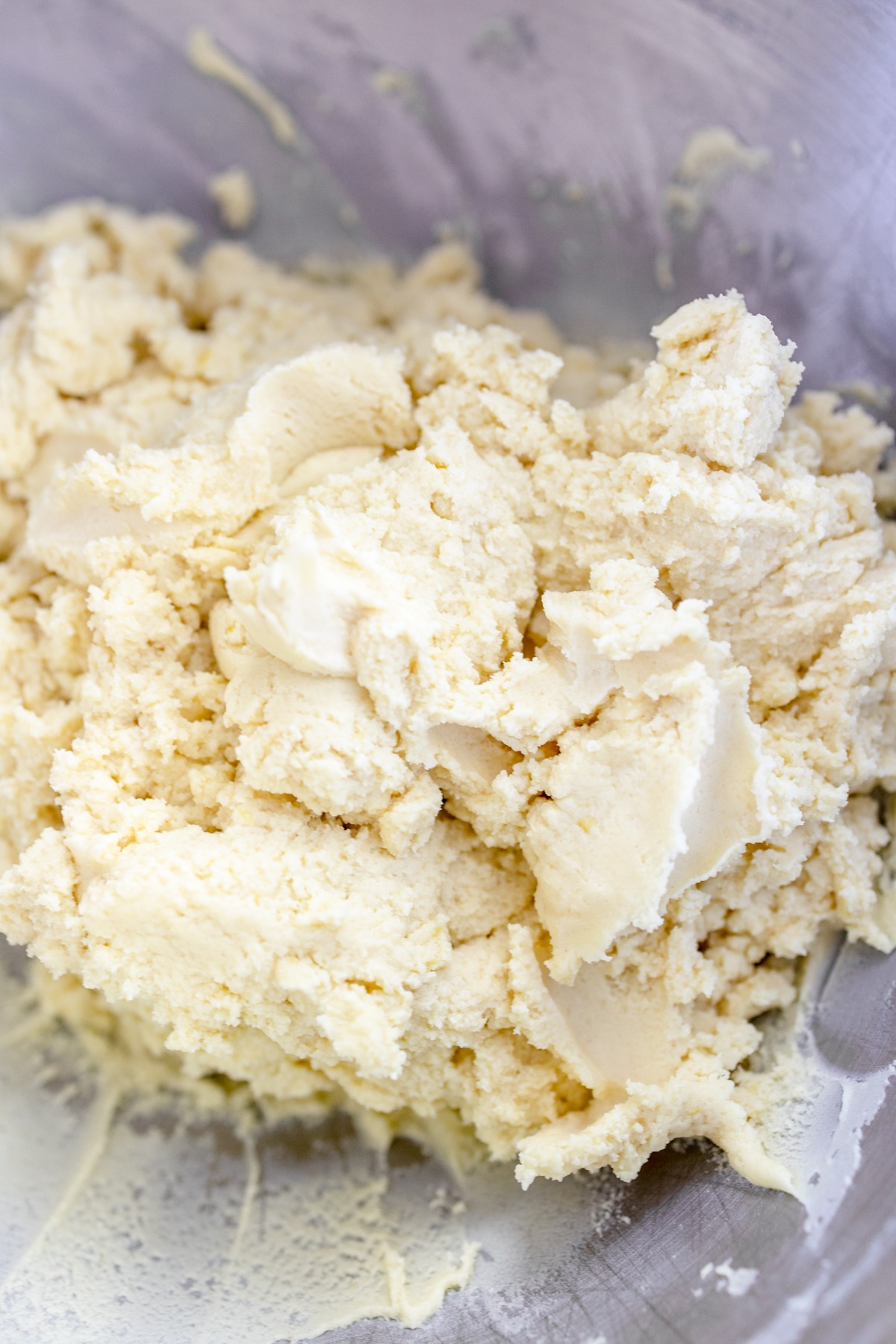 Reach for a cookie scoop, and roll the cookie dough into balls. Then roll the cookies into sugar. I prefer to use a size #24 cookie scoop. It makes a larger cookie which is perfect as a single serve dessert.
Infused Lemon Sugar
In a separate bowl combine ⅓ cup sugar and 1 tablespoon lemon zest. Press lemon zest into sugar until combined. The oils from the lemon will infuse with the sugar.
Roll each cookie dough scoop into the Lemon Zest Sugar to coat before placing on baking sheet allowing 2 inches of space between each cookie dough ball.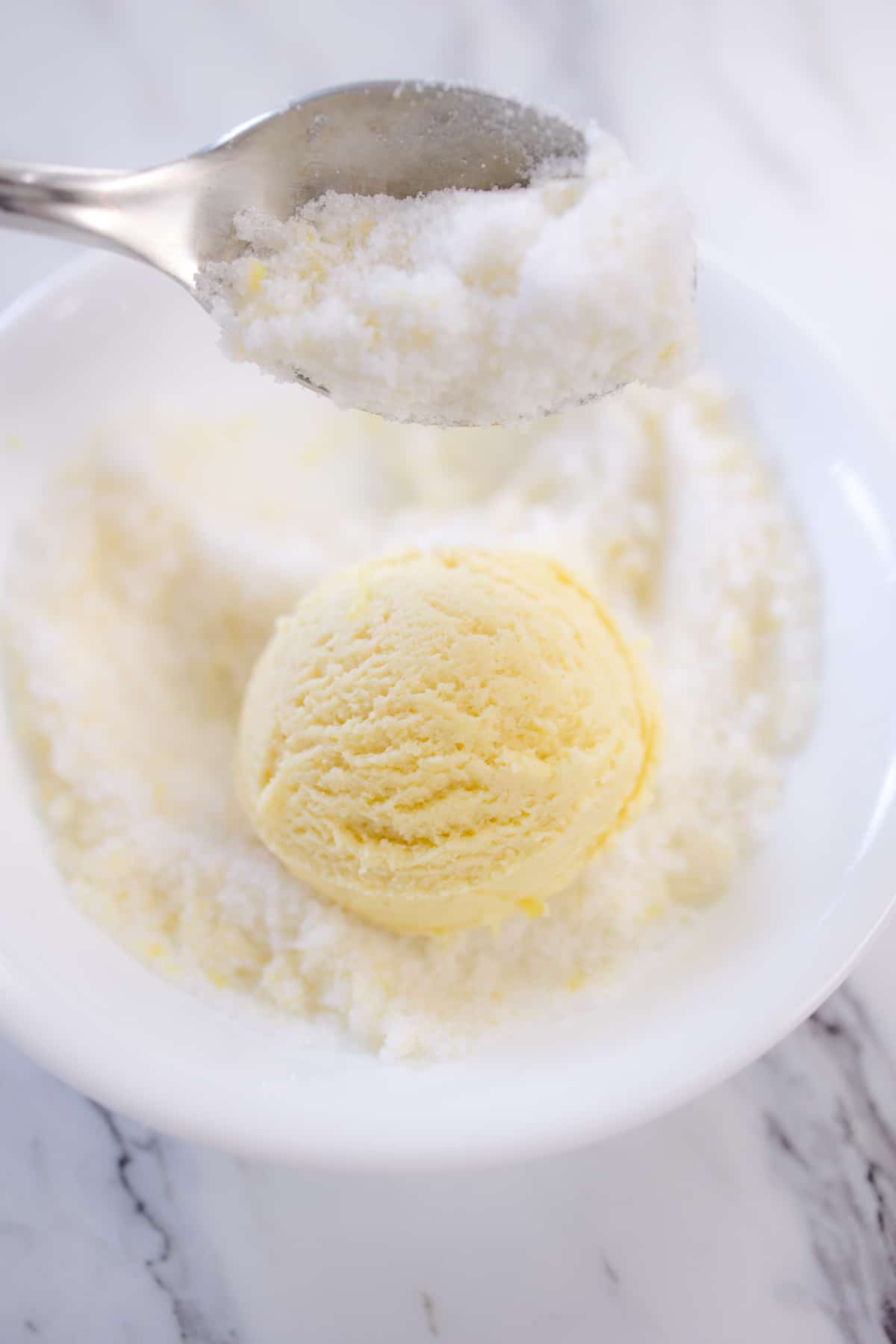 Bake the cookies as directed until the edges are set. Then place the cookies on a cooling rack to cool completely.
How to make Lemon Cream Cheese Frosting
To make the cream cheese lemon frosting you will add the butter and cream cheese into a bowl. Mix well. It's best if the butter and cream cheese of softened. Other wise you might get clumps of cream cheese.
Then work in the powdered sugar, you want the frosting to be nice and thick.
Gradually mix in the fresh lemon juice and lemon zest. Adding a tablespoon at a time until desired consistency is reached.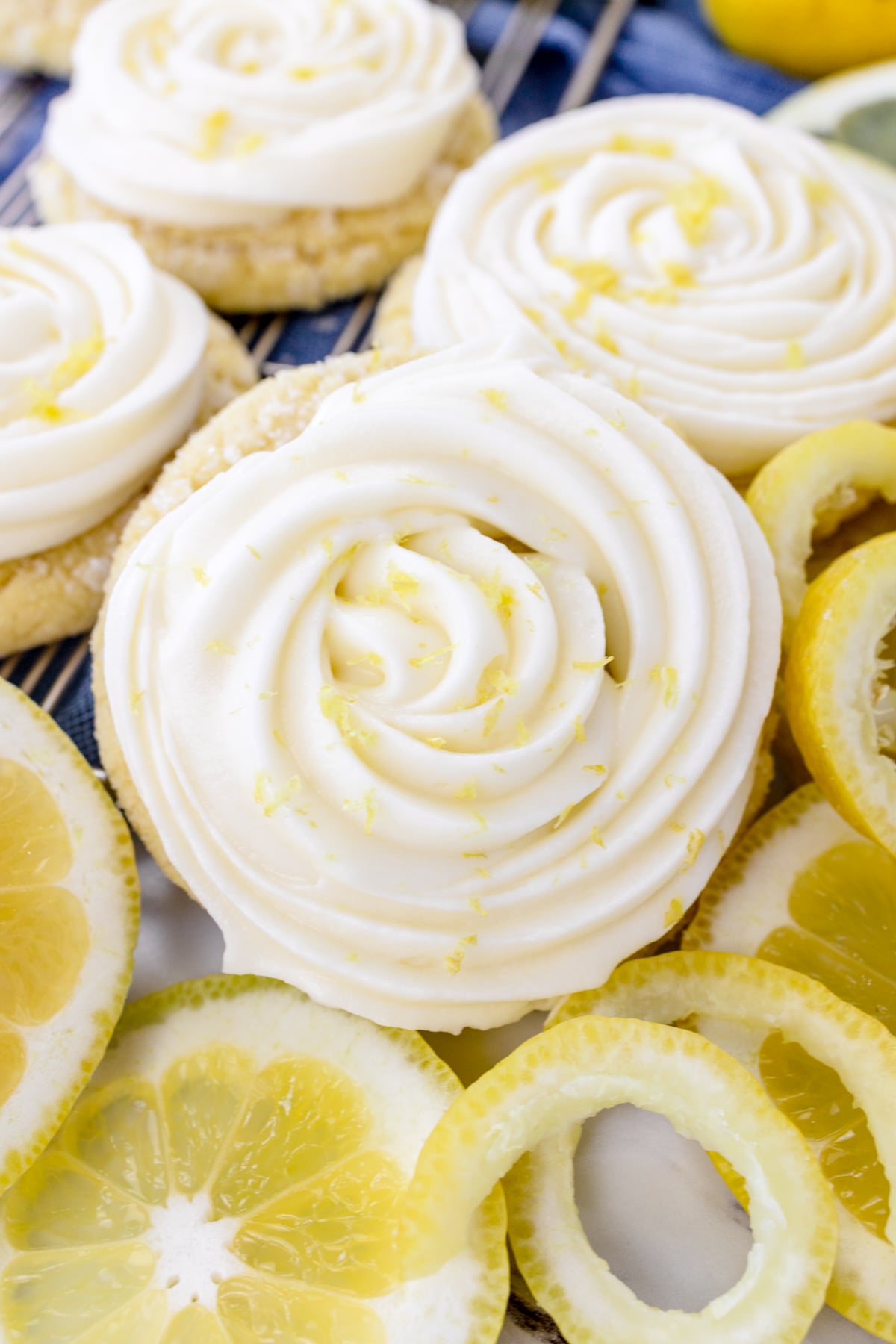 To frost the cooled cookies, use a piping bag with a star tip, and swirl on top of each soft lemon sugar cookie.
Then garnish with lemon zest, cookie crumbs, or leave the soft lemon cookies plain.
FAQs
Can I use lemon glaze instead of frosting for the cookies?
Feel free to whip up a homemade sweet lemon glaze to drizzle on top of each cookie instead of frosting. The fresh lemon glaze will add more of a citrusy punch of flavor.
Just mix powdered sugar, fresh juice, and lemon zest together to create a thick glaze. Then dip or drizzle on top of each cookie.
Can I make these cookies ahead of time?
I recommend that if you want to make these cookies in advance, make them a day ahead of time. I wouldn't do more than that.
Cookies dry out quickly, so a day ahead of time will work. Place the cookies in an airtight container and store the cookies in the fridge until you are ready to serve them up.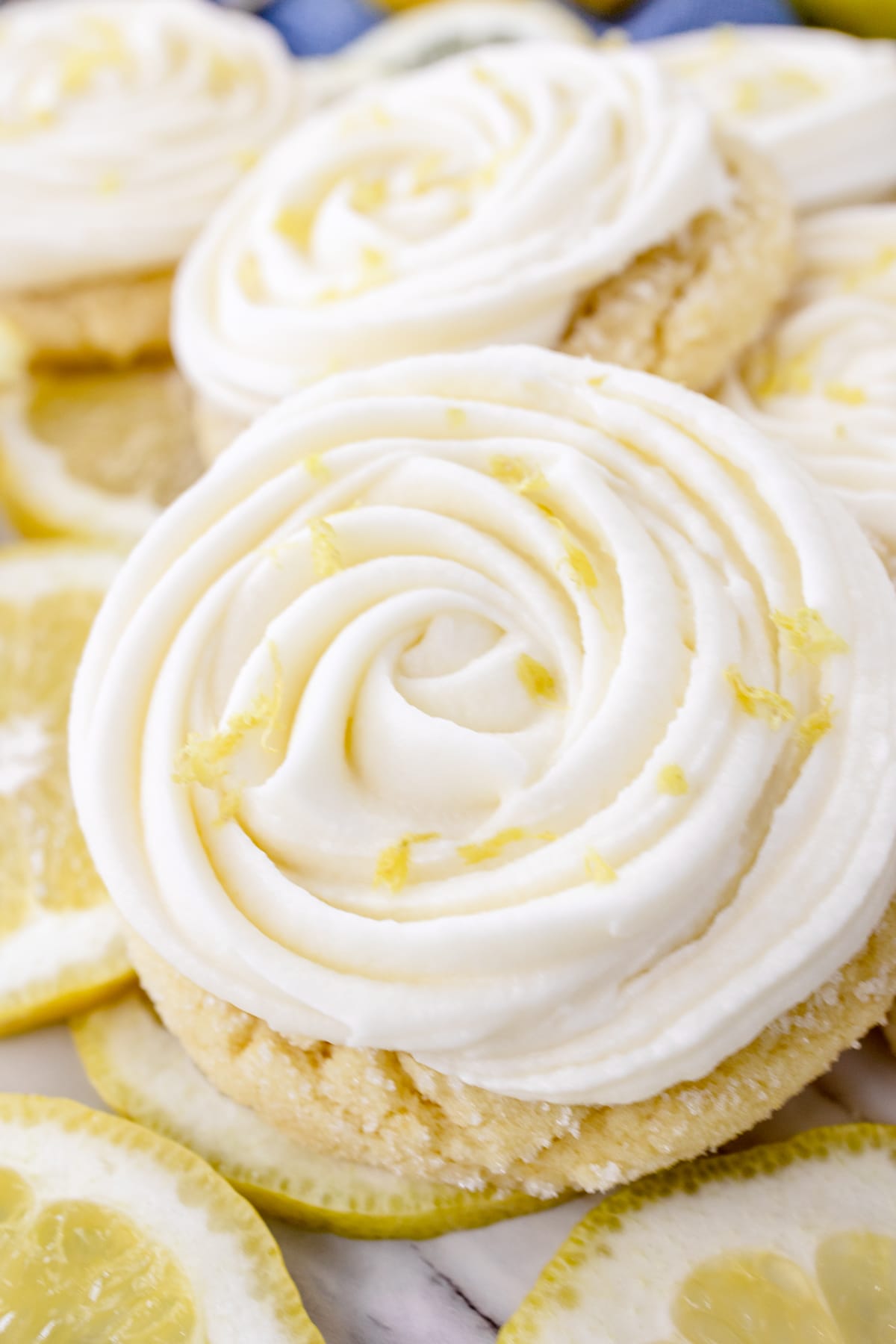 Storage
Refrigerate - Refrigerate any of the cookies you do not eat right away. With the cream cheese frosting, you will find it spoils if left out on the counter at room temperature. The cookies will store in the fridge for 3-5 days.
Freezer - You can also freeze any lemon cookies you don't eat right away. Place parchment paper between each layer of cookies in a freezer-friendly container. Freeze for up to 3 months. Then thaw in the fridge overnight before you plan to eat.
Substitute Or Variations
Butter - I used salted butter for this cookie recipe. If you want to use unsalted butter simply add ¼ teaspoon of butter to the cookie recipe. The salt is imperative to help bring out the flavors of the cookies.
Chocolate - You can mix in chopped white chocolate or melt and drizzle on top of the lemon cookies for a change from the lemon frosting you will pipe on top.
Meyer Lemons - For a more vibrant lemon flavor, reach for Meyer lemons in replace of a classic lemon. Watch your cookies come to life with citrus and tangy goodness.
Lemon Extract - Try using LorAnn Lemon Emulsion. It has a punch of great flavor and I prefer to use it over a standard extract when possible.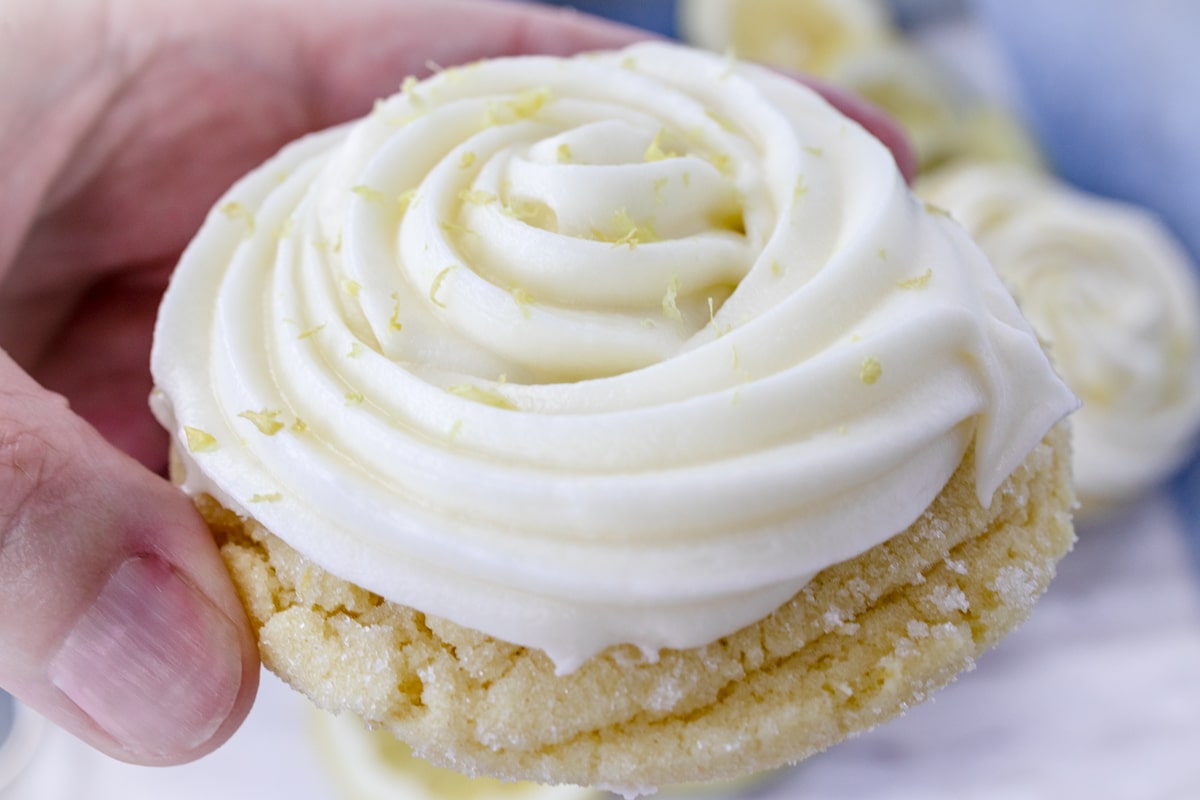 Tips For Success
Zesting Lemons
Make sure when you go to zest a lemon so that you only get the yellow portion of the lemon peel when you zest. If you get the white flesh it will cause the zest to be bitter, and it will affect the flavor of your cookies.
Mixer
You do not have to use a mixer but I do find it offers the best texture to these light and tender lemon lovers cookies. You can use a hand mixer or stand mixer for whipping up the cookie dough.
The electric mixer works great at creating a really light and fluffy texture to the butter and sugar. This offers the best results in a very flaky buttery cookie. I use medium speed to medium-high speed when I cream the butter and sugar.
You can of course use a whisk and a mixing bowl if you prefer. It will just take more arm strength to whip up the cookie dough enough.
Cooling Racks
I use a wire rack for cooling my cookies once I remove them from the oven. Just remove cookies from the cookie sheets and place them right on the cooling rack. This allows an even cooling around the whole cookie and will speed up the cooling process.
It is important that before you frost your cookies, they are completely cooled. Otherwise, the frosting will melt off the cookies.
Weighing Ingredients.
Baking is a science, and adding too much or too little of any of the ingredients will alter the recipe. Weighing and measuring dry ingredients properly makes a world of difference. Investing in a kitchen scale is ideal. When a kitchen scale is not available, make sure to stir and lift ingredients before scooping them into a measuring cup.
| | | | |
| --- | --- | --- | --- |
| | Volume | Ounces | Grams |
| All Purpose Flour | 1 Cup | 4½ Ounces | 120 Grams |
| Bread Flour | 1 Cup | 4½ Ounces | 120 Grams |
| Granulated Sugar | 1 Cup | 7 Ounces | 200 Grams |
| Brown Sugar | 1 Cup | 7½ Ounces | 213 Grams |
| Confectionary Sugar | 1 Cup | 4 Ounces | 113 Grams |
To find out more, check out my Pro Tips Guide for making the best cookies every time!
Have you tried this Lemon Sugar Cookies recipe?
Let me know what you think of this recipe! Tag @bestcookierecipes on social media so I can see how great your cookies turned out! I would also love to read your comments below. Let me know what you think of these cookies. It really does help!
Frosted Lemon Cookies
Take a bite of this sweet and tart Frosted Lemon Cookies loaded with lemon zest through the cookie and frosting.
Ingredients
½

Cup

Butter

Softened

½

Cup

Granulated Sugar

100g

¼

Cup

Vegetable Oil

½

Cup

Powdered Sugar

65g

1

Egg

Large

1

teaspoon

Lemon Extract

1

Tablespoon

Lemon Zest

½

teaspoon

Baking Soda

½

teaspoon

Cream of Tartar

2

cup

All Purpose Flour

240g
Infused Sugar
⅓

Cup

Granulated Sugar

1

Tablespoon

Lemon Zest
Lemon Frosting
½

Cup

Butter

Softened

4

Ounces

Cream Cheese

Softened

3

Cups

Powdered Sugar

360g

2-4

Tablespoons

Lemon Juice

1

Tablespoon

Lemon Zest
Instructions
Infused Sugar Directions
In a small bowl combine ⅓ cup granulated sugar with 1 tablespoon lemon zest. Stir to combine. Set aside.
Lemon Sugar Cookie Recipe Directions
Preheat Oven to 350F Degrees. Line 2 baking sheets with parchment paper and set aside.

In a large mixing bowl cream together butter and granulated sugar. Scrape down sides of bowl as needed. Mixture will be light and fluffy.

Mix in egg and Lemon extract before adding vegetable oil and powdered sugar. Then continue to cream together for an additional 2-3 minutes.

Gradually add the remaining dry ingredients until combined.

Scoop cookie dough using a size #24 cookie scoop and roll cookie dough into infused sugar before placing on cookie sheet. Allow at least 2 inches between cookie dough balls

Bake cookies for 8-10 minutes. Bake until edges are set. Do not over bake.

Allow cookies to cool for a minute before moving to cooling rack

Store in a sealed container for up to a week. Best if enjoyed within 2-3 days
Lemon Cream Cheese Frosting
In a medium size mixing bowl combine softened butter with softened cream cheese and cream together until smooth

Add powdered sugar and mix together. Frosting will be very thick

Gradually drizzle lemon juice into frosting until desired consistency is reached
Frosting Cookies
Place a dollop of frosting on each cookie and spread with knife

OR, fill piping bag with a large star tip and pipe frosting onto cookie in a swirl pattern.

Garnish with lemon zest, cookie crumbs or leave plain.
Notes
Recipe makes approximately 12 cookies using a size #24 Cookie Scoop
Volume
Ounces
Grams
All Purpose Flour
1 Cup
4 ½ Ounces
120 Grams
Bread Flour
1 Cup
4 ½ Ounces
120 Grams
Granulated Sugar
1 Cup
7 Ounces
200 Grams
Brown Sugar
1 Cup
7 ½ Ounces
213 Grams
Confectionary Sugar
1 Cup
8 Ounces

120 Grams
Pro Tips
Preheat Oven. A preheated oven is best when baking a chewy and soft cookie.
Room Temperature Ingredients. Softened Butter and room temperature egg are a must when baking.
Cookie Sheets. Line baking sheets with parchment paper or use baking spray
Cookie Dough. Chilling the dough is not necessary with this recipe.
Storage
Store cookies in a sealed container or ZipLoc Bag for up to 1 week. Cookies are best if enjoyed within 2-3 days.
Freeze Cookies in sealed container or ZipLoc Bag for up to 3 months. Place parchment paper between stacked layers of cookies to prevent sticking together.
Nutrition Disclaimer
All nutrition values are approximate and calculated by a plugin and are provided as a courtesy. Adding or subtracting ingredients will change the nutritional value.
Calories:
418
kcal
|
Carbohydrates:
82
g
|
Protein:
4
g
|
Fat:
9
g
|
Saturated Fat:
3
g
|
Polyunsaturated Fat:
3
g
|
Monounsaturated Fat:
2
g
|
Trans Fat:
0.1
g
|
Cholesterol:
23
mg
|
Sodium:
225
mg
|
Potassium:
76
mg
|
Fiber:
1
g
|
Sugar:
57
g
|
Vitamin A:
148
IU
|
Vitamin C:
3
mg
|
Calcium:
59
mg
|
Iron:
1
mg