Whip up these raspberry lemon cookies that are soft pillowy and chewy made with fresh lemon zest, and studded with frozen raspberries in each bite. This lemon raspberry cookies recipe is a delicious cookie that has a secret ingredient.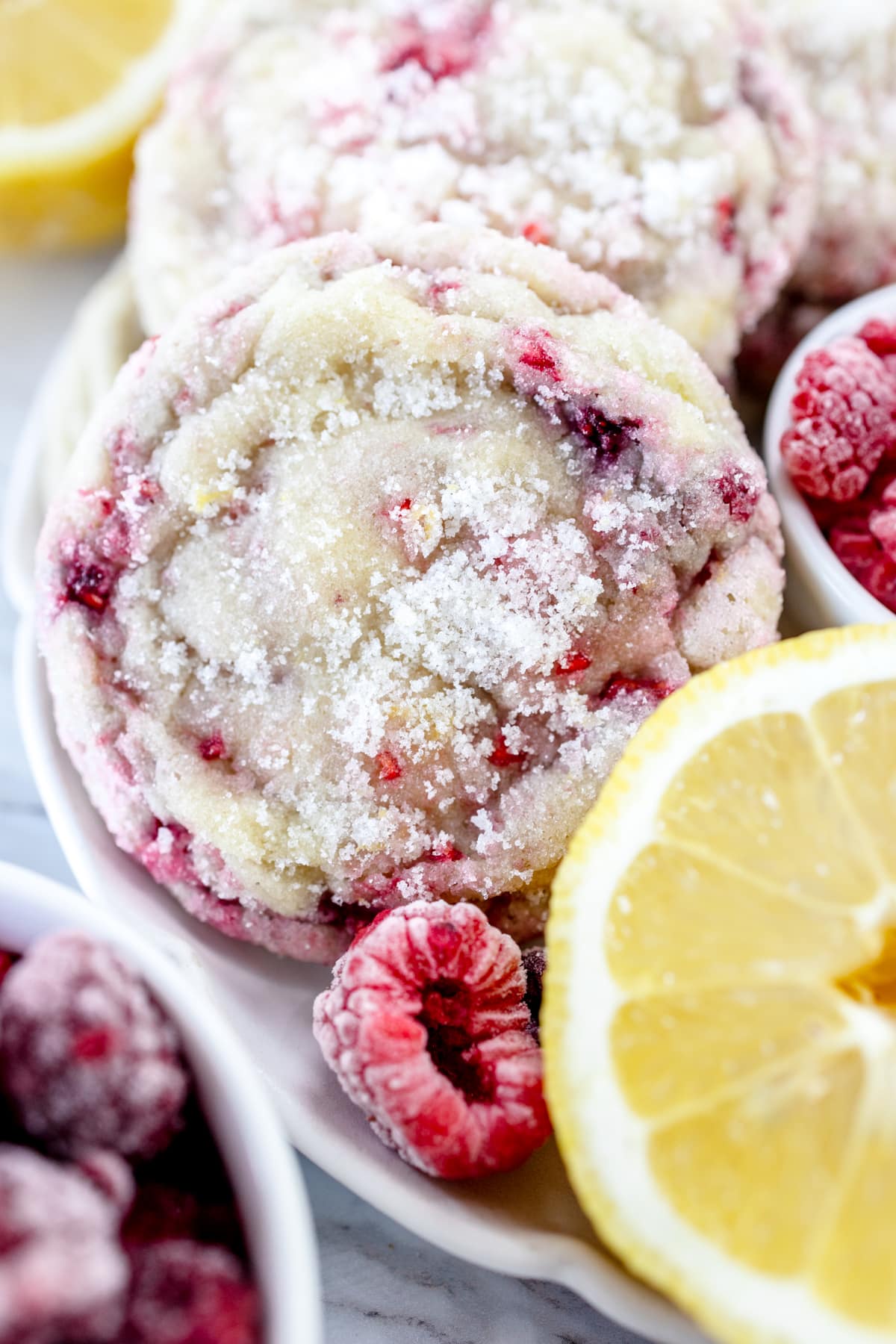 The infused lemon sugar is what gives these sweet cookies their stand-out flavor. It enhances the lemon flavor to a whole new level and when you pair it with the larger raspberry pieces it becomes one of the best cookies you will ever eat.
Be sure to check out my lemon curd cookies or even these strawberry lemonade bars if you love lemon desserts as we do.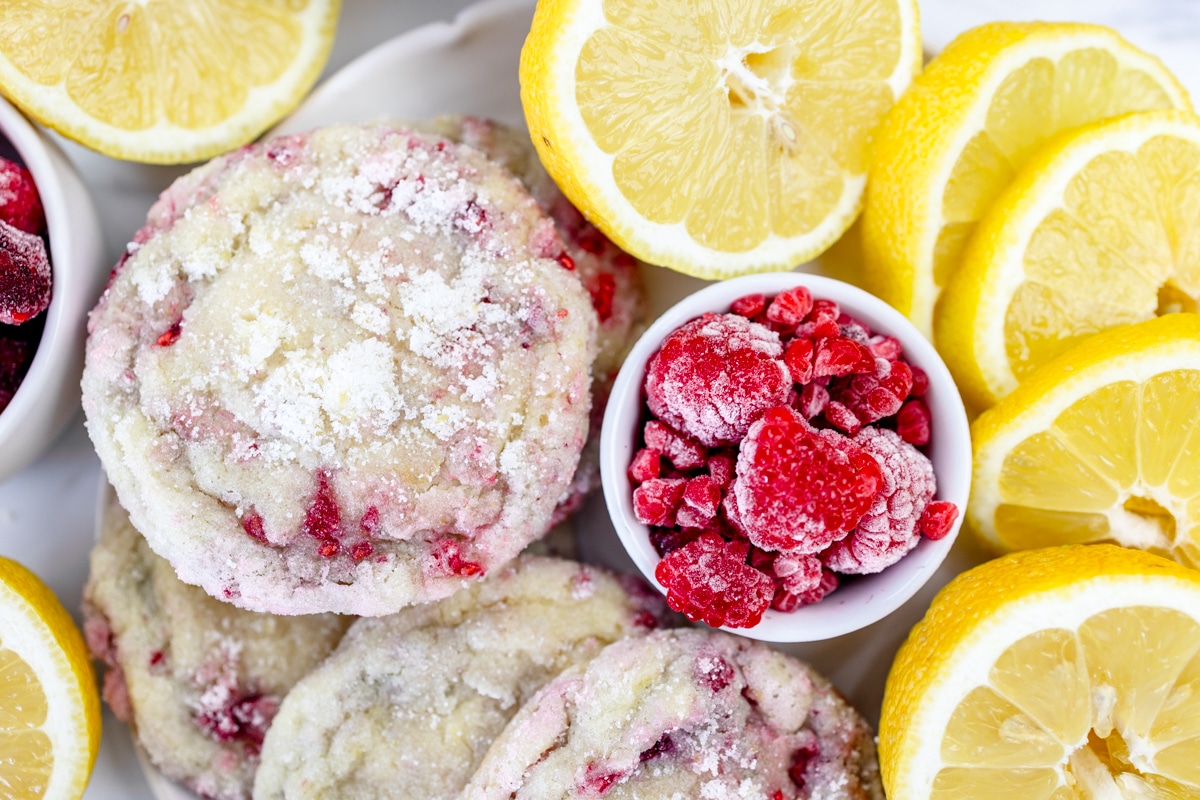 All you need are simple pantry staple ingredients and some fresh or frozen raspberries and fresh lemon juice and lemon zest. Whip up the cookie dough and allow it to fill your home with a sweet and refreshing aroma as they bake up to golden brown perfection.
​Now if you are craving more cookie recipes, I have a few more ideas for you. These raspberry thumbprint cookies are a must-try. Or whip up these lemon blueberry cookies.
Shopping List
Wet Ingredients. Butter, Oil, Egg, Lemon Extract.
Dry Ingredients. Granulated Sugar, Powdered Sugar, Baking Soda, Cream of Tartar, All Purpose Flour.
Fruit. Lemon and Frozen Raspberries.
How to Make Lemon Raspberry Cookies
To infuse your sugar you will add the granulated sugar and lemon zest. Stir to combine. I like to press the lemon zest into the sugar to help release the oils and flavors into the sugar. Once well mixed set it aside.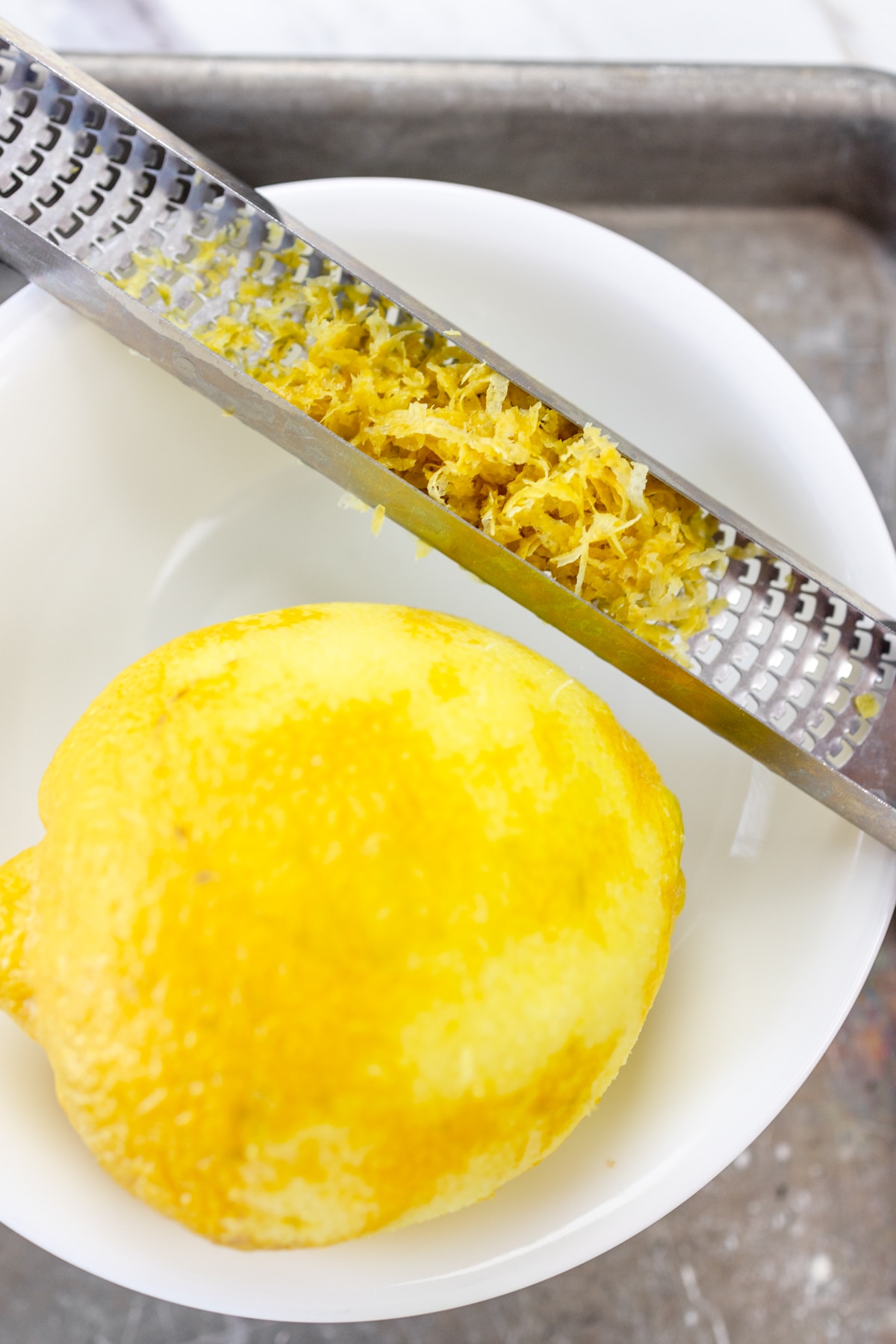 Preheat the oven and prep your cookie sheets with parchment paper then set aside.
In a large mixing bowl or bowl of a stand mixer, you will cream together your butter and granulated sugar.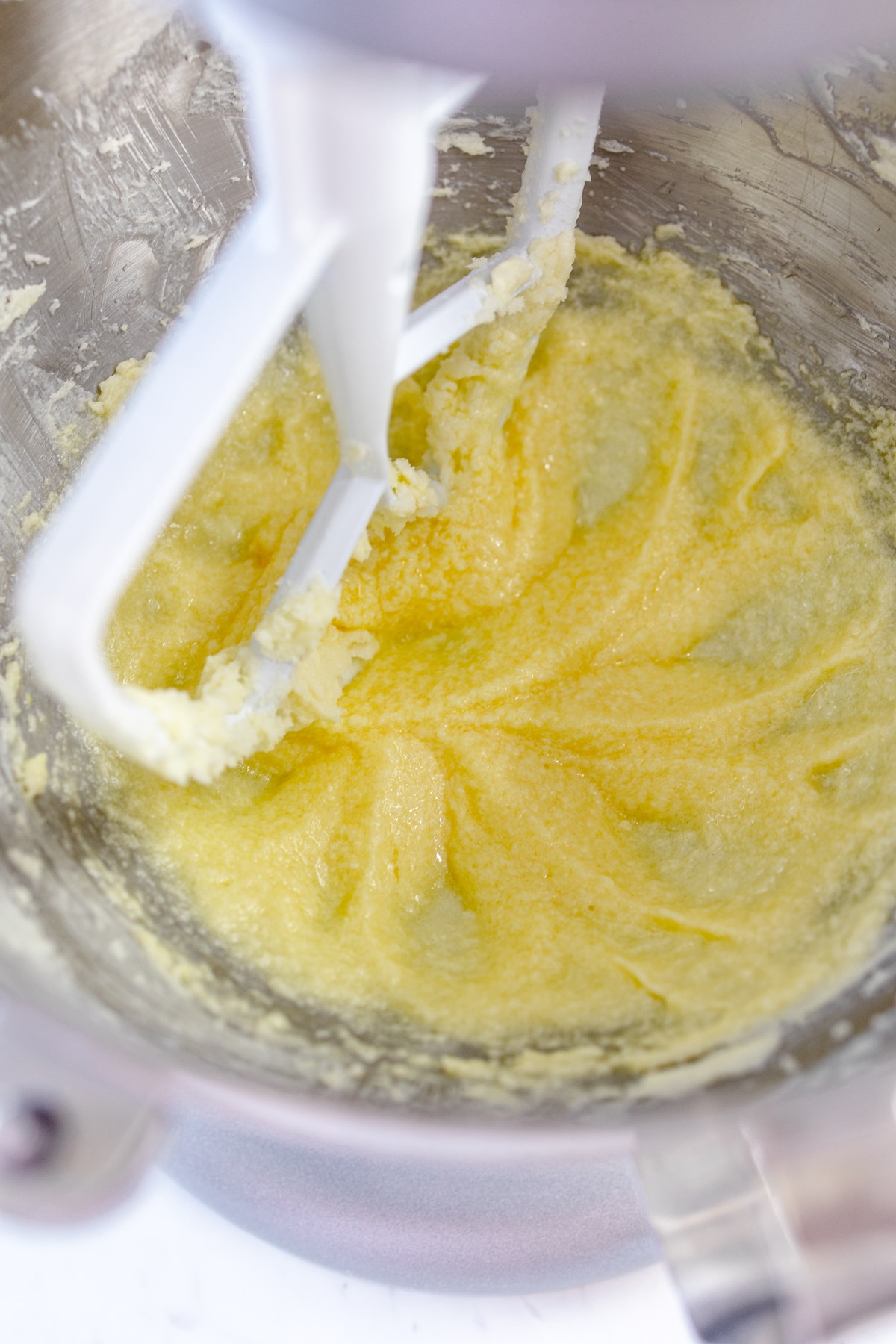 Cream the butter and sugar for 2-3 minutes until it is light and fluffy. The mixture will turn pale yellow in color and become very light and fluffy.
Add in the egg and extract and cream this mixture making sure to scrape the sides of the bowl as needed. It will take a minute for the ingredients to combine back together so be patient.
Next drizzle the vegetable oil and powdered sugar into the butter mixture. Cream for 2-3 minutes and scrape the sides of the bowl again for good measure.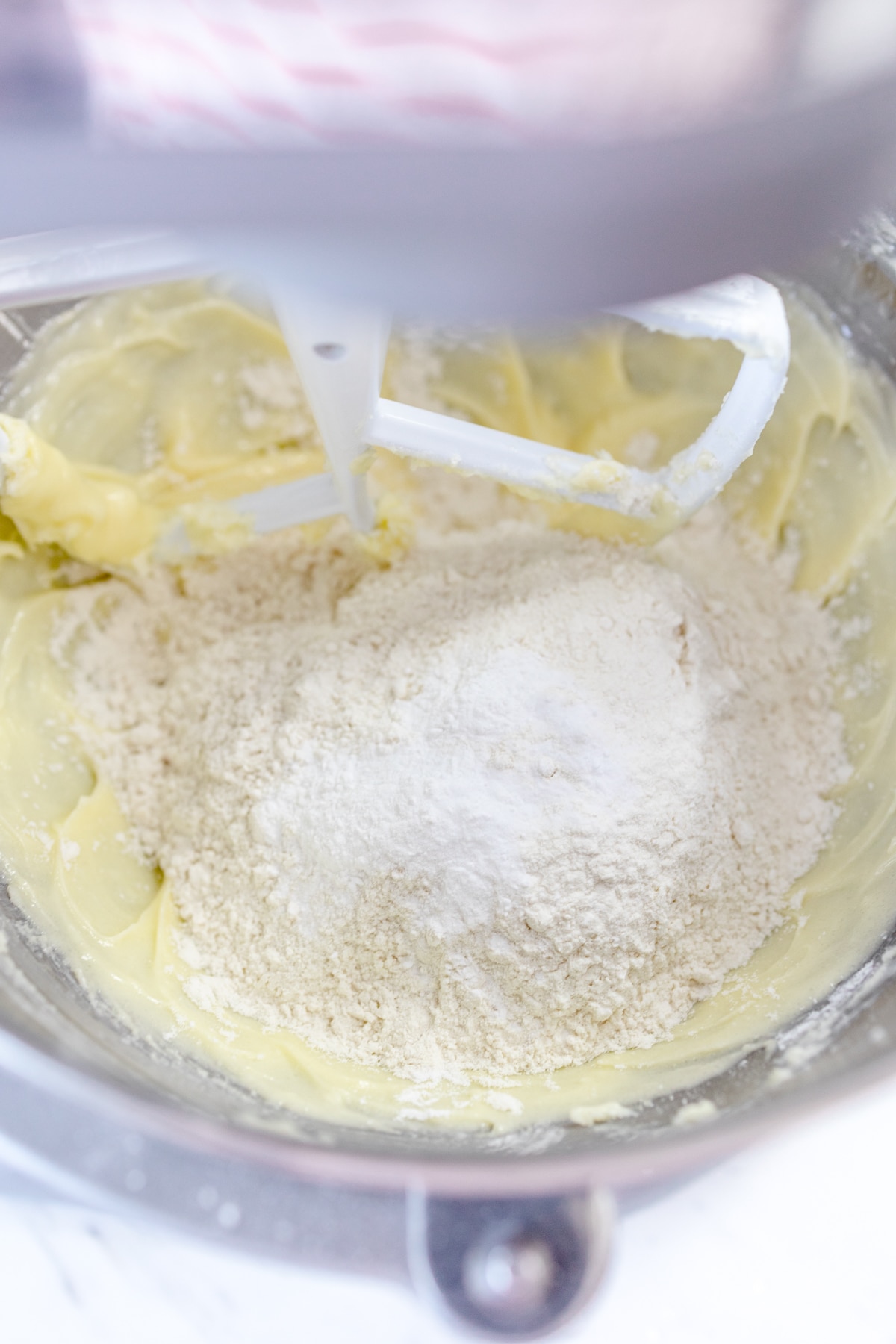 Work in the remaining dry ingredients making sure to scrape down the sides to remove the flour mixture to ensure it incorporates.
TIP: Leave raspberries in the freezer until ready to use. They are best if they are frozen and kept well chilled.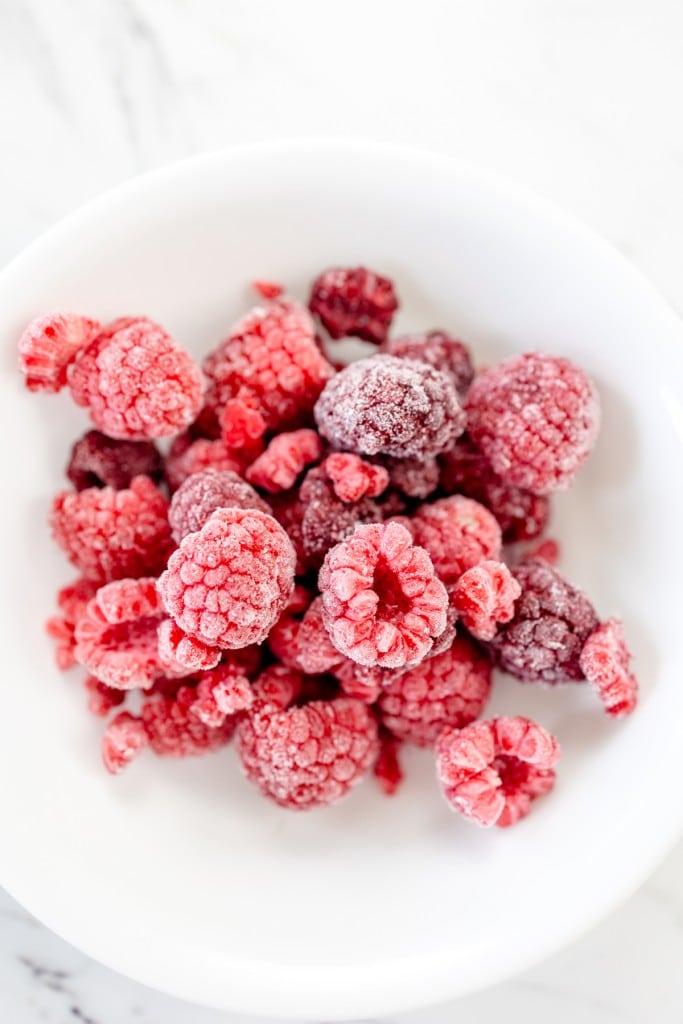 Break up the frozen raspberries and fold the raspberries into the dough. Don't overmix or it will break down the berries too much.
The raspberries will thaw quickly and release extra moisture into the cookie dough so baking immediately is important for the perfect cookie.
Scoop cookie dough using a cookie scoop, and form balls of dough. Roll cookie dough in the infused lemon sugar before placing on the baking sheet. Allow 2 inches between cookie dough scoops for best results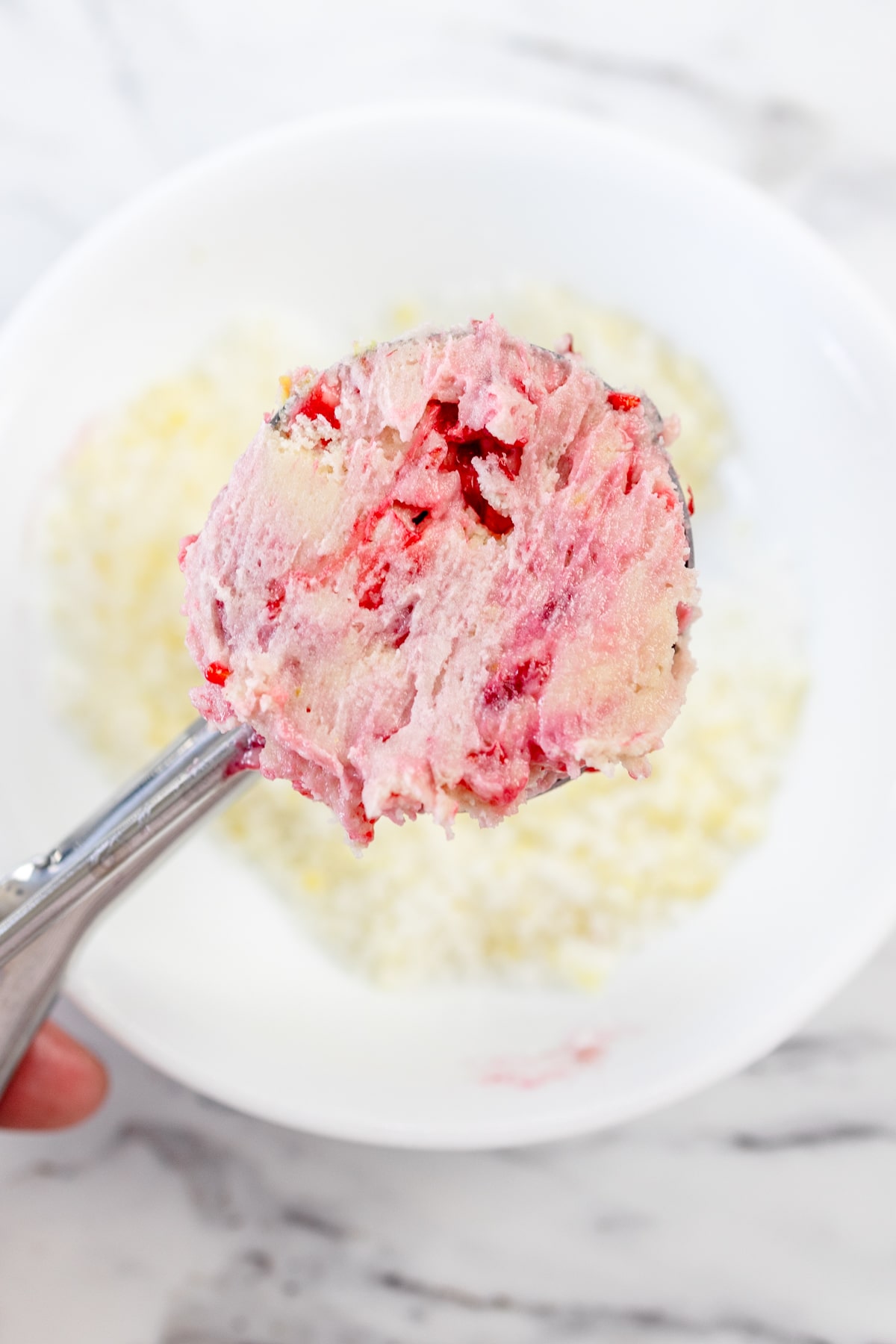 Then bake as directed. I've used a size #24 cookie scoop in these photos. It's about 3 tablespoons of cookie dough. I love the size of the cookie. But feel free to use a small cookie scoop!
Once the cookies are done place them on a wire rack for cooling. Then serve and enjoy.
FAQ
Can I use fresh raspberries instead of frozen ones?
You need to make sure you are using frozen raspberries for this cookie recipe. Fresh raspberries will release too much moisture as they bake and cause the cookies to become mushy.
Feel free to freeze fresh raspberries for this recipe!
The key is to break it into small pieces for the best results in having fruit in each bite.
What does infusing the sugar do for the cookies?
When you mix sugar with lemon zest it helps bring an extra burst of sweetness to the cookies but also enhances the lemon flavor for these fruity cookies.
You will find that as the zest presses against the sugar as mixed, it releases natural oils which brings out a more vibrant lemon flavor.

Can I add a lemon glaze?
In a small bowl, mix ½ cup of powdered sugar with some lemon juice (1-2 tablespoons) will create a tangy lemon glaze that you can drizzle on top.
You will add just enough lemon juice to thin out the powdered sugar so you can drizzle it over the cookies.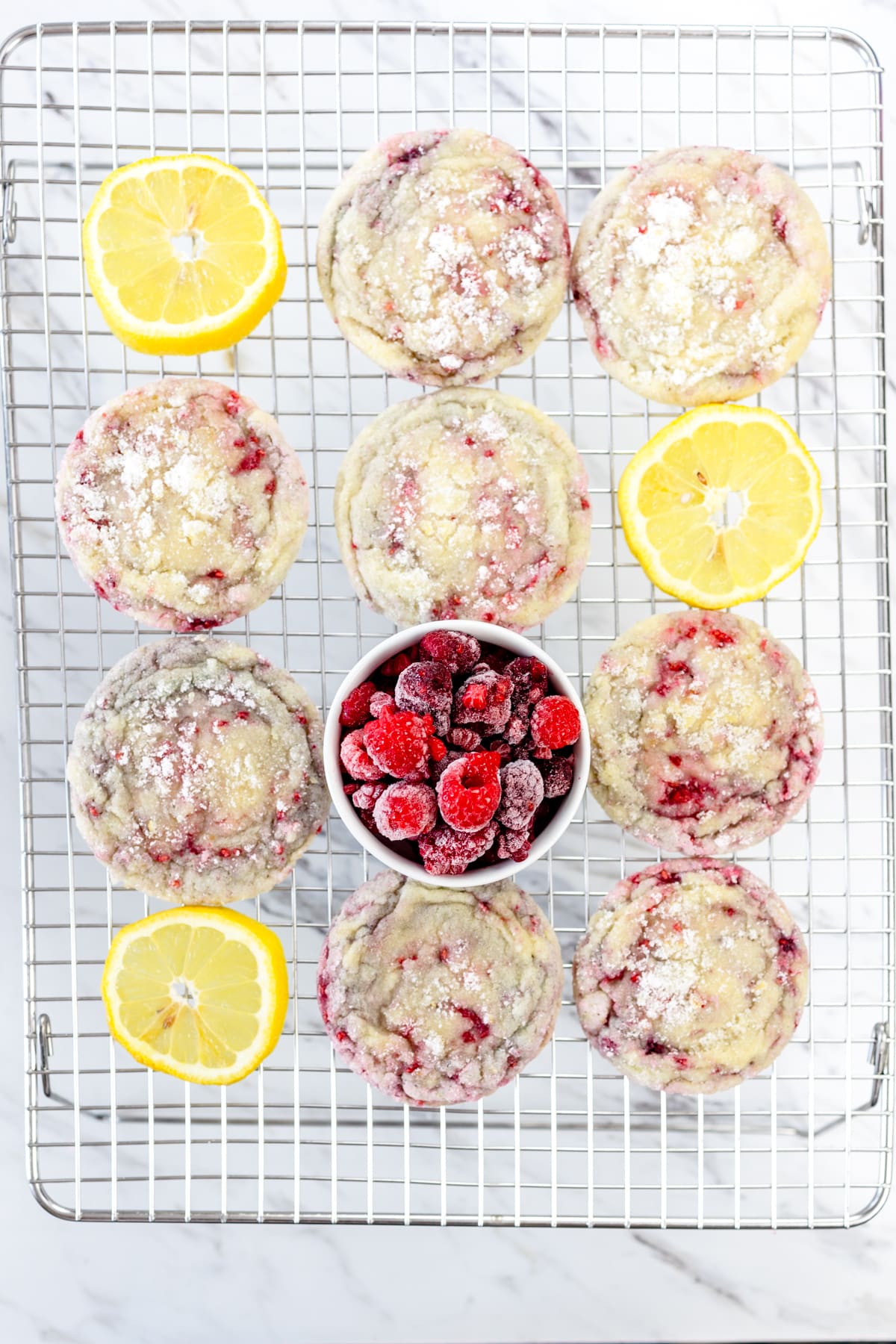 Substitute Or Variations
Strawberries - Swap out the raspberries for fresh strawberries or frozen berries and transform the flavor a bit. It will change the flavor of the cookies just a bit.
But remember to freeze the strawberry bits first before adding to the cookie
White Chocolate Chips - Mix about ½ cup of white chocolate chips into the cookie dough. This is going to add more flavor to the cookies and add a bit of texture. These would make a great Valentine's Day cookie with white chocolate.
Large Cookies - Want to make larger cookies? Use a large cookie scoop and bake cookies for a few extra minutes. This will create larger pillowy delicious cookies to serve up.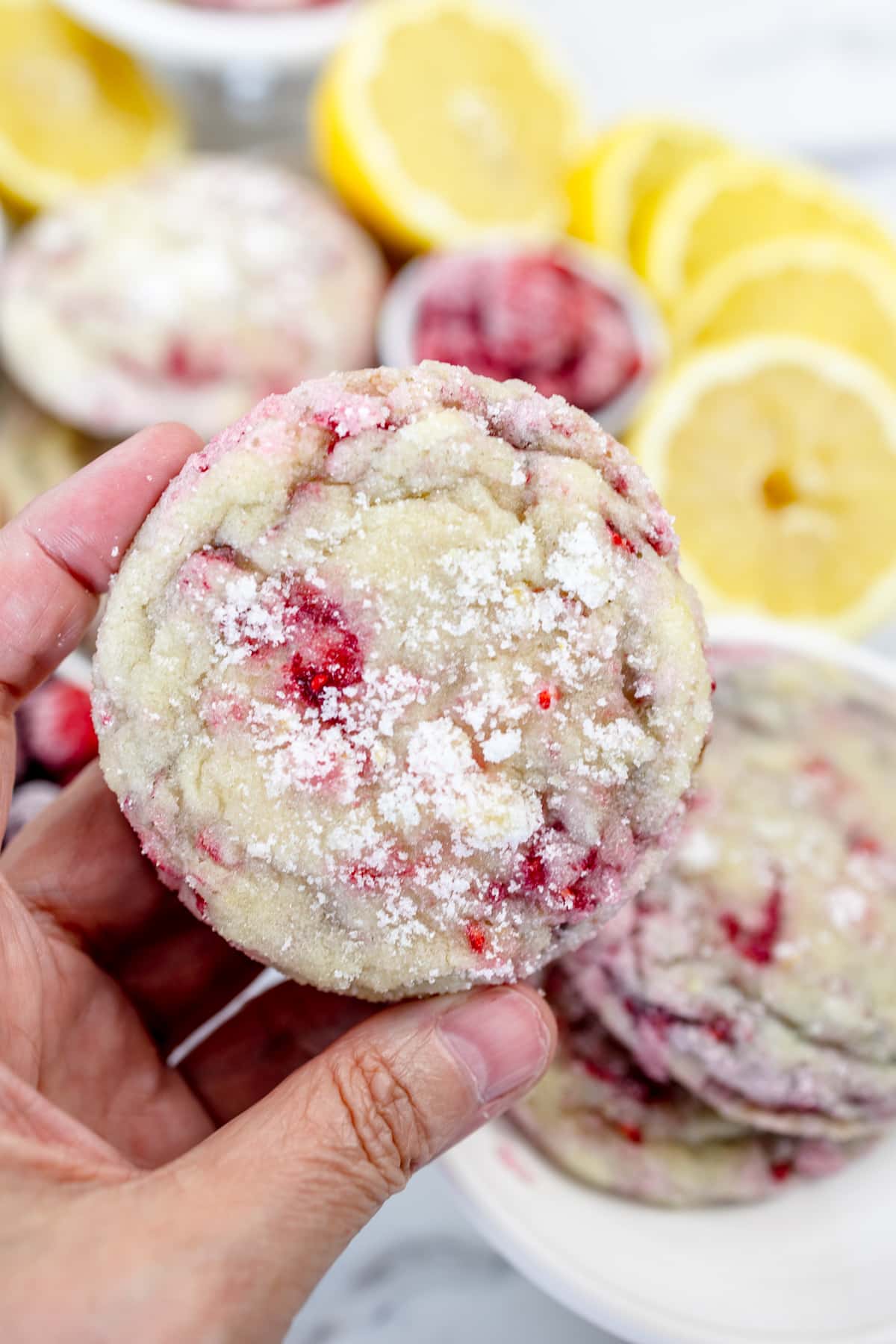 Tips for Success
Weighing Ingredients.
Baking is a science, and adding too much or too little of any of the ingredients will alter the recipe. Weighing and measuring dry ingredients properly makes a world of difference. Investing in a kitchen scale is ideal. When a kitchen scale is not available, make sure to stir and lift ingredients before scooping them into a measuring cup.
| | | | |
| --- | --- | --- | --- |
| | Volume | Ounces | Grams |
| All Purpose Flour | 1 Cup | 4½ Ounces | 120 Grams |
| Bread Flour | 1 Cup | 4½ Ounces | 120 Grams |
| Granulated Sugar | 1 Cup | 7 Ounces | 200 Grams |
| Brown Sugar | 1 Cup | 7½ Ounces | 213 Grams |
| Confectionary Sugar | 1 Cup | 4 Ounces | 113 Grams |
Lemons
Make sure to use fresh lemons that are bright in color and don't have blemishes on them. This will ensure lemon freshness for the cookies. Also, make sure when you zest your lemon you only remove the yellow color of the skin.
The white portion under the yellow will create a sour or bitter taste in the cookies.
Fold Raspberries
Ensure you fold the frozen raspberries into the cookie mixture instead of mixing it with the paddle attachment or hand mixer. If you mix it in it will break down the berries too much.
Storage - Freezing - Sealed Container
Make sure that once your cookies have completely cooled after being baked you store your cookies in a sealed airtight container.
If you place the cookies in the container when they are still warm it will cause condensation to build in the container and spoil the cookies quicker.
So make sure to allow the cookies time to cool on the cooling rack before you put them up to be stored.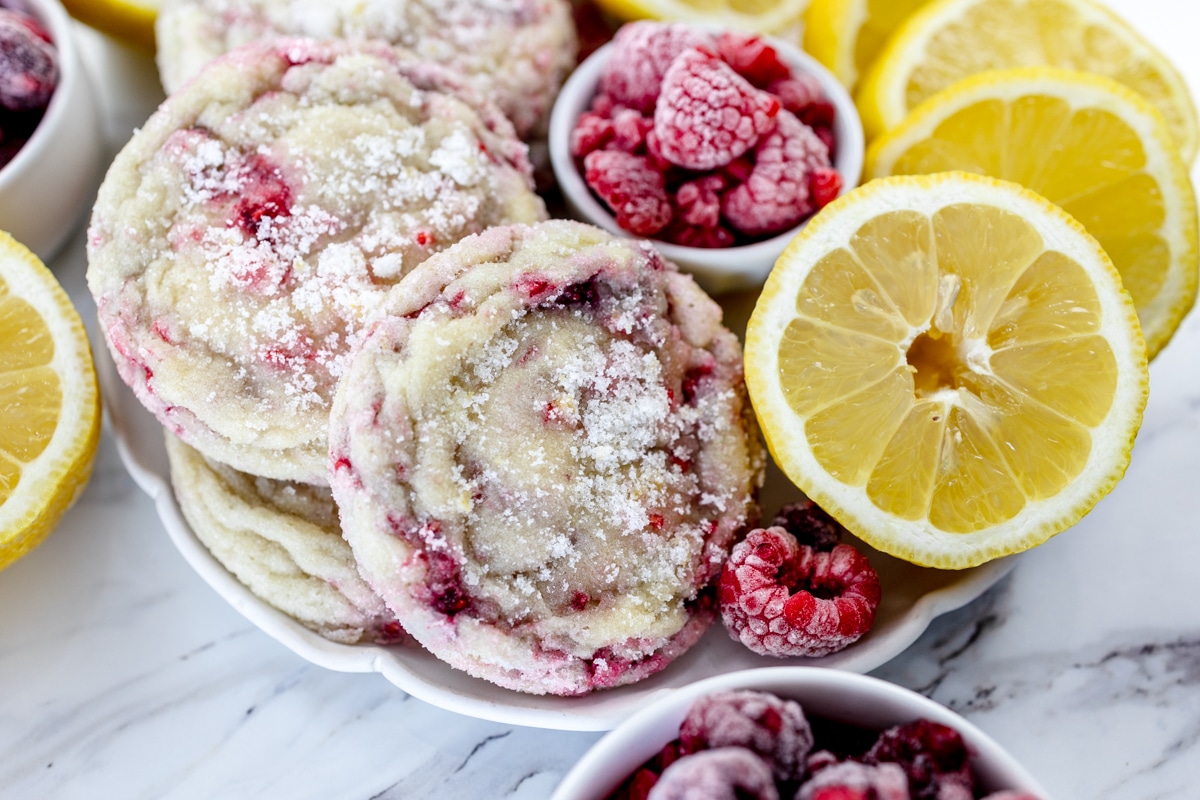 Have you tried this Raspberry Lemon Cookies recipe?
Let me know what you think of this recipe! Tag @bestcookierecipes on social media so I can see how great your cookies turned out! I would also love to read your comments below. Let me know what you think of these cookies. It really does help!
Favorite Kitchen Tools
Raspberry Lemon Cookies
Bite into a sweet and tart Raspberry Lemon Cookie Recipe loaded with lemon zest and bits of raspberries for a fun summer cookie recipe.
Ingredients
Lemon Sugar Cookies
½

cup

Butter Softened

½

cup

Granulated Sugar

100g

¼

cup

Vegetable Oil

½

cup

Powdered Sugar

65g

1

Egg Large

1

teaspoon

Lemon Extract

1

Tablespoon

Lemon Zest

½

teaspoon

Baking Soda

½

teaspoon

Cream of Tartar

2

cups

All Purpose Flour

+ 3 Tablespoons 265g

½

Cup

Frozen Raspberries

Broken up into small bits
Infused Sugar
⅓

cup

Granulated Sugar

1

Tablespoon

Lemon Zest
Instructions
Infused Sugar
In a small bowl combine ⅓ cup granulated sugar with 1 tablespoon lemon zest. Stir to combine. Set aside.
Lemon Sugar Cookies
Preheat Oven to 350F Degrees. Line 2 baking sheets with parchment paper and set aside.

In a large mixing bowl cream together butter and granulated sugar. Scrape down sides of bowl as needed. Mixture will be light and fluffy.

Mix in egg and Lemon extract before adding vegetable oil and powdered sugar. Then continue to cream together for an additional 2-3 minutes.

Gradually add the remaining dry ingredients until combined.

Break up frozen raspberries into small bits. Hand stir frozen raspberry bits into cookie dough. Don't over mix but allow some swirling into the cookie dough.

Scoop cookie dough using a size #24 cookie scoop and roll cookie dough into infused lemon sugar before placing on cookie sheet. Allow at least 2 inches between cookie dough balls

Bake cookies for 9-11 minutes. Bake until edges are set. Do not over bake.

Allow the cookies to cool for a minute before moving to cooling rack.
Notes
Tip:
Raspberries need to be very frozen. Keep in freezer until ready to stir into cookie dough. Have oven preheated and baking sheets prepared. Bits of raspberries with thaw quickly and tend to make cookies spread more as it ads excess liquid to cookie dough.
Scoop cookie cough and roll in infused lemon sugar. Place on cookie sheet. Chill cookie dough scoops for 15 minutes before baking.
I like to bake these cookies a minute or two longer than I typically bake cookies. The raspberries give extra moisture which makes these cookies soft. By baking a tiny bit longer they are still moist and hold their shape well!
Frozen Raspberries vs Fresh Raspberries
This recipe works best with frozen raspberries. The berries will break into small bits when frozen that will easily mix into the cookie dough and hold their shape. Fresh raspberries break down and add more liquid into the cookie dough than needed.
Yield: This recipe makes approximately 12 cookies using a size #24 Cookie Scoop. You can make larger cookies using two scoops of cookie dough, or mini cookies using a smaller cookie scoop. Bear in mind the cooking time will vary for different sizes of cookies.
Volume
Ounces
Grams
All Purpose Flour
1 Cup
4 ½ Ounces
120 Grams
Bread Flour
1 Cup
4 ½ Ounces
120 Grams
Granulated Sugar
1 Cup
7 Ounces
200 Grams
Brown Sugar
1 Cup
7 ½ Ounces
213 Grams
Confectionary Sugar
1 Cup
8 Ounces

227 Grams
Storage
Store: Store cookies in a sealed container or Ziploc Bag for up to 1 week. Cookies are best if enjoyed within 2-3 days.
Freeze: Keep the cookies in a sealed container or Ziploc Bag in the freezer for up to 3 months. Place parchment paper between stacked layers of cookies to prevent sticking together.
Nutrition Disclaimer
All nutrition values are approximate and calculated by a plugin and are provided as a courtesy. Adding or subtracting ingredients will change the nutritional value.
Calories:
231
kcal
|
Carbohydrates:
43
g
|
Protein:
3
g
|
Fat:
5
g
|
Saturated Fat:
1
g
|
Polyunsaturated Fat:
3
g
|
Monounsaturated Fat:
1
g
|
Trans Fat:
0.1
g
|
Cholesterol:
14
mg
|
Sodium:
123
mg
|
Potassium:
55
mg
|
Fiber:
1
g
|
Sugar:
23
g
|
Vitamin A:
20
IU
|
Vitamin C:
1
mg
|
Calcium:
28
mg
|
Iron:
1
mg