White Chocolate Cranberry Macadamia Nut Cookies are deliciously chewy, sweet, salty, and full of amazing textures. Filled with soft macadamia nuts, sweet white chocolate chips, and chewy dried cranberries, this is the perfect treat to share on your holiday cookie trays!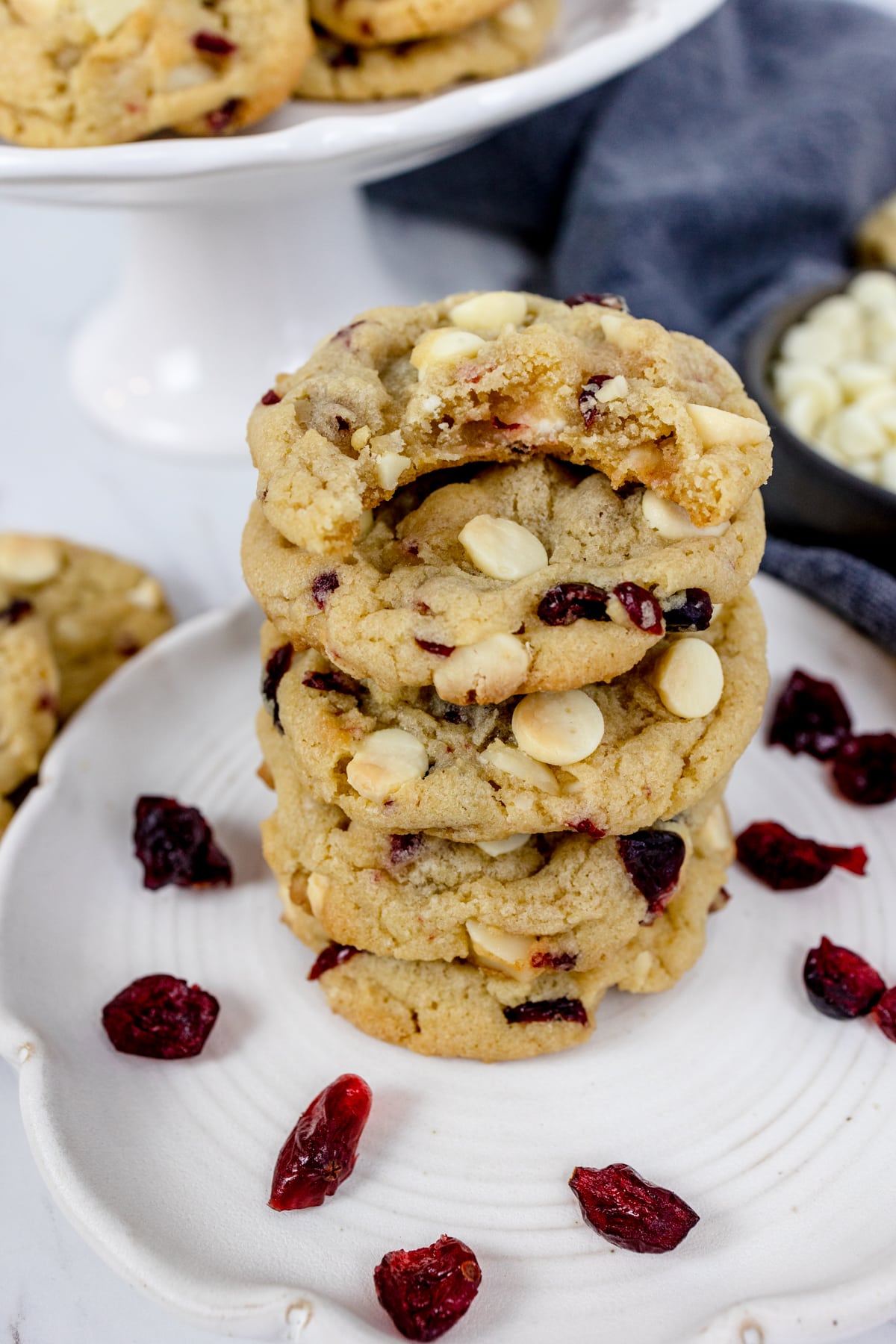 These delicious cookies have the perfect combination of flavors. The sweetness of the white chocolate chips really balances out the tart cranberries in this delicious cookie.
Using salted macadamia nuts will enhance all the flavors. I also recommend using a pure vanilla extract rather than an artificial alternative for the best result.
This cookie recipe is quick and easy; taking only 30 minutes to make. It's a great recipe to have on hand for the holidays when you need a good-looking batch of Christmas cookies but don't have time to decorate them.
I always get rave reviews when I make these cookies, I tend to make a double batch of them now to make sure I get to eat one myself! They're a step up from the classic White Chocolate Chip Cookies with Macadamia Nuts with the addition of dried cranberries.
For more Christmassy cookie inspiration, try these Fun Reindeer Cookies, Decadent Chocolate Swig Sugar Cookies, Easy Red Velvet Sandwiches, and these Classic Snickerdoodle Cookies. These recipes are all super easy, fun, and just perfect for a holiday cookie exchange!
Shopping List
Wet Ingredients. Butter, Pure Vanilla Extract, Egg
Dry Ingredients. All Purpose Flour, Granulated White Sugar, Brown Sugar, Baking Soda, Salt
Filling. Macadamia Nuts, Dried Craisins, White Chocolate Ghirardelli Chocolate Chips
How to Make White Chocolate Cranberry Macadamia Cookies
Preheat your oven to 350 Degrees F and prepare a baking sheet with parchment paper, or a silicone mat, or by greasing it so that the cookies don't stick after baking.
Firstly, ensure your ingredients are all at room temperature before you begin. To make the cookie dough, cream together the softened Butter and Granulated Sugar for 2-3 minutes.
Scrape the sides of the bowl as needed to make sure you use all the ingredients. This will be easiest to do in a stand mixer, or in a large bowl with a hand electric mixer.
Next, add the Eggs and Pure Vanilla Extract. Stir everything until it's fully combined.
Then add the Brown Sugar, and cream for another 2 minutes. Scrape the sides of the bowl as needed to make sure you're using all of the ingredients.
In a separate bowl, combine the dry ingredients of All Purpose Flour, Baking Soda, and Salt. Gradually add the flour mixture to the butter mixture a little bit at a time until all the ingredients are fully combined. Do not over-mix.
Using a wooden spoon, hand stir in the White Chocolate Chips, Macadamia Nuts, and chopped Craisins.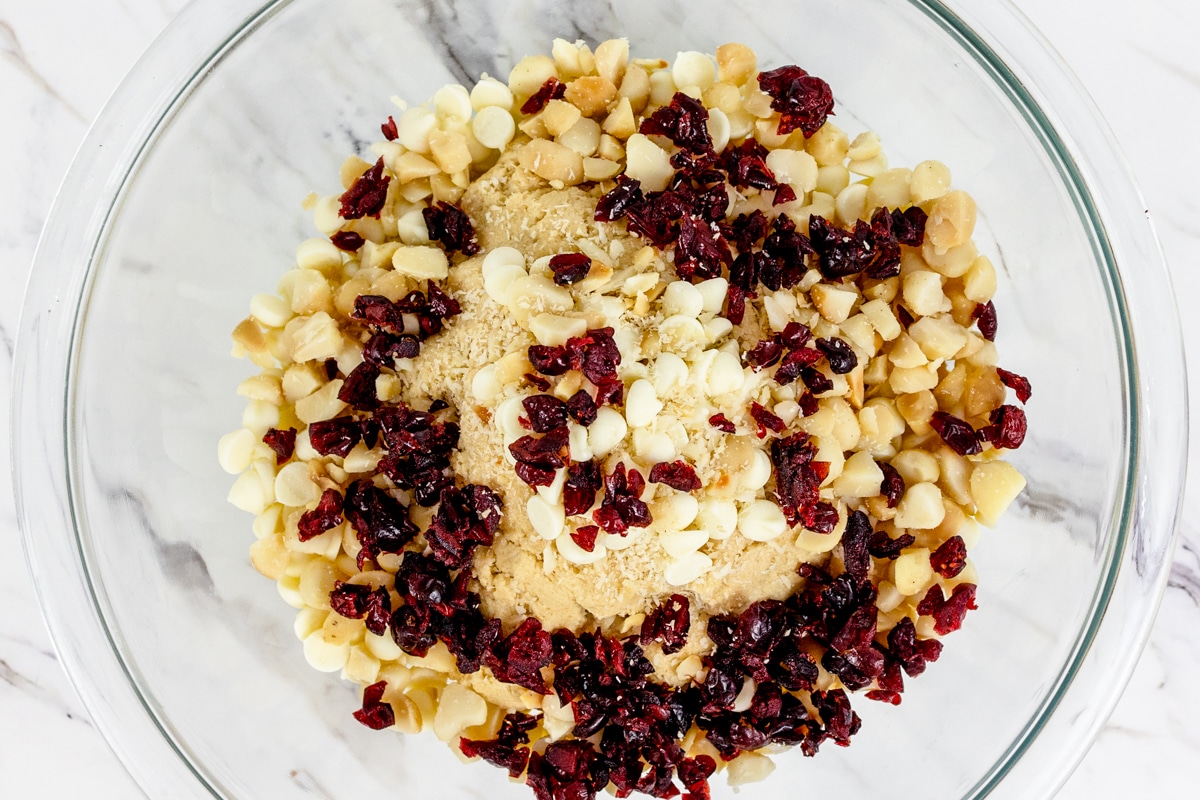 Use a medium cookie scoop size #50 to scoop the cookie dough into balls and place them on the baking sheet 2 inches apart to allow for spreading.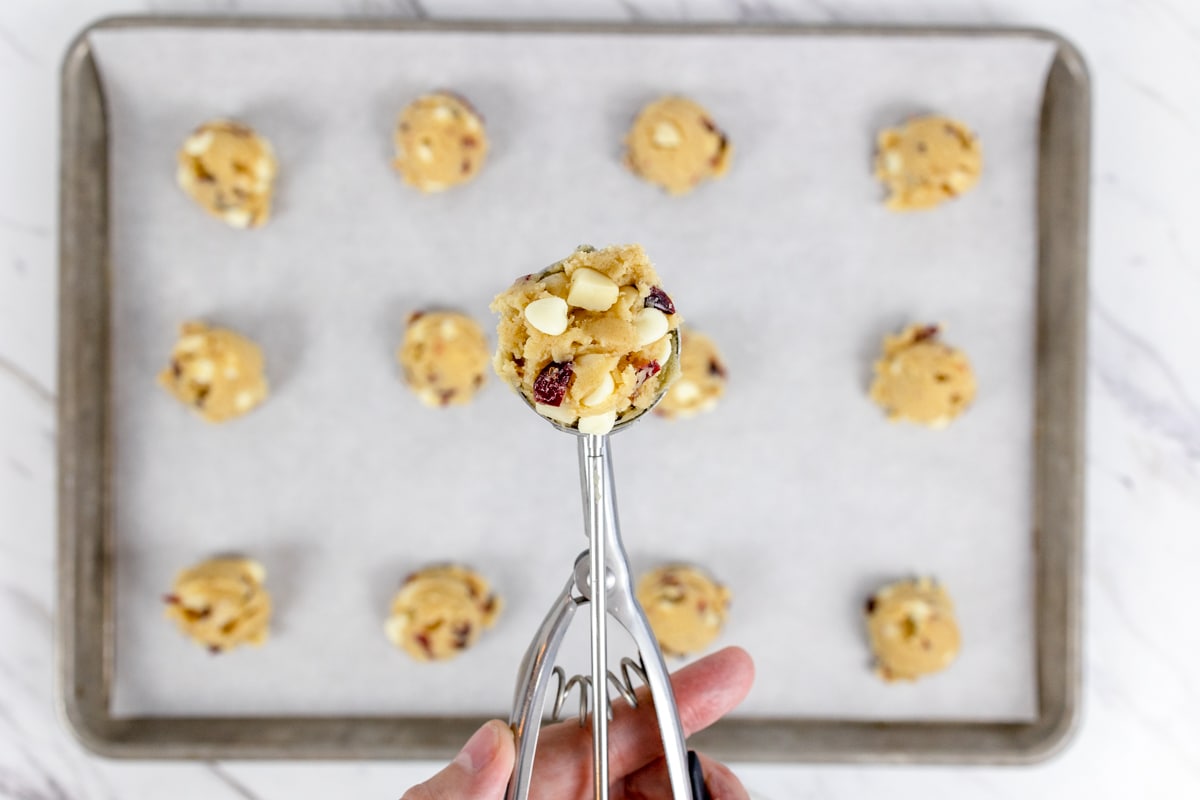 Bake the cookies at 350 degrees F for 9-11 minutes. The cookies will be done when the edges are set and the center is no longer glossy.
Remove the baked cookies from the oven and allow them to cool on the baking sheet for a couple of minutes before moving them to a wire rack to cool completely.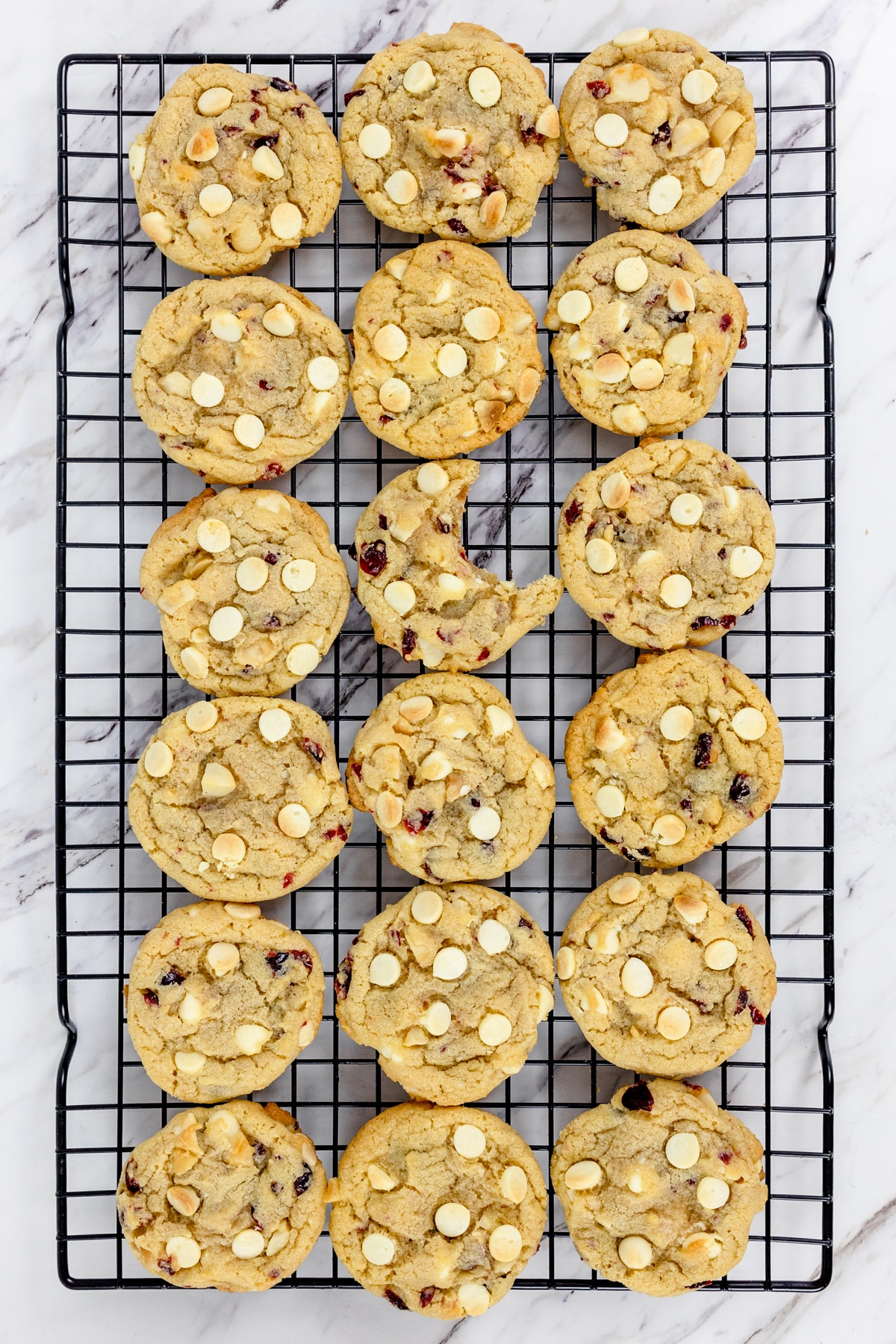 Storage and Freezing
Storage: Store cooled cookies in an airtight container for up to 1 week. These cookies are best enjoyed within 2-3 days of freshly baking them.
Freezing: These white chocolate cranberry cookies can be frozen for up to 3 months. Individually wrap each cookie in plastic wrap, or place parchment paper between each cookie to prevent sticking. Then put the cookies into a Ziploc bag or freezer-safe container, and freeze them for up to 3 months.
Substitutions & Variations
Use different types of nuts in these chewy cookies! Try pecans, peanuts, cashews, or sliced almonds for something different.
Try different dried fruit. Raisins, dried cherries, or dried blueberries would be amazing in these cookies as well.
Place extra cranberries on the top of these cookies to bring out that deep red color for decoration at Christmas time.
Before you bake the cookies, add white chocolate chips to the cookie dough balls for extra sweetness!
Add about 2 tablespoons of orange zest to this recipe for an added orange zesty flavor.
Drizzle some icing on the top of the cookies for an extra special finish.
For crunchy macadamia nuts use dry roasted ones. You can choose between unsalted and salted macadamia nuts, depending if you'd like the added saltiness or not.
You can use milk chocolate chips as well as or instead of white chocolate ones. For a less sweet cookie, simply reduce the number of white chocolate chips, or try semi-sweet chocolate chips instead.
To make bite-sized small cookies, use a smaller cookie scoop and adjust the bake time accordingly.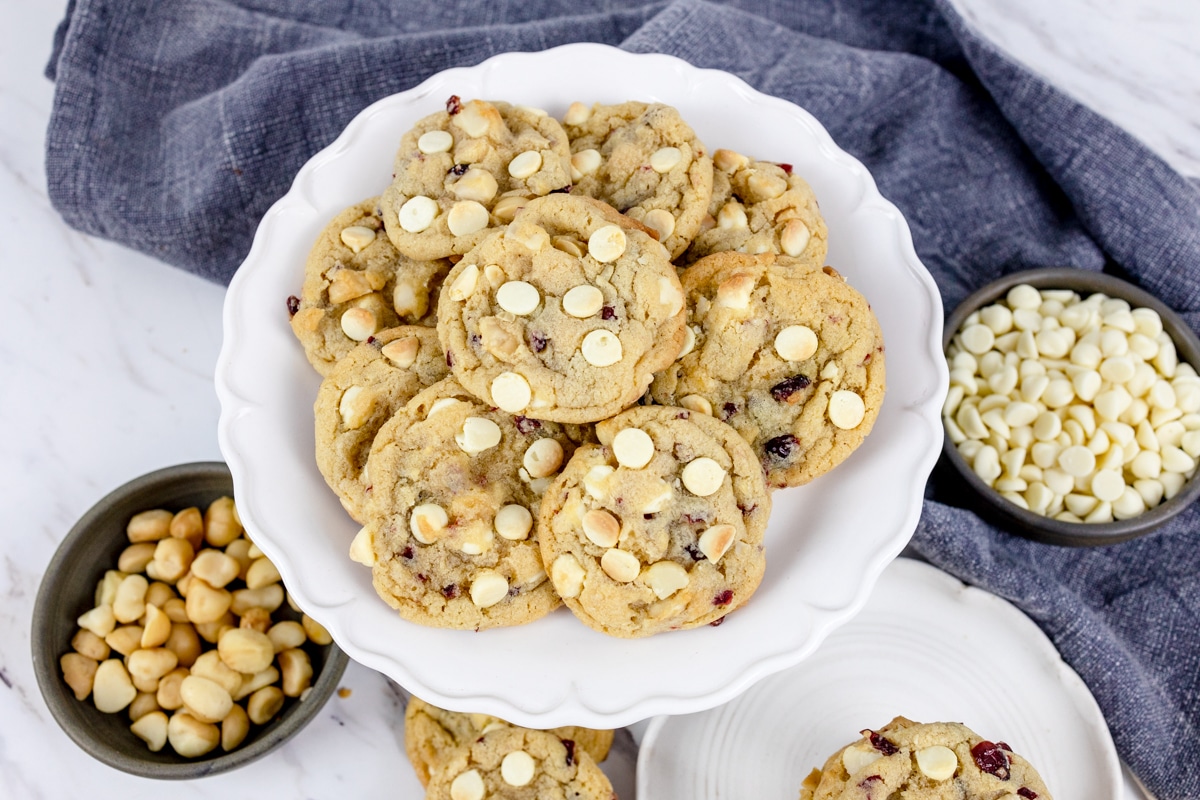 Pro Tips
What makes a good cookie? Does it have a soft center, crispy edges, and chewy? Each of these makes a great quality cookie. To make perfect cookies every time here are some pro tips.
Weighing Ingredients.
Baking is a science and adding too much or too little of any of the ingredients will alter the recipe. Weighing and measuring dry ingredients properly makes a world of difference. Investing in a Kitchen Scale is ideal. When a kitchen scale is not available make sure to stir and lift ingredients before scooping them into Measuring Cups. Use Measuring Spoons for smaller amounts.
Cookie Scoop.
Using a Cookie Scoop keeps each ball of cookie dough the same size which is essential for baking. I have used a medium cookie scoop in these photos.
Baking Sheets.
Baking sheets can be ungreased. I like to use Parchment Paper liners or a Silicone Mat for easy cleanup.
Baking Time.
Every oven heats a little differently. I recommend doing a test batch of 1-3 cookies to test the baking time for a perfectly baked cookie before baking the remaining dough.
Cookies.
Cookies are perfectly baked when edges are set and centers are no longer glossy.
Cooling Rack.
Allow cookies to cool on the baking sheet for a minute or two before moving them to a Cooling Rack to cool completely.
To find out more, check out my Pro Tips Guide for making the best cookies!
This post may contain affiliate links. Thanks for using my links! See my Disclosure Policy here.
Have you tried making these Cranberry White Chocolate Macadamia Nut Cookies?
Let me know what you thought of this recipe! Tag @bestcookierecipes on social media so I can see how amazing your cookies turned out! I would also love to read your comments below. Let me know what you think of these cookies. It really does help!
More Holiday Cookies Recipes
Welcome to #ChristmasCookies Week! That time of year when we soften the butter, fire up the oven, and make cookie trays for family, friends, and neighbors. This year more than 20 top-notch bloggers are sharing their very favorite creations for all to make and enjoy. Join us for a week's worth of Christmas cookie deliciousness
Chocolate Mint Linzer Cookies by A Kitchen Hoor's Adventures
Easy Christmas Cookie Bars by Family Around the Table
Lemon Iced Gingerbread Cookies by Faith, Hope, Love, and Luck Survive Despite a Whiskered Accomplice

White Chocolate Cranberry Macadamia Nut Cookies

Vanilla Cookie loaded with white chocolate, cranberry and macadamia nuts for a sweet and tasty holiday cookie recipe.

Ingredients

10.5

tablespoons

Butter

Softened

½

cup

Granulated Sugar

100g

½

cup

Brown Sugar

plus 3 tablespoons

1

Egg

Large

½

teaspoon

Pure Vanilla Extract

½

teaspoon

Baking Soda

¼

teaspoon

Salt

1 ¾

cups

All Purpose Flour

plus 2 tablespoons

4

ounces

Macadamia Nuts

1

cup

White Chocolate Chips

⅔

cup

Dried Craisins

Chopped

Instructions

Preheat the oven to 350 Degrees F.

In a large bowl, or using an electric mixer, cream together the softened Butter and Granulated Sugar for 5 minutes.

Add Eggs and Vanilla Extract and stir until fully combined.

Add Brown Sugar and cream for another 2 minutes.

In a separate bowl combine dry ingredients of All Purpose Flour, Baking Soda, and Salt. Gradually add the flour mixture to the butter mixture a little bit at a time until all the ingredients are fully combined. Do not over-mix.

Hand stir in the White Chocolate Chips, Macadamia Nuts, and chopped Craisins.

Using a medium cookie scoop, scoop cookie dough balls and place them on the baking sheet 2 inches apart to allow for spreading.

Bake at 350 degrees for 9-11 minutes. The cookies will be done when the edges are set and the center is no longer glossy.

Remove from oven and allow to cool on the baking sheet for 3 minutes before moving to a wire rack to cool completely.

Notes

Storage: Store cooled cookies in an airtight container for up to 1 week. These cookies are best enjoyed within 2-3 days of freshly baking them.
Freezing: These white chocolate cranberry cookies can be frozen for up to 3 months. Individually wrap each cookie in plastic wrap, or place parchment paper between each cookie to prevent sticking. Then put the cookies into a Ziploc bag or freezer-safe container, and freeze them for up to 3 months.

Nutrition Disclaimer

All nutrition values are approximate and calculated by a plugin and are provided as a courtesy. Adding or subtracting ingredients will change the nutritional value.

Calories:

134

kcal

|

Carbohydrates:

22

g

|

Protein:

2

g

|

Fat:

5

g

|

Saturated Fat:

2

g

|

Polyunsaturated Fat:

0.2

g

|

Monounsaturated Fat:

3

g

|

Trans Fat:

0.01

g

|

Cholesterol:

6

mg

|

Sodium:

64

mg

|

Potassium:

47

mg

|

Fiber:

1

g

|

Sugar:

14

g

|

Vitamin A:

9

IU

|

Vitamin C:

0.1

mg

|

Calcium:

29

mg

|

Iron:

1

mg