Reindeer Cookies are the perfect sweet treat to leave for Santa and all his little helpers on Christmas Eve. They're made with a peanut butter cookie base, topped with a Rolo candy face, pretzel antlers, candy for the eyes, and a big red nose!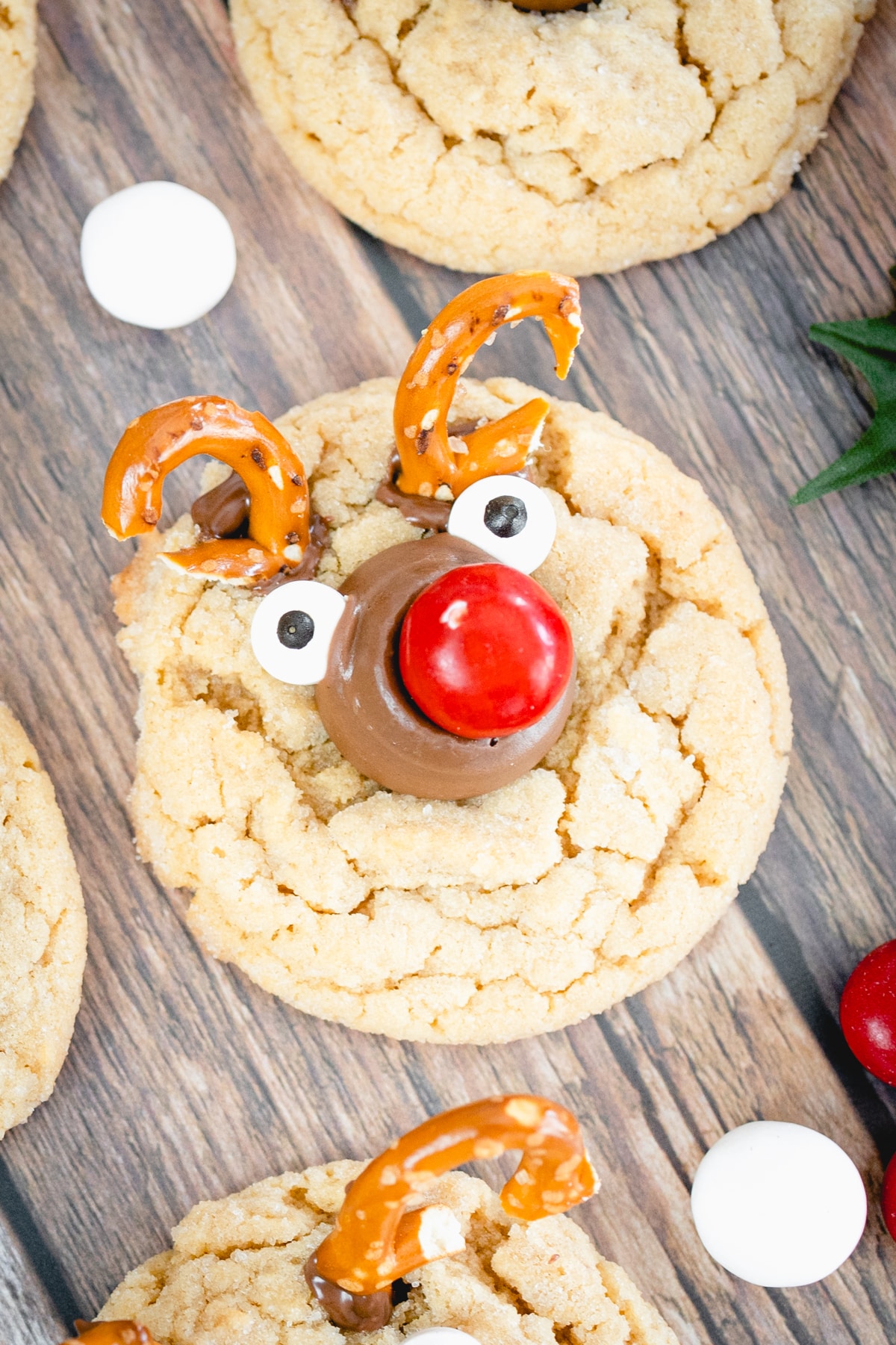 These cute peanut butter Reindeer Cookies are super fun and perfect for making with kids. They will love putting the reindeer faces together with the assorted toppings, as well as making delicious chewy peanut butter cookies for the base!
They are ready in under 30 minutes, so it's a great recipe to have on hand for last-minute holiday cookies!
You can make Christmas reindeer using a gingerbread or sugar cookie dough base too. However, I like using peanut butter cookies, as the peanut butter flavor goes so well with the chocolate Rolos, the M&Ms, and the salty pretzels.
You can even make Peanut Butter Cookies in the Air Fryer instead of the oven for a slightly quicker baking time.
These cute reindeer cookies are great for your holiday cookie tray too or Dessert Charcuterie Board. The whole family will love them!
Another adorable cookie recipe is these Thanksgiving Turkey Nutter Butter Cookies or these Pie Crust Cookies that can be made in any shape. Try them with a leaf cookie cutter for fall, or with a gingerbread man cookie cutter for Christmas!
Some other fun Christmas cookies we love are these Green Grinch Cookies and our cute Christmas Tree Grasshopper Cookies.
Shopping List
Wet Ingredients. Butter, Vanilla Extract, Egg, Peanut Butter
Dry Ingredients. All Purpose Flour, Granulated Sugar, Brown Sugar, Baking Soda, Baking Powder, Salt
Chocolate. Red M&M Candies, Rolo Candies, Candy Eyeballs, Pretzels, Chocolate Chips
How to Make Christmas Reindeer Cookies
Make Peanut Butter Cookies
Preheat your oven to 375 Degrees F, and make sure your ingredients are all at room temperature before you begin. This will make the butter and peanut butter soft enough to cream together.
Then, in a large bowl, or in the bowl of a stand mixer, cream together the Peanut Butter and the softened Butter.
After that, add ½ cup Sugar and the Egg, and cream it all together until light and fluffy. It'll take about 3 minutes to get the consistency you want. Add the Brown Sugar and Vanilla Extract, and mix them until fully combined.
Then, in a separate bowl, combine Flour, Baking Soda, and Baking Powder and stir. Gradually add the dry ingredients to the peanut butter mixture a little at a time until fully combined. Make sure it's fully mixed so you don't get pockets of flour in your cookies.
Once you have your cookie dough, you need to make cookie dough balls and put them onto a baking sheet lined with parchment paper.
To do this, it's best to use a cookie scoop, so that you get even-sized cookies that will bake evenly. Using your cookie scoop, scoop the cookie dough and roll the balls into the remaining ¼ cup of sugar.
Place your sugared cookie dough balls on the baking sheet 2 inches apart to leave room for the cookies to spread.
Next, bake your cookies at 375 degrees for 7-9 minutes, or until the edges are set.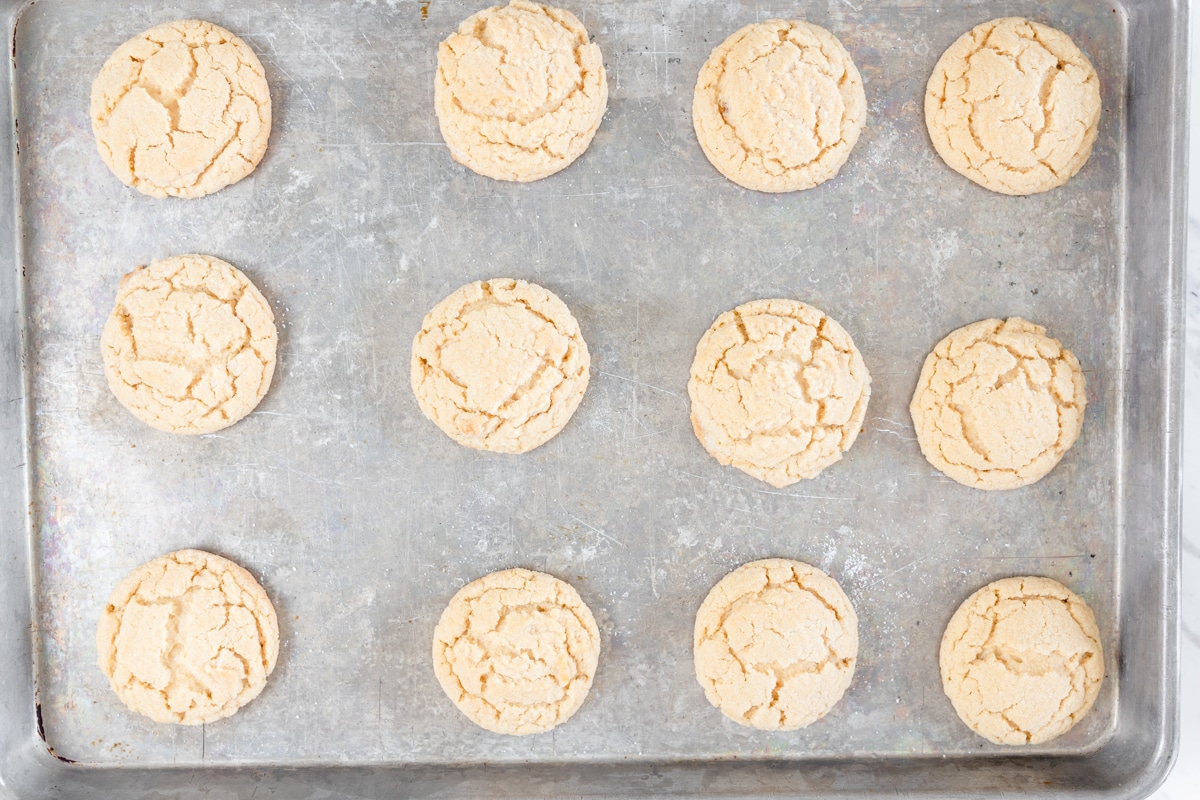 You need to allow your cookies to cool on the cookie sheet for 2 minutes before moving them to a wire rack. Decorate your cookies as soon as you transfer them to the wire rack, while they are still warm.
To make the reindeer face, place 1 Rolo chocolate candy in the center of each cookie. The heat from the cookie will melt the Rolo candy slightly making it stick to the cookie.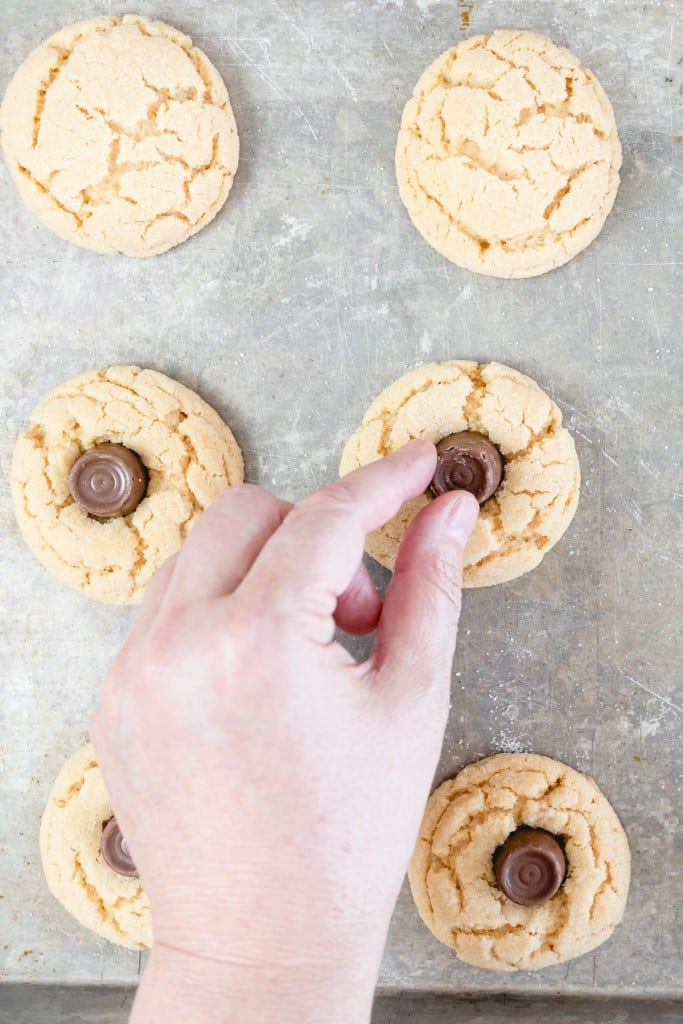 Next, top the Rolo with a red M&M Candy by pressing it into the melted Rolo chocolate making it stick. After that, place the candy eyes on the reindeer by sticking them on the edge of the melted Rolo candy.
Melt chocolate chips in the microwave until smooth, and dip the edges of the pretzels into the melted chocolate. Then press them onto the top of the cookies for the reindeer antlers, and your reindeer face is complete!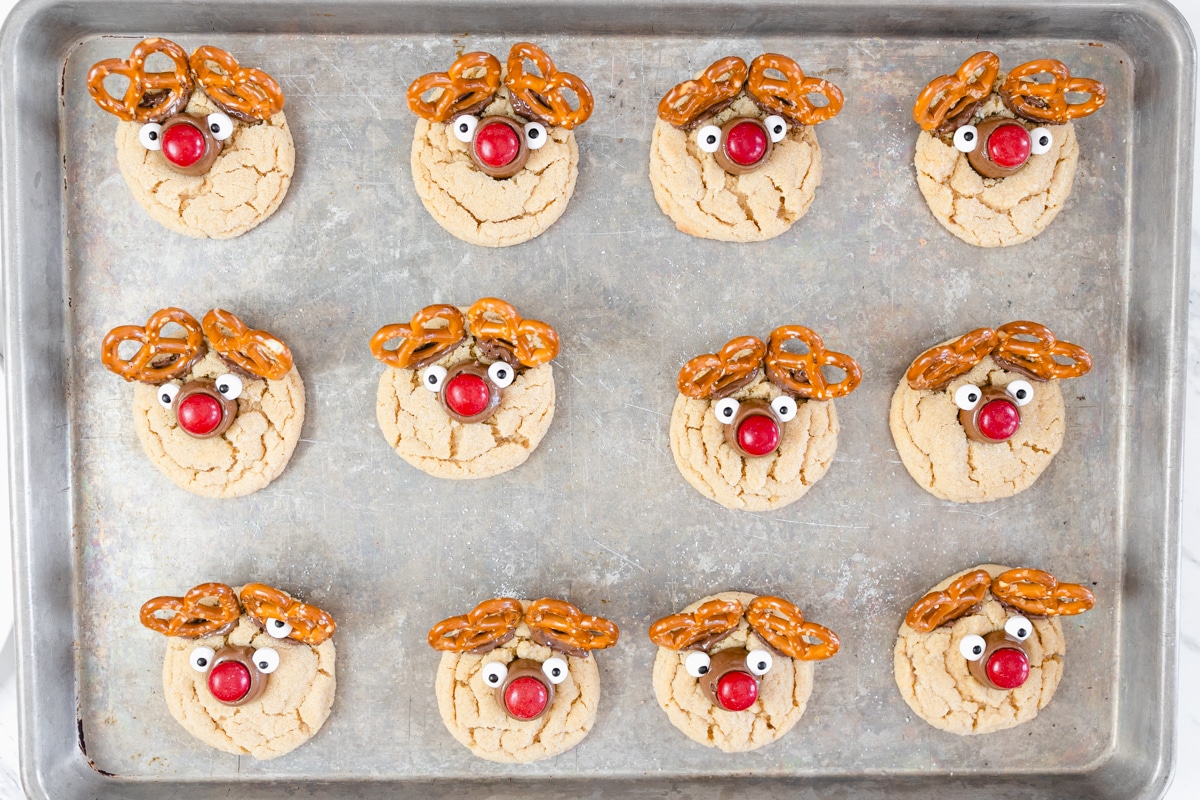 Let your cookies sit on a wire rack so that they cool down fully before storing them.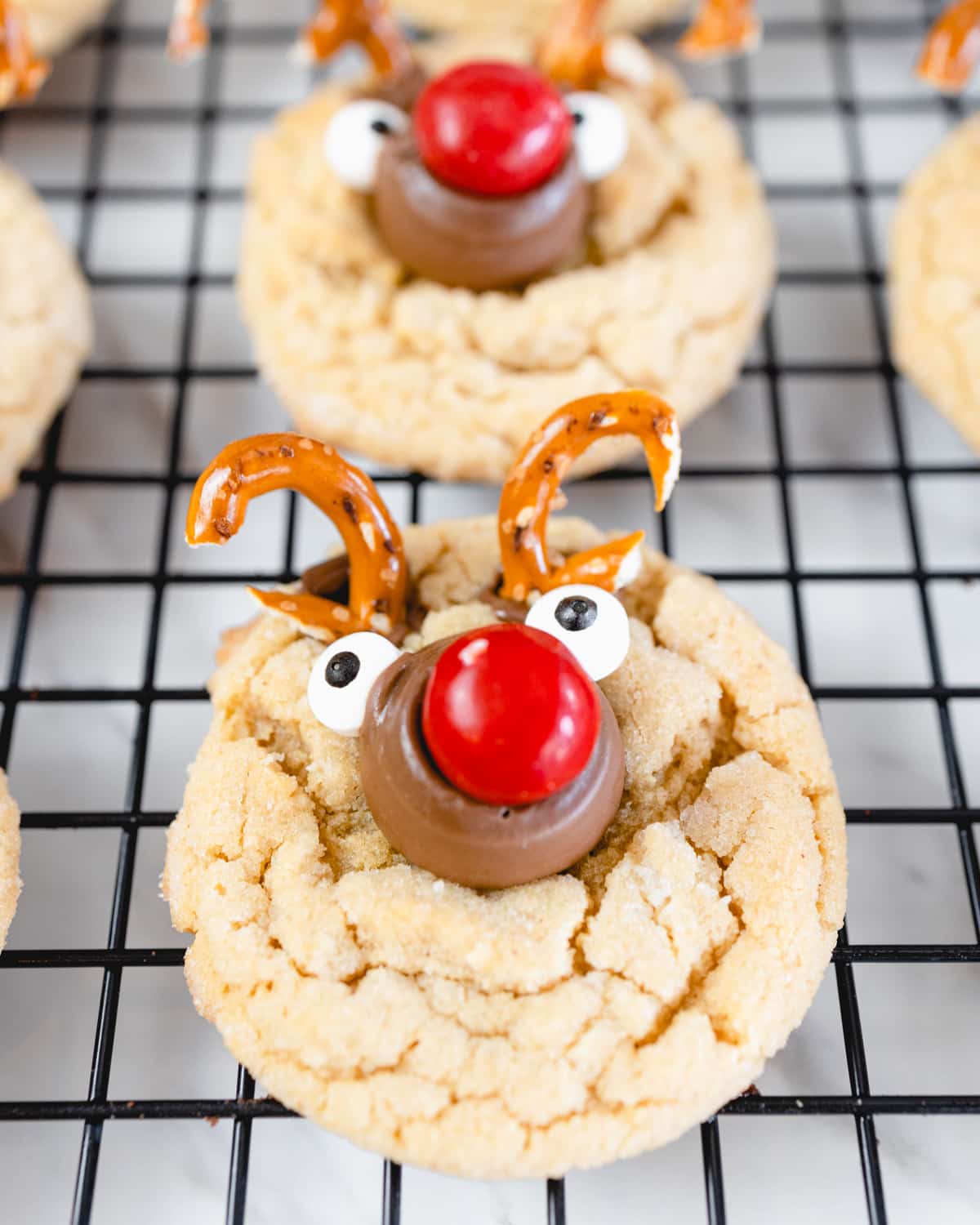 How far in advance can Christmas cookies be made?
You can make the peanut butter cookies up to a week in advance, then decorate them on the day you want to serve them. The cookies, even when decorated, will last for up to 7 days. If you do this, you will need to stick all of the decorations onto the cookie with melted chocolate as the cookies will no longer be warm enough to melt the Rolo onto the cookie.
Should I use parchment paper when baking cookies?
I would recommend using parchment paper or a silicone mat for easier cleanup, and also to prevent your cookies from sticking to the pan.
Can I store cookies in Ziploc bags?
Yes! Ziploc bags are so handy! You can store your reindeer cookies in Ziploc bags, but you will need to be careful to not stack them otherwise the decorations may fall off. It is better to store these cookies in a large tub or on a plate with plastic wrap on top.
How long do Christmas cookies last?
Storage: Store these peanut butter cookies in an airtight container at room temperature for up for 7 days. Cookies are best when enjoyed within 2-3 days after being freshly baked.
Freezer: You can freeze peanut butter cookies for up to 3 months when stored correctly. Freeze them undecorated and in a sealed container, plastic wrap, or freezer bag. Put a piece of parchment paper between each cookie in a stack to prevent them from sticking together when you thaw them.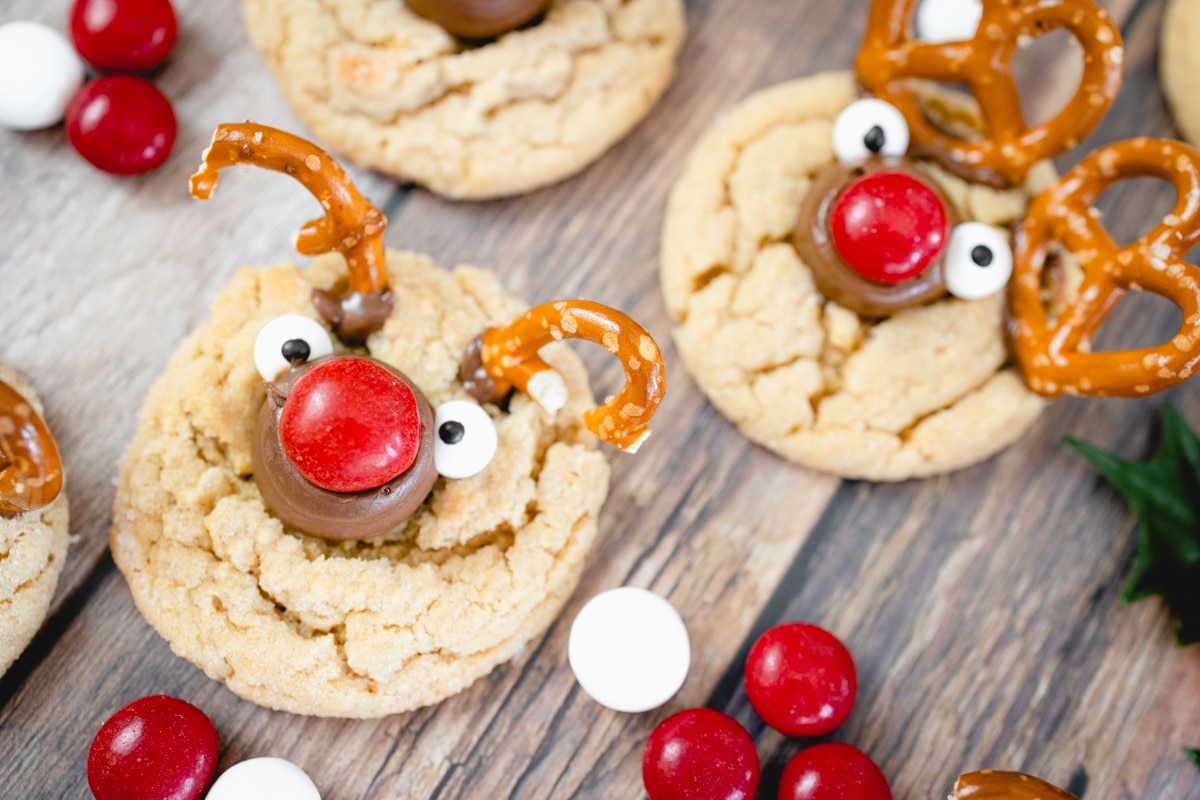 Substitutions
You can use a dollop of chocolate frosting instead of a Rolo candy for the reindeer snout if you prefer. It's also a good substitute if you don't have any Rolos to hand.
Make the whole reindeer crowd for a holiday cookie platter or gift a reindeer cookie set! Use a red M&M for Rudolf and a brown M&M for the noses on rest of the group.
Cover the whole cookie with chocolate icing or chocolate frosting before adding the candy to make a bigger reindeer face.
If you cannot find candy eyes for your reindeer, you can make them. Dip the tips of white chocolate chips into a tiny bit of melted milk chocolate for the pupils. Each chocolate chip then makes one eye. Otherwise, use a small dollop of white icing for the eyeball, and a tiny dot of black icing for the pupil. Alternatively, use white chocolate buttons for the eyes with black icing for the pupils, or white icing for big eyeballs and milk chocolate buttons for the pupils.
Pro Tips
What makes a good cookie? Does it have a soft center, crispy edges, and chewy? Each of these makes a great quality cookie. To make perfect cookies every time here are some pro tips.
Weighing Ingredients.
Baking is a science and adding too much or too little of any of the ingredients will alter the recipe. Weighing and measuring dry ingredients properly makes a world of difference. Investing in a kitchen scale is ideal. When a kitchen scale is not available make sure to stir and lift ingredients before scooping them into a measuring cup.
Cookie Scoop.
Using a cookie scoop keeps each ball of cookie dough the same size which is essential for baking. I have used a medium cookie scoop in these photos.
Baking Sheets.
Baking sheets can be ungreased. I like to use Parchment Paper liners or a Silicone Mat for easy cleanup.
Baking Time.
Every oven heats a little differently. I recommend doing a test batch of 1-3 cookies to test the baking time for a perfectly baked cookie before baking the remaining dough.
Cookies.
Cookies are perfectly baked when edges are set and centers are no longer glossy.
Cooling Rack.
Allow cookies to cool on the baking sheet for a minute or two before moving them to a cooling rack to cool completely.
To find out more, check out my Pro Tips Guide for making the best cookies!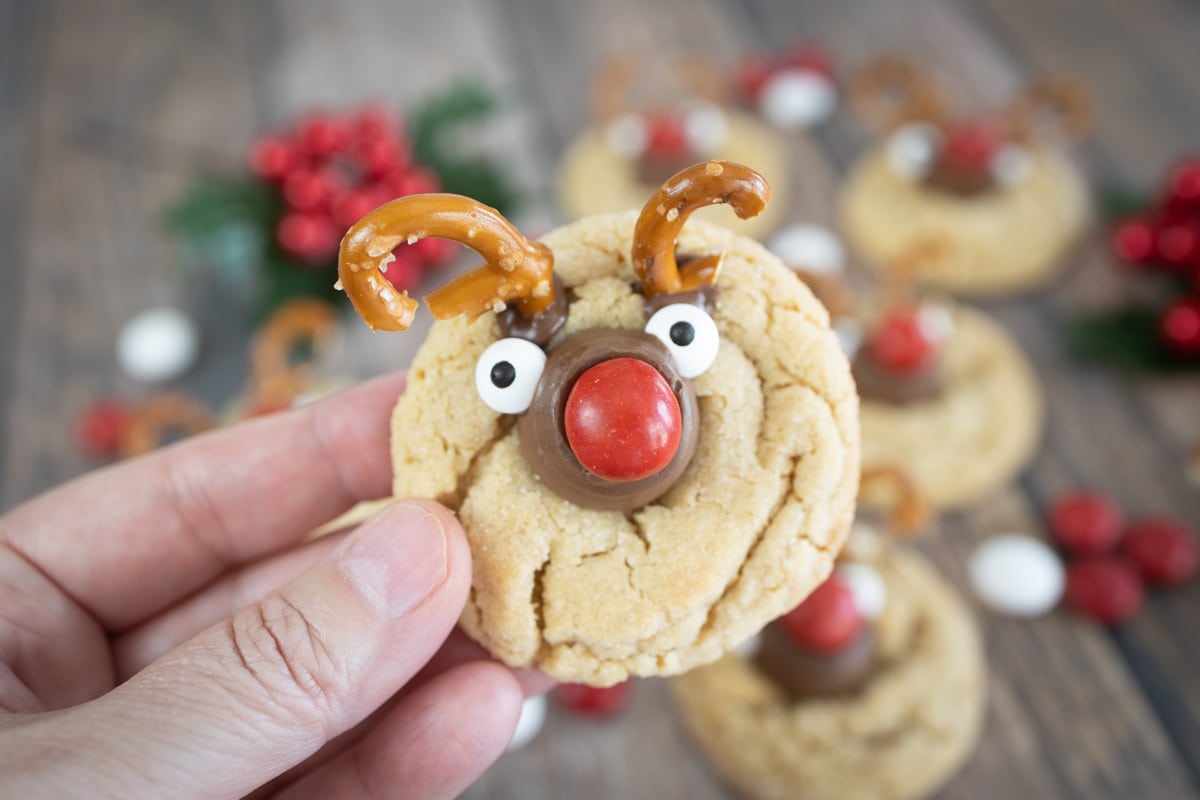 Have you tried these Easy Reindeer Cookies?
Let me know what you thought of this recipe! Tag @bestcookierecipes on social media so I can see how amazing your cookies turned out! I would also love to read your comments below. Let me know what you think of these cookies. It really does help!
Other Delicious Cookie Recipes for the Holidays
Welcome to #ChristmasCookies Week! That time of year when we soften the butter, fire up the oven, and make cookie trays for family, friends, and neighbors. This year more than 20 top-notch bloggers are sharing their very favorite creations for all to make and enjoy. Join us for a week's worth of Christmas cookie deliciousness
Reindeer Cookies

Reindeer Cookies are the perfect sweet treat to leave for Santa and all his little helpers on Christmas Eve. They're made with a peanut butter cookie base, topped with a Rolo candy face, pretzel antlers, candies for the eyes and a big red M&M nose!

Ingredients

Peanut Butter Cookies

½

cup

Peanut Butter

100g

½

cup

Butter

Softened

¾

cup

Granulated Sugar

Divided

½

cup

Brown Sugar

1

Egg

Large

1

teaspoon

Vanilla Extract

1 ¼

cup

All Purpose Flour

150g

½

teaspoon

Baking Soda

½

teaspoon

Baking Powder

Reindeer Candy Topping

36

Rolo Candies

72

Candy Eyeballs

36

Red Candy M&M's

Pretzels broken in half

¼

cup

of Chocolate Chips melted

Instructions

Make Peanut Butter Cookies

Preheat oven to 375 Degrees.

In a large bowl or in a stand mixer cream the Peanut Butter and the softened Butter together.

Add ½ cup Sugar and the Egg, and cream it all together until light and fluffy. About 3 minutes.

Add Brown Sugar, Vanilla Extract, and combine them into a smooth mixture.

In a separate bowl, combine dry ingredients of All Purpose Flour, Baking Soda, and Baking Powder and stir until fully mixed. Gradually add the dry ingredients to the peanut butter mixture a little at a time until fully combined.

Scoop the cookie dough using a small cookie scoop, and roll the cookie dough balls in the remaining ¼ cup of sugar. Place cookie scoops on a baking sheet 2 inches apart.

Bake at 375 degrees for 7-9 minutes or until edges are set.

Allow cookies to cool on cookie sheet for 2 minutes before moving to wire cooling rack.

Decorate Reindeer Faces

While the cookies are still warm, place 1 Rolo chocolate candy in the center of each cookie. The heat from the cookie will melt the Rolo candy slightly making it stick to the cookie.

Top with a red M&M Candy. Press it into the melted Rolo chocolate for it to stick.

Place the candy eyes down, sticking the edges of the eyeballs onto the sides of the melted Rolo candy.

Melt chocolate chips in the microwave until smooth, dip the edges of the pretzels into the melted chocolate and press on the top of the cookies for Antlers.

Allow cookies and chocolate to fully cool before storing.

Notes

Peanut Butter: Use crunchy or creamy peanut butter to get the texture you prefer.
Storage: Store these peanut butter cookies in an airtight container at room temperature for up to a week. Cookies are best when enjoyed within 2-3 days after being freshly baked.
Freezer: You can freeze peanut butter cookies for up to 3 months when stored correctly. Freeze them undecorated and in a sealed container, plastic wrap, or freezer bag. Put a piece of parchment paper between each cookie in a stack to prevent them from sticking together when you thaw them.

Nutrition Disclaimer

All nutrition values are approximate and calculated by a plugin and are provided as a courtesy. Adding or subtracting ingredients will change the nutritional value.

Calories:

110

kcal

|

Carbohydrates:

20

g

|

Protein:

1

g

|

Fat:

3

g

|

Saturated Fat:

2

g

|

Polyunsaturated Fat:

0.1

g

|

Monounsaturated Fat:

0.3

g

|

Trans Fat:

0.01

g

|

Cholesterol:

5

mg

|

Sodium:

65

mg

|

Potassium:

36

mg

|

Fiber:

0.3

g

|

Sugar:

15

g

|

Vitamin A:

16

IU

|

Vitamin C:

0.1

mg

|

Calcium:

27

mg

|

Iron:

0.4

mg